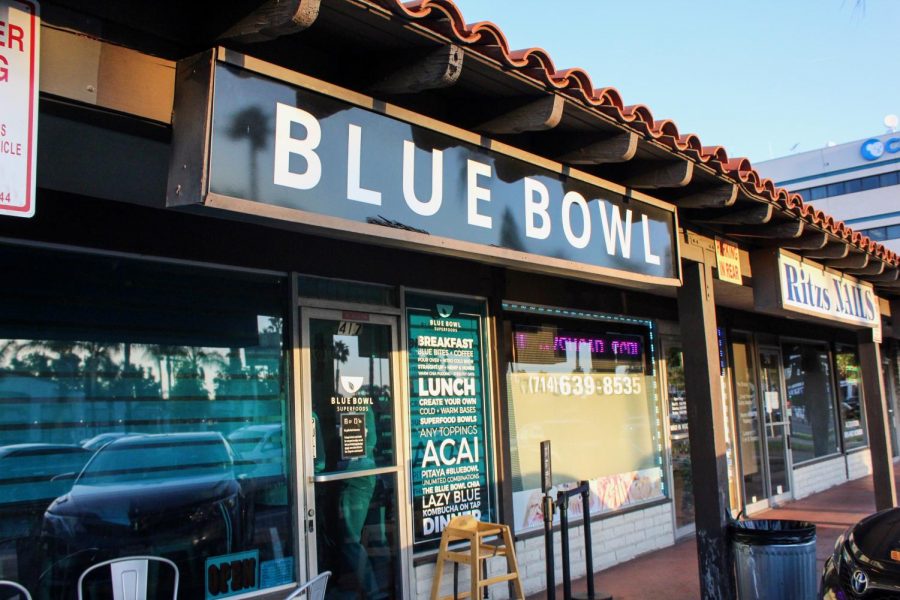 Emme Wilson
With our generation constantly being exposed to new food trends, many restaurants have chosen to upgrade their menus to fit foodies' new culinary interests. In Orange County, for example, there are several restaurants that offer trendy, unique food items. Based on a poll of 71 students, there are five local favorites: Urth Caffé, Blue Bowl, Banzai Bowls, Chipotle, and Starbucks.
No. 5: Urth Caffe
Urth Caffé is commonly known for their diverse and healthy menu. Because they are a coffee company, their organic and fresh drinks attract many students who look for wholesome lifestyles.
"I like Urth Caffé because everything is so fresh and seem so homemade," sophomore Samantha Baltazar said. "They have a variety of foods to choose from which is really enjoyable,"
Not only does the delicious food make the restaurant trendy, the artistic architecture of Urth Caffé also captivates many teenagers to come here for a chance to take photos like freshman Lilyana Lopez who said she likes Urth Caffé because "it's very aesthetically pleasing."
Urth Caffé has two locations in Orange County: Laguna Beach and Orange. Visit https://www.urthcaffe.com for more information including addresses.
No. 4: Blue Bowl
Healthy, variety, dairy free, and refreshing are words to describe another student favorite: Blue Bowl.
"Blue Bowl [is my favorite] because it's both healthy and delicious," senior Diandra Catrinescu said.
Senior Diandra Catrinescu's favorite bowl from Blue Bowl includes strawberries, bananas, goji berries, nectar, and almond butter.
Blue Bowl is located in Huntington Beach, Orange, and Long Beach. Visit http://www.mybluebowl.com for more information including addresses.
No. 3: Banzai Bowls
Banzai Bowls is a small restaurant in Costa Mesa, most famous for their açaí bowls and smoothies.
"I love Banzai Bowls because it is right by the beach and is in super cool area," sophomore Kira Imhoff said. "The food is utterly scrumptious."
"I think Banzai Bowls' smoothies are pretty good because I'm a really big texture person and their smoothies have a good texture," sophomore Katherine Conklin said.
Banzai Bowl has locations in Newport Beach, Costa Mesa, Laguna Beach, Huntington Beach, and San Clemente. Visit https://banzaibowls.com/ for more information including addresses.
No. 2: Chipotle
Chipotle Mexican Grill, a fast and casual eatery chain, is known for their oversized burritos and delicious salads.
"[My favorite trendy restaurant is] Chipotle because their burritos are delicious and their chips and guacamole are incredible," sophomore Emily Manney said.
Junior Joshua Bredhoft said he also enjoys Chipotle because they have customizable options which let him get whatever he feels like.
Chipotle has several dozen locations in Orange County. Visit https://www.chipotle.com for more information including addresses.
No. 1: Starbucks
Starbucks, a popular international coffee brand, is known as the top trendy restaurant among Mater Dei students. Many teenagers favor Starbucks because of their monthly, new seasonal drinks and food which gives a variety of options.
"I prefer Starbucks over other coffee places because, even though it's the generic coffee shop, it always has something new for me to try," junior Fiona Waldron said.
Waldron's favorite Starbucks' drink is their vanilla iced coffee and her favorite food item is their brownies.
Starbucks has several dozen locations in Orange County. Visit https://www.starbucks.com for more information including addresses.