Monarchs March On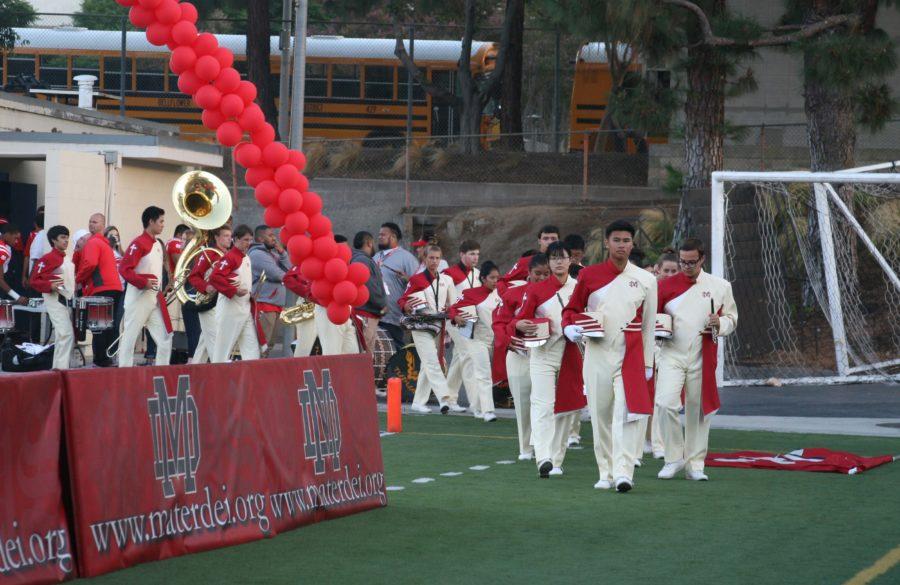 The Mater Dei Marching Band is a tight knit group of student musicians who perform every week at football games, rallies and other school events. These students work hard and give their best effort at every performance and practice.
These musicians have collaborated with each other over the years while performing and playing music for Mater Dei. They consider themselves more than just a group of performers.
"Since Mater Dei's marching program right now is very small, we have a big sense of family and everyone is just friends with each other, " said Drum Major Dylan Ly.
They practice every Monday and Wednesday for three hours at a time. They each play their instruments and prepare new songs for performances.
"It seems like a lot of work, but if you just apply yourself and focus, you engage yourself in the activity,"said Ly. "Then it will be a breeze."
Mater Dei's band program has many opportunities for young musicians to perform.
"There are so many opportunities. You can be in the jazz band, you can be in the honor winds, you can be in guitar, and that's a newly added class this year, there's two of them," said Assistant Director Taylor Smith. "And those opportunities are really really cool for a lot of students."