Inspirational Athletes of 2016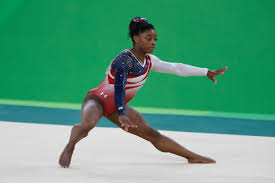 Hang on for a minute...we're trying to find some more stories you might like.
Michael Phelps, also know as Superman, is the most decorated Olympian of all time. At age 15, he made the team of his first Olympic Games, making him the youngest athlete to compete at the games in 68 years. Throughout his entire career Phelps has won a total of 28 Olympic Medals, with 23 of them being gold. After having success in the 2016 Olympic Games in Rio de Janeiro Phelps announced his retirement. With the help of the Boys and Girls Club, he now runs the Michael Phelps Foundation, which helps kids learn how to swim.
Inspirational Quote: "You can't put a limit on anything. The more you dream, the farther you get."- Michael Phelps
Simone Biles is the 2016 Olympic all-around gold medalist. She was part of the U.S Olympic gymnast team, the "Final Five," at the 2016 Olympics in Rio de Janeiro. She placed gold in the vault and floor events, as well as winning the all-around event. She may be 4-foot-9, but she is a powerful girl who dominates gymnastics. Simone has inspired people to chase after their dreams with a little personality, hard work, and determination.
Inspirational Quote:" Practice creates confidence. Confidence empowers you."–Simone Biles
While Abby D' Agostino may have not won her race at the Olympic Games in Rio, she showed the true Olympic spirit. Abby D'Agostino and New Zealand's Nikki Hamblin tripped over each other in the women's 5,000 meters. Together D' Agostino and Hamblin helped each other up and finished the race. This was one of the most inspirational events that happened in the Rio Olympics. Because of D'Agostino's sportsmanship, she won the International Fair Play award.
Tom Brady is one of the top Quarterbacks in NFL history. He has won a total of five Super Bowl Championships and two Most Valuable Player (MVP) awards with the New England Patriots, throughout his career. Brady always remains calm, knowing that whatever happens anything can be turned around with a strong finish. His work morale and ability to keep growing and learning is what makes him a winner, which is visible on the field and in his interviews.
Inspirational Quote: "To me, football is so much about mental toughness, it's digging deep, it's doing whatever you need to do to help a team win and that comes in a lot of shapes and forms."- Tom Brady
Tiger Woods is an American Golf Player who has won the World Championships 15 times. Woods techniques and energy levels have not been matched by anyone else in the golf world. His putts and long distance are spectacular. His calculations and abilities to make the golf ball work magically, can only be done by a few people. Woods is an inspiration to all the golfers around.
Inspirational Quote: " No matter how good you get you can always get better and that's the exciting part."- Tiger Woods