ASB Officers for the 2017-2018 School Year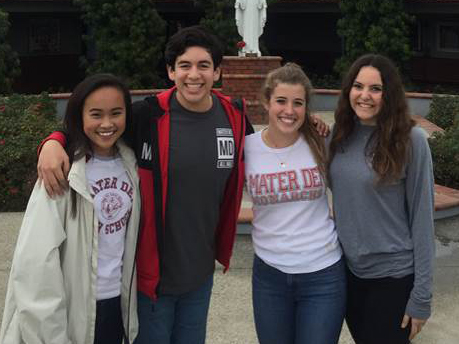 Hang on for a minute...we're trying to find some more stories you might like.
Christine Nguyen is the new ASB president for the 2017-2018 school year. She is very involved at Mater Dei, having been in ASB since her freshman year, as well as participating in many clubs and playing basketball for the Mater Dei team. 

Q: How did you feel when you won the election?
Nguyen: "I didn't really believe it at first! I knew that I was up against a tough opponent and so I wasn't sure if I was going to win at all."

Q: Why did you run in the first place?
Nguyen: "I ran because I really wanted to be able to make a difference at Mater Dei. I wanted to challenge myself and be able to contribute to the Mater Dei table in a new way. I was terrified of running originally, so I thought that I should conquer my fears and just go for it."

Q: What is your favorite thing about Mater Dei?
Nguyen: "I love a lot of things about Mater Dei! I feel like Mater Dei differs from other high schools in that it is so communal and there is so much variety, allowing a place for everyone to fit in."

Q: Did playing basketball effect your experience here at Mater Dei?
Nguyen: "Yes it definitely did! I was able to make so many close friendships that I wouldn't have made elsewhere. Through basketball, I was taught certain virtues such as teamwork and humility that can't be gained from a textbook. I absolutely love my team and I wouldn't have won without their  support during my campaign."

Q: What is your main priority for bettering the Mater Dei community?
Nguyen: "A big goal of mine next year is to listen. It seems very ambiguous but listening can lead to events and activities that the student body will actually care about because it is their own idea. I want to listen to the entire student body and really implement their ideas to the table. After all, ASB strives to make events for the student body, so why not get the students' input! Students have such great ideas that never get brought to the ASB table and I really want to change that."

ASB Officers

Caroline Menzia-Secretary 
Manzi has been involved in ASB since freshman year. She has served as Fresuman Cub Commissioner, Sophomore and Junior Secretary. She is actively involved in Mater Dei's extra curricular activities and clubs. Caroline is a member of Choir, Cross Country, and many clubs (GLO, FAM, Kid's Work, Poetry Clubs). She lives by the motto, "It takes grace to remain kind in cruel situations." Her mission for the coming school year is to give students the best experience.

Mateo Ramirez-Vice President 
Ramirez's prior experience in ASB was Junior Class Vice President. He is involved with dance, more specifically the All Male Hip-Hop team. He lives by the motto of Lin-Manuel Miranda's: "Love is love is love…" He follows up by saying,"So many people today are hating, degrading and destroying others for being ignorant to reasons. They fail to understand. so find something you love, find something worth fighting for and fight in the name of love."

Makenzie Frank-Treasurer 
Frank has also been involved with ASB since freshman year. She has served as Senator, Scarlett Ambassador, and Junior Class Treasurer. She is currently active in Varsity Song, Bel Canto Choir, Campus Ministry, Magical Monarchs, National Charity League, and CSF Club. She lives by the words of Audrey Hepburn,"Nothing is impossible, the word itself says "I'm possible!" She encourages current students to enjoy high school to the fullest.

2017-2018 Class Officers

Senior Class Officers (Class of 2018)
President – Matt Kane
Vice President – Emmett McGee
Secretary – Lily Avigdor
Treasurer – Claire Trotter

Junior Class Officers (Class of 2019)
President – Nick Van Dalsem
Vice President – Peyton Smith
Secretary – Cade Schobel
Treasurer – Joey Pang

Sophomore Class Officers (Class of 2020)
President – Joe Kelly
Vice President – Austin Sun
Secretary – Sam Neglia
Treasurer – Kody Rymer