Swift's new single isn't worth the drama
Lexi Perez, Visual Content/Social Media Editor
October 10, 2017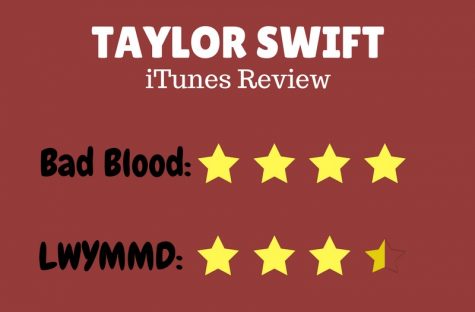 After weeks of anticipation waiting for the first single off of Taylor Swift's new era, "Look What You Made Me Do" ("LWYMMD") arrived with rants and raves from listeners on all platforms. The single was released Aug. 24 and is the sixth track on Swift's new upcoming album, "reputation."
Leading up to the release of her new song, all of Swift's social media posts were deleted. Her first posts after her return to Instagram was short clips of a snake. Could the snake symbolize Swift's "shedding" of her former sound and style? Maybe. But is "LWYMMD" that good to have been introduced in such an overly-dramatic way? Not really.
The song itself starts off with a pretty basic beat. At the beginning of the song, Swift's voice comes in with a deeper tone than usual which really surprised me because I am used to her high-pitched voice in her other music, and I don't think the change suits her. Further into it, a clapping piece comes in, followed by a more steady clapping sound that continues throughout the rest of the song. These effects felt unoriginal and overused. Not to mention, on iTunes, the single is categorized as "pop," but I feel like it could have also been even put into a hip-hop category due to its beat and fast tempo. But why make this comeback with a new genre of music? Why not stick to what has worked for her in the past?
"I'm sorry, the old Taylor can't come to the phone right now. Why? Oh, because she's dead!"
This very popular line from the new single completely sums up Swift's comeback. This song seems to reveal a darker, deeper side of Swift with lyrics that, despite being overemotional, are really put together and flow pretty well. I know I would rather listen to a more upbeat song such as "Shake It Off" rather than a song about revenge. An upbeat song just puts me in a better mood and hearing a song about revenge pretty much does the opposite. 
Other catchy and popular lines off the single seem to hint at her attempt to "rise" back to the top. A few verses into the song Swift is heard saying,
"Honey, I rose up from the dead, I do it all the time."
Is this referring to rising to the top of the charts? Will her upcoming album be good enough to reach the top of the charts like her others did? 
I believe that Swift's change of tune was fueled by the VMA incident with Kanye West in 2009 and the situation with Kim Kardashian last year. In other words, I don't think it's a coincidence that "LWYMMD" was released around the time of this year's VMAs. Since the 2009 incident, Swift has been known as the artist from which West stole the spotlight, which is perhaps a clue to why her new album is titled "reputation." It could be that Swift wants a new reputation and to be known as an icon that made a great comeback with even greater music.
Swift's new sound is by far the most dramatic it's ever been (although not as dramatic as the music video for "LWYMMD" that was debuted at this year's VMAs). Still, I really think Swift had the potential to have created or released a better single, especially since this comeback song received so much attention from everyone around the world. Personally, this song was just a bit too dark for my taste. 
Vulture's Frank Guan said it best "She claims to have gotten harder, but only comes off as brittle; she says that defeat made her smarter, but sounds if she's endlessly smarting."