May Monarchs of the Month: Aidan Mulholland and Kelsey Campeau
Performing arts student chosen for his talent, leadership in theatre, music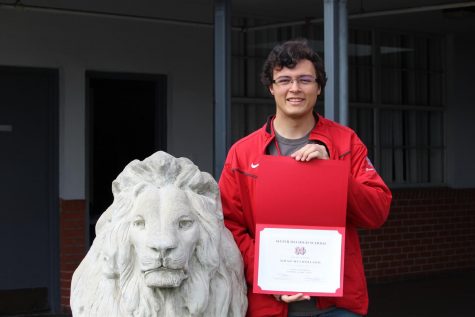 From being in Seussical to performing in Madrigal Fast, Aidan Mulholland has entertained the school community through many roles and performances.
In addition to being in choir and theatre, Mulholland is also involved in the instrumental music program by being the assistant drum major, playing lead trumpet in the jazz band and playing the french horn in winds ensemble. 
"I get involved in campus because it is an opportunity to spend time with my friends doing something we all enjoy," Mulholland said.
His favorite moments in high school have all occurred in his extracurricular performances. Dating back to his freshman performance at Shakespeare in the Grotto, Mulholland really enjoyed playing the role of Lord Capulet in Romeo and Juliet in his freshman year.
"My favorite memories would also have to be my last Madrigal Feast and my second Red Hot Jazz," he said.
Being a leader for Mulholland means "stepping beyond what's being normal." Even if it may seem a little strange to others, Mulholland said he believes that staying true to yourself and being your best self is what matters which for him it could includes helping others.
"I make sure that I help others that might be struggling to find their place in whatever it is that they're doing," he said.
While being involved in performances, Mulholland is very hardworking when it comes to his academics as well. He has a GPA higher than 4.0 and takes many honors classes.
"I take every AP and Honors class that I can get [and] a lot of music classes," he Mulholland." I [also] just doubled how rigorous my course level was with four APs and all eight blocks filled."
Mulholland's ultimate goal by the is to continue "maintaining his grades." In the fall, Mulholland is committed to attending California State University of Fullerton, where he will be majoring in music education and specializing in guitar.
Mulholland said he feels it is a "great honor to be chosen" as Monarch of the Month. 
"It's something I've watched happened as long as I can remember at Mater Dei and its not something I ever expected to get myself," he said.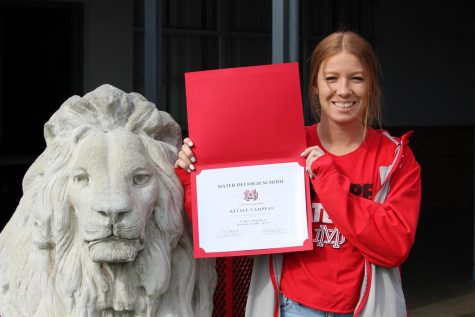 Varsity volleyball and CIF-winning player selected for leadership on and off the court
For Kelsey Campeau, the journey at Mater Dei has been something she will take with her for the rest of her career and in life. From being an engaged member of ASB to being the CIF volleyball player we all know from the court, Campeau truly knows what monarch character is here at Mater Dei.
"I think it would mean be being an all around good person and making everyone around you better and really getting involved and being open and being friends with everyone," she said. "[It means] just simply being a nice person."
She said that she felt honored being selected as a Monarch of the Month.
"I was really excited and did not expect it at all," she said.
Campeau said her favorite school memory was getting the opportunity to play in the CIF volleyball game in both her sophomore and senior years. She worked rigorously with her team and her club team to make it as far as she did. In fact, Campeau is committed to play at UCLA next fall.
In her last month of school, Campeau's goal is to "leave the school better than she found it."