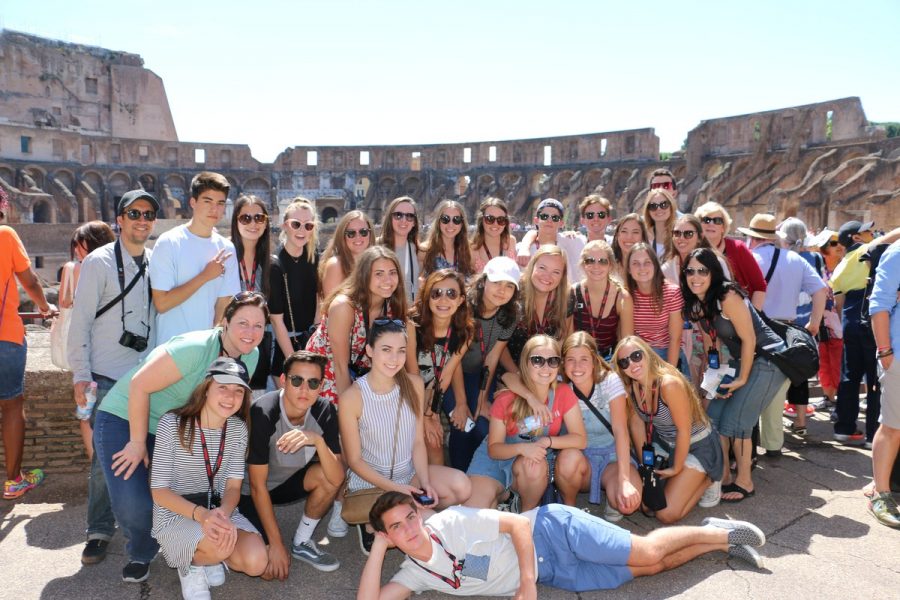 Between this summer and next summer, students of all grades will have the opportunity to travel abroad to six countries all over the globe. These programs are designed for curious students to take their interests and skills outside of the classroom while discovering new places abroad. Get a job this summer and start saving because adventure awaits. 
Dates and prices are subject to change.
Australia and New Zealand, summer 2019
Each summer, the Science Department leads a trip over a couple weeks that is educational and inspiring for those who partake. In the past, the department has traveled to places such as Costa Rica, Belize, and the Galapagos. During summer 2019, students will immerse themselves in cultural exploration over a 15-day period in Australia and New Zealand. Some of the activities include a twilight walking tour through the Waipoua Forest, a traditional hangi dinner, and a visit to the museum of Sydney.
"The trip will be a great way to meet friends, explore the world, see animals and plants in their native environments and experience a new culture," Gomez said. "Group travel is a way to do all of this in a more affordable way as well, and with the students school friends."
Dates: July 8-22, 2019
Price: Email Kali Gomez for more details
Contact: Kali Gomez, life science level chair, [email protected]
London, spring 2020
Students that are a part of the Model United Nations (MUN) academic team or one of the MUN classes will be eligible to experience one week in London, England, for the London International Conference (LIMUN). Besides preparing for the MUN conference, students will become familiar with British culture by touring Westminster Abbey, The Tower of London, Big Ben, Buckingham palace, and Stonehenge. Students do not need MUN experience to join the class or club, so all are welcome to participate in the trip.
"This trip is going to be a great time for our wonderful MUN kids to expand outside of their comfort zones and see London," Kitsnis said. "You don't need to be a expert delegate to feel like you can go; everyone is welcome to join MUN."
Dates: Feb 17-24, 2020
Price: To be decided (TBD); estimated $2,000+
Contact: Charisse Kitsinis, social studies teacher, [email protected]
France, spring 2020
Next spring, students in the French program will be able to tour France traveling throughout Paris, Normandy, the Loire Valley, and much more. The trip begins with iconic Paris attractions such as the Louvre Museum, Notre-Dame Cathedral, the Champs-Élysées, and more. Students will travel to the countryside, viewing multiple chateaus with rich French history. The trip is only available to students enrolled in the French program.
"This is an amazing opportunity for the french students to utilize their skills outside of the classroom," Pham said.
Dates: April 10-18, 2020
Price: $2,000+
Contact: Christopher Pham, French studies teacher, [email protected]
Italy, spring 2020
The choral program visits Italy every four years for their students to perform in the Vatican along with multiple other places of worship. In the past, these students have traveled all over the cities and countryside of Italy experiencing things such as the Trevi Fountain, rich Italian cuisine, and the Roman Colosseum.
"When we will be traveling to Rome, will visit the Vatican, and will likely get an opportunity to give a private recital in the Sistine Chapel.  This is not an opportunity that other schools get…" Director of Choral Music Justin Miller said. "These productions may look incredible, but each singer at some point in their lives had no experience in singing. So join choir – you'll learn something about music, you'll learn something about yourself, and you'll have a great time while doing it."
To be eligible for this trip, one must be enrolled in choir, Miller said.
"It was breathtaking," said alumni Kennedy Roberts, class of 2018, and a former Bel Canto choir member. 
Dates: April 9-19, 2020
Price: $4,000+
Contact: Amanda Bistolfo, associate choral director, [email protected]
China, spring 2020
The World Languages Department will be hosting a second trip to China for those who missed the opportunity last year. Students will be traveling to Beijing and Shanghai over 11 days. The trip will begin with a visit to classic Beijing landmarks such as the Forbidden City, the Summer Palace, the Great Wall, as well as experience a traditional Chinese tea ceremony. On day 10, students will travel to Shanghai via high speed train.
"The main purpose is to get fully immersed in Chinese. Students will have the one-of-a-kind opportunity to attend school in the mornings," Marsh said. "Classes will be taught by credentialed teachers in renowned language schools to give our students an authentic language immersion opportunity, where students will learn the target language dependent on their level of competency. In the afternoons, students will then apply their knowledge in experiential activities, such as going to a local market, buying fresh ingredients, and then cooking dinner and eating it too."
Dates: April 8-19, 2020
Price: $3,732
Contact: Zeyda Marsh, world languages teacher, [email protected]
Spain, summer 2020
Next summer, Marsh will also be directing a trip to Spain for the students of the Spanish program to immerse themselves and challenge their Spanish skills. However, all are welcome to travel to Spain and experience its culture and history. Students will spend eight days in Madrid, touring famous attractions such as the royal palace, the Reina Sofia museum, and the San Miguel Market. Two days will be spent in Barcelona on foot and bike to experience places like Barceloneta beach and authentic Spanish food at the Boqueria food market.
"Through traveling, our students are becoming more socially, politically, and economically aware of our own country and the country they will visit for 12 days." Marsh said. "Being aware of our world and it's differences and or similarities prepares us to embrace, understand, and cooperate mutually."
Dates: July 18 – 29, 2020
Price: $4,929
Contact: Zeyda Marsh, world languages teacher, [email protected]