Athletes who have been recruited for college
Laila Gonzales, Brigette Ramirez, Isabelle Alyn, Justin Cassingham
With the start of the spring semester, athletes who are looking to play their sport in college are finishing up the recruiting process. Student-athletes at the school reflect on the recruiting process and the decision they made to continue their athletic career at the collegiate level.
Senior Alexander Valle plays on the school's varsity baseball team and decided to continue playing baseball at the collegiate level at Columbia University. Playing baseball is one thing Valle enjoys and wants to continue doing throughout his life. 
"Playing professional baseball is my dream and I want to do everything I can to reach that goal," Valle said.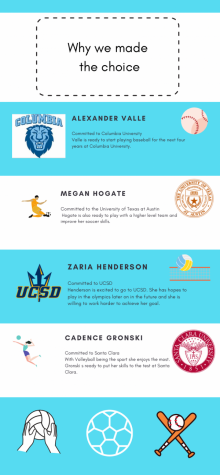 Valle was searching for a school that offered great academics and athletics. He achieved his goal of playing collegiate level baseball by signing to Columbia University during his senior year. 
"Columbia definitely stood out to me the most with the balance of academics and Division 1 athletics, both competing at an extremely high level," Valle said. 
Valle worked hard and put in a lot of effort to be able to be accepted. Therefore it took time but he made it and can keep playing baseball.
"[Committing to Columbia was] a huge relief! Academics is a huge part of my life, just like baseball, and being accepted made me feel the effort I  put into it had paid off," Valle said. 
Senior Megan Hogate is the goalie on the girl's  varsity soccer team and is furthering her athletic career at the University of Texas at Austin. Hogate  wanted to go to a school that would benefit her academic career but, also, help improve her soccer skills. 
"I chose [University of] Texas for its high [D1] level of soccer, top coaching staff, stellar academics, and [located in a] beautiful city that reminds me of home," Hogate said. 
Hogate wanted to play soccer with a higher skilled team in college because high school and college are different. She wanted to be a part of a team environment and compete at a higher level. 
"[University of] Texas stood out to me the most because it felt right when I stood on its campus," Hogate said. 
Senior varsity girls volleyball player Zaria Henderson committed to play at UC San Diego next year after playing four years at the varsity level. 
"I've always wanted to play volleyball in college and I've always wanted to play for a D1 program," Henderson said. 
Besides collegiate volleyball, Henderson has goals to compete at higher rankings. 
"I've always had a dream to play in the Olympics. I knew I have to work a lot harder to get there, but I feel like going to a D1 program and training hard will get me to that level." 
As at this point in time, many students are stressed with making their final decision but UC San Diego sealed it for Henderson. "UC San Diego is an extremely good academic school, [and] the program is very competitive," Henderson said. "I was so excited [to commit]…the recruiting process is extremely nerve racking and stressful, very, very, very stressful and just getting that phone call saying you've been accepted, was just a relief." 
Senior Cadence Gronski also plays on the varsity girls volleyball team and will be continuing her volleyball career at Santa Clara University where she will be majoring in biomedical engineering and minoring in business. Gronski chose Santa Clara because she recognized it as the best institution to develop her skills both in athletics and academics.
"I can kind of get the best of both worlds where I am in a huge academic setting, and I get to have that team aspect for the sport I love," Gronski said.
Gronski had the chance to visit Santa Clara's campus and got the feel of what the campus was like.
"When I went and visited, I had so much fun, [and]  the girls were so sweet," Gronski said. "It's more the atmosphere, so like being in that supportive team environment, I really thrive off of that." 
I'm going to Santa Clara so I can like kind of get the best of both worlds where I am in a high academic se andave that team aspect to like the sport I love, " Gronski said