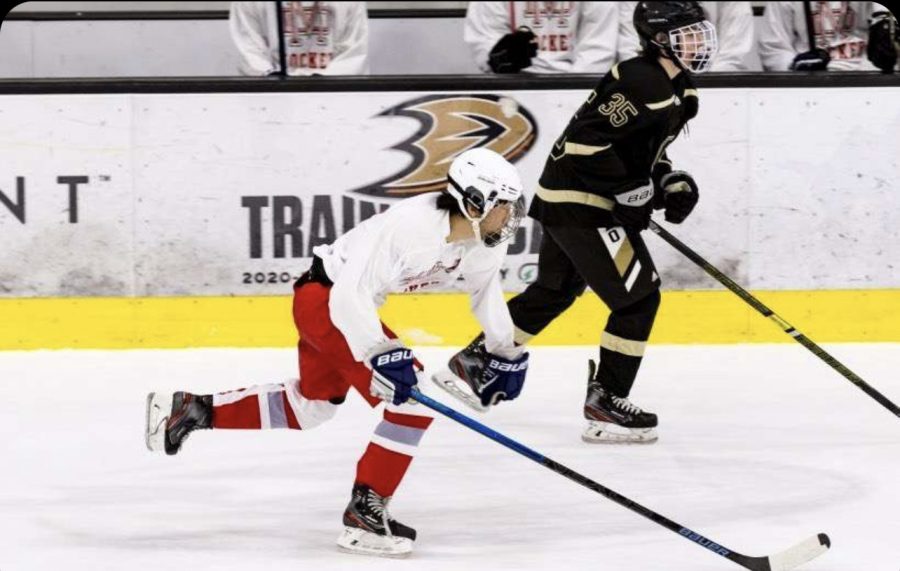 Photo Courtesy of Tej Gadhavi
Mater Dei is widely known as a "football powerhouse," producing future NFL players every year such as Heisman award winner Matt Leinart. Although the school is widely known for its amazing football program, it is home to a plethora of different sports, including ice hockey. This year ice hockey is implementing changes to bring their team to a new level of competition.
Junior and captain of the hockey team Tej Gadhavi is one aspect of these changes.
"I'm still learning but I have to keep the team in check, and make sure everyone is okay, make sure they're playing their best and also be a leader," Gadhavi said. "Be a role model, lead by example, just play my best, and hopefully they'll follow that."
For the 2021-2022 school year, the team has introduced a new coaching staff, which is implementing changes to bring the team to a higher level of play.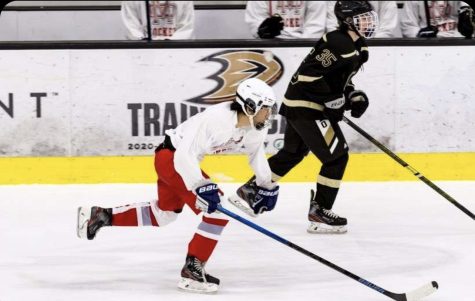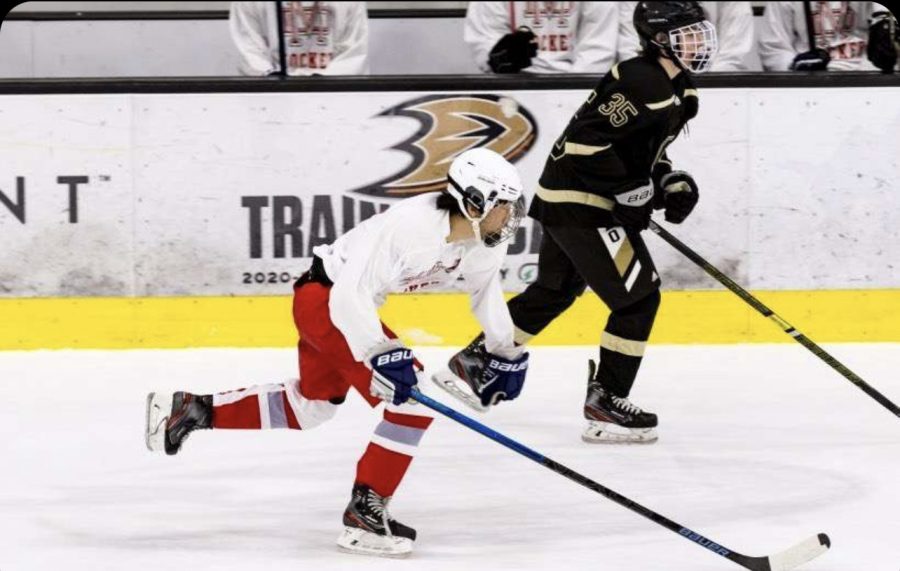 "Our coach is doing a really good job with the practice schedule, and trying to improve our skills but also learn how to play the correct way," Gadhavi said. "This year we have a new coaching staff and together they came up with new plays and brought practice to a faster speed."
What sets the ice hockey team apart from other sports at school is that it's a club sport and coed.
"We are a joint team with another club called Newport Mesa. So we have a few CDM [Corona Del Mar] kids [and] a couple Beckman kids," Gadhavi said. "Everybody goes to Mater Dei [on other sports teams], but for this team half go to Mater Dei and half don't."
Despite the fact that the team isn't exclusively Mater Dei students, its players, like Gadhavi, still have school spirit.
"I play for MD for a sense of school pride, to take the team and the school to the next level. To play with some great friends then have class with them the next day. To see your friends cheering for you and your school, then seeing them for lunch tomorrow," Gadhavi said.
Gadhavi isn't the only one who shares this sentiment, junior and fellow team member Jeremy Son does as well.
"Because we know each other, our bond is better. There are more kids that go to Mater Dei than my freshman year two years ago. Having more players on the team [that come from our school] makes a lot of difference," said Son.
Due to the pandemic and other circumstances, the ice hockey team was not able to compete last year.
"I joined this team freshman year. We didn't have a team last year because of the lack of players, but we have a team again this year," Son said. "There's only two returning players, Tej Gadhavi and I."
With new players ready to perform at a more competitive level, new coach Lucas Romero, has high hopes for the team in the upcoming winter season.
"Within our team, [we have] a caliber of player that I haven't been able to coach at the high school level yet, which is very exciting. Our team at Mater Dei is a younger team [and] we have a lot of freshmen who are among the best on our team," Romero said.
Along with the new changes the ice hockey team has undergone, this year is an incentive to live up to the Mater Dei legacy and win.
"Intensity wise, everybody is required to work hard and pay attention—these are two things that everyone can control," Romero said. "Not everybody is an all star [and] not everybody is super skilled, but everybody can control their effort and their focus level. That's something that I pride myself on with my teams: we work hard, we're attentive to details, and we're here to win championships."