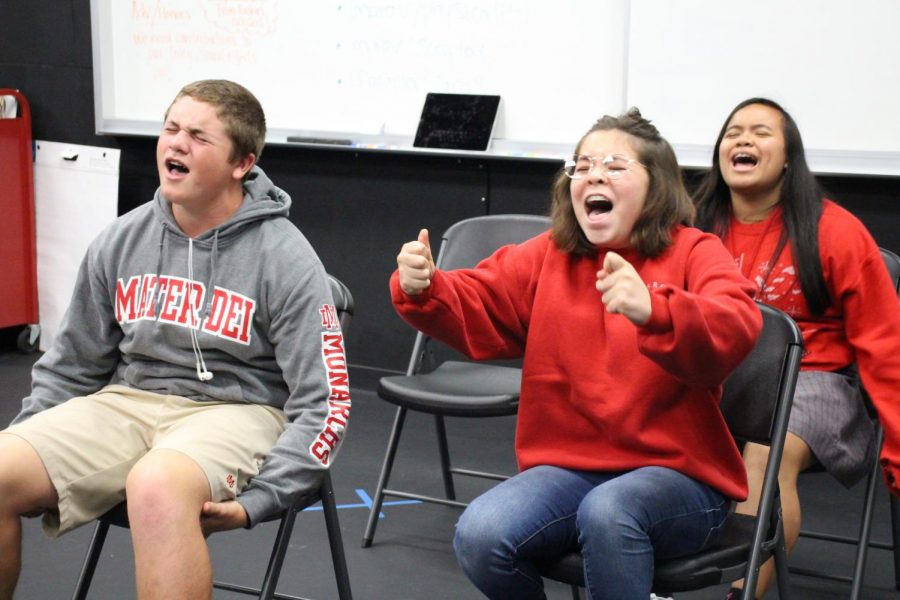 Kristen Castillo
Over the summer, the school's theatre program began a revamp: The Little Theatre was completely reorganized, and new faculty were hired, including the new Director of Theatre, Lissa Slay, and theatre teacher Andrea Fouts.
DIRECTOR SLAY SUPPORTS STUDENTS ON AND OFF STAGE
Prior to coming to Mater Dei, Lissa Slay said she struggled to find a career that accommodated her passions of teaching and managing theatre. But then the position at Mater Dei opened up.
"[I heard] the Lord knocking at my door and saying, 'This is the thing you said you wanted, here it is. Are you going to take it?'" said Slay, who teaches four blocks of theatre classes in addition to directing the program. " [And] here I am and it's been a ride, oh boy. Mater Dei never sleeps, but that's fine. Neither do I."
During the summer, Slay began her new role by cleaning the Little Theatre and simultaneously working at Vanguard University as the education director of American Coast Children's Theatre. At Vanguard, she continued her practice of supporting young thespians.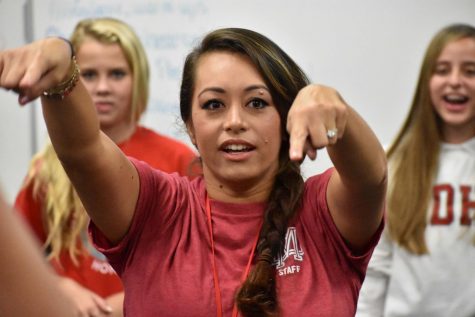 "…These kids come from everywhere," Slay said. "They are hungry, they want to do theater, and they want to do it in a place where they feel valued, loved, and respected."
Slay's students have seen this through her support of their career paths during and after high school.
"I have always wanted to do theatre for a long time," sophomore Rory Dahl said. "Coming to Mater Dei and having such a wonderful department to work with and taking this step in high school and hoping to continue it in college, Mrs. Slay has made sure that I look at the colleges that have my intended major and look at grad schools  and look at monologues that I should use for auditions."
In addition to helping direct and produce theatre productions like November's all-school musical You're a Good Man, Charlie Brown, Slay said she plans on continuing renovations for the little theatre and "chartering the international thespian group," a honors society for theatre.
Slay first began her theatre career by performing, directing and writing plays and musicals in high school while also managing her high school's theatre department with a friend. Slay continued her education at California State University Fullerton where she received her bachelor's degree in theatre. Later, she toured with a children's theatre company in Montana for several years and realized that her passion was in teaching.
"… After I did three tours with the children's theatre, I came home and I realized I want to keep doing this. I want to keep working with kids," Slay said."…This is what's getting me up in the morning. It's not about working with adults, I'm really here for the teaching part. I want to teach."
FOUTS FACILITATES THEATRE PRODUCTIONS, STUDENTS' FUTURE ASPIRATIONS
As a new Theatre I and Theatre II teacher, Andrea Fouts hopes to support students' career and give them the opportunity to be a part of productions that they take pride in and enjoy.
Though only at the school for one semester, Fouts said he has observed that the school community supports students and their goals. Fouts plans to be a part of this support system and help students excel in their productions.
"My goal for my students would be to get to a place in their career that they are proud of, that they can feel confident in," said Fouts, who also choreographed the all-school musical. "That they can get the adrenaline rush and have a wonderful time on the stage, knowing that they have put in the hard work and that they are prepared and that they earned their role, and that they did a job well done."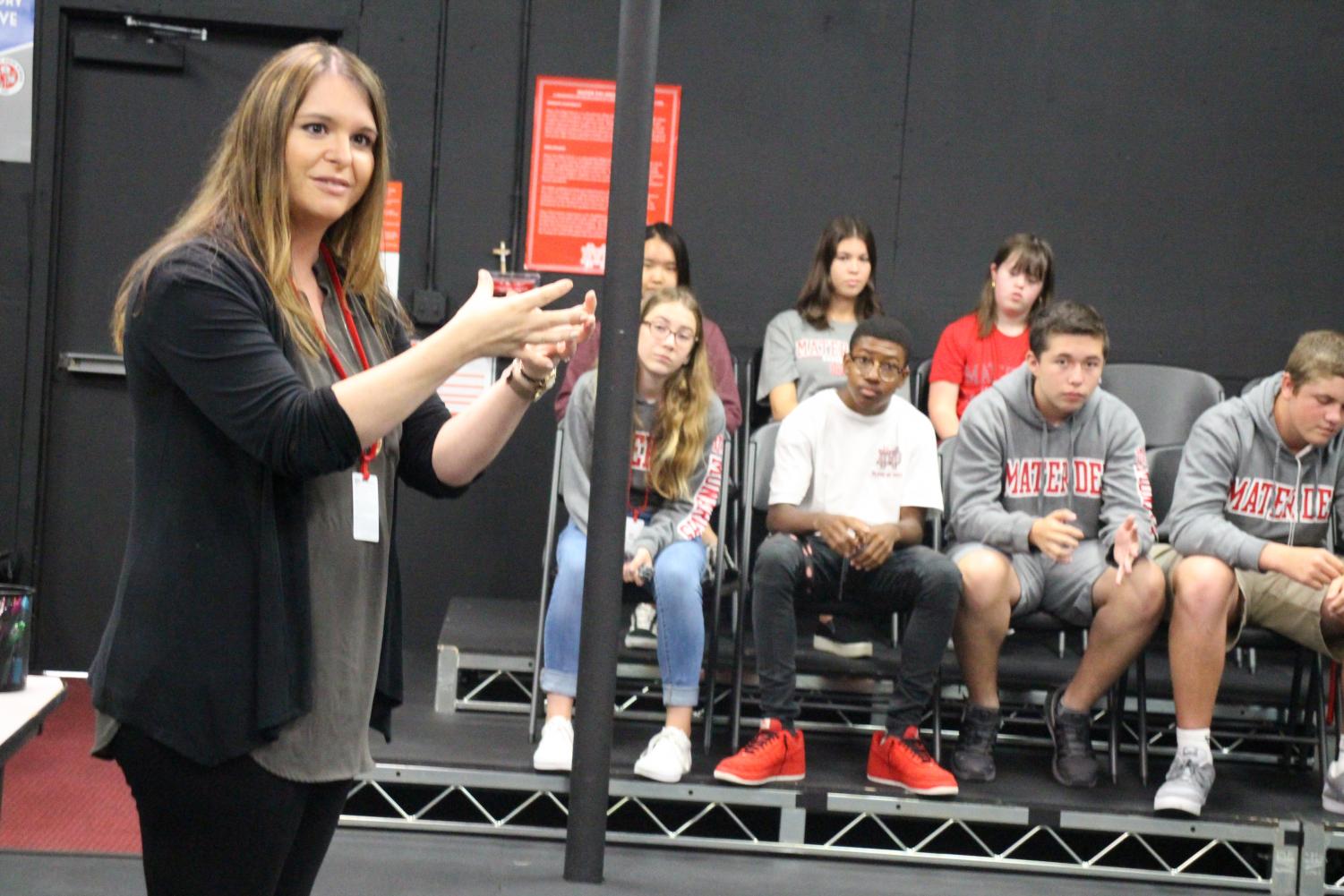 Fouts has worked to complete this goal by encouraging her students on and off the stage personally and in their craft.
"Theatre in general has made more confident as a person and as myself," junior Gwen Smith said. "The new theatre teachers definitely help add to that confidence of just being a general human being."
Fouts began her career performing on stage but realized during her time at Chapman University that she had a passion for the work that goes on behind the scenes. After earning her bachelor's degree in film and television, Fouts became the creative director for an independent theatre company in Yorba Linda where she oversaw major elements of production such as direction, set design, and fundraising for 14 years. Before Mater Dei, Fouts was a theatre and voice teacher at Orange County School of the Arts in Santa Ana, CA.
"I used to find joy performing on stage, but now I find joy when my students are successful and when they have a break through and they accomplish something on stage that they have never done before," Fouts said. "I get just as much joy out of seeing my students grow as I did actually performing myself, so that's how I knew I was meant to be a teacher."