Diviners cast prepares for tragic, symbolic performance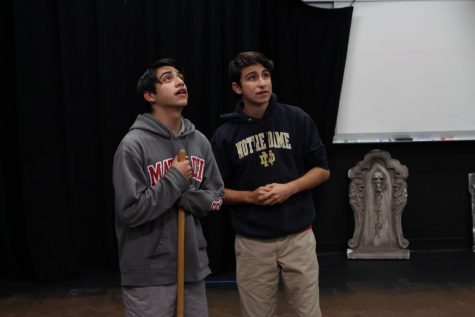 "The Diviners," a play written in 1980, opened yesterday on campus for the first time in the theatre program's history. The directors, Director of Theatre Lissa Slay and senior Gwen Smith, along with the 11 person cast have been working for months to bring this tragic story to the stage.
Written by Jim Leonard Jr., the play centers around the friendship between a 14-year-old boy named Buddy Layman and a kind pastor, C.C. Showers, who takes him under his wing after Buddy becomes traumatized from a near-drowning experience he had as a child. Set during the Great Depression and the Dust Bowl, "The Diviners" combines elements of loss and coping with fear while simultaneously also portraying rebirth and growth amongst the characters.
"Good and simple people with the best of intentions" is how Leonard introduces these dynamic characters at the beginning of his playbook. Slay took these words to heart when she made the decision to keep "the scenery, the lighting, all of the production elements as simple as possible so that we can focus on these characters and tell their story very clearly and specifically," she said.
Symbolism plays a key role in developing the story as actors are encouraged to not only connect with the audience but find themselves in these characters.
"It is a show that has a lot of religious symbolism and I think at a Catholic school, that can go a long way," said junior Maureen Beld, who plays a lead role as Luella Bennett.
Beld, whose character is the wife of the farmer who employs the main character Buddy, said that she finds inspiration in the people she has surrounded herself with.
"[I get inspiration from] the adult women in [my] life…because it is a kind of timeless figure to be an overworked person and mother figure," Beld said.
In order to prepare for his role, one of the leads of the play, junior Josh Weed said he received a lot of help from Smith, the assistant director, and junior Sebastian Ledesma, who plays Buddy, during the preparation for his role.
"[Smith and Ledesma] helped me to really form and shape my character [as well as] how to interact with him and the other people on stage," said Weed, who plays C.C. Showers.
Ledesma, who plays the lead role of Buddy Layman, also conducted research about Buddy's personality traits in order to fully embody his character.
"Buddy…suffers from a very traumatic experience as a little boy so I did a lot of research on what kind of…PTSD [and] what kind of stuff that does to a person's mind and then just…trying to act in the best way that I can really," Ledesma said. "It's a very powerful story that is not really like any other story that's been told and it's just…very sweet…I love it…it's a lot of raw emotions."
For junior Reese Wineroth, who plays Goldie Short, preparing for her role included finding out "how I can relate to these situations and to the emotions I have felt before," she said.
"Sometimes it's hard because these characters have sometimes no relation to you but I just try to find…and feel it within myself…[to] do it justice and be genuine about it," Wineroth said.
Senior Cynthia Garcia plays Norma Henshaw, a very religious character who tends to put all of her faith into one thing. While the props of the show are minimalistic, Norma is the exception as she uses colorful jelly beans as a prop throughout the play. Norma always has "this joy around her…she always has the best of intentions," Garcia said.
"This play…has a lot of different themes and it talks about a lot of different aspects of life and I think like Sebastian was saying, it's a very sweet story," Garcia said.
The Diviners is a powerful and symbolic play that discusses serious topics including fear, trauma, and mental health.
"You're not really expecting it and and it's really strong," said" Isabelle Buchanan, who plays Jenny Mae Layman. "It shows the effect of fears and conquering those fears…and about our faith and God."
"The Diviners" will be performed tonight and tomorrow at 7 p.m., along with tomorrow and Sunday at 2 p.m. Purchase tickets today through the Mater Dei Performing Arts website.