Academic Decathlon travels back in time to 1960s Europe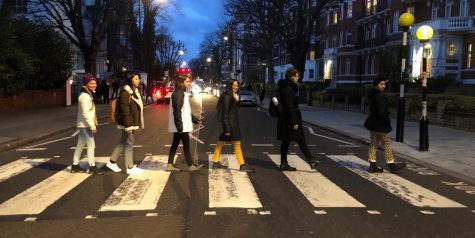 The Academic Decathlon team traveled to Europe over Christmas break with the intent of exploring the history of the 1960s, which is this year's Academic Decathlon topic.
Academic Decathlon is a series of competitions in which a team of nine students, divided into groups of three by grade point average, takes several tests covering literature, science, social-science, economics, art, music and math. Each test is out of 1,000 points, and teams work to accumulate points that goes toward the team's overall score.
On the team's trip to Europe, students first landed in Berlin to visit the famous Checkpoint Charlie, a checkpoint designated for those traveling in and out of East Germany during the Cold War era. In the following days, the team arrived in London to visit the famous Globe Theatre and the Abbey Road crosswalk, famous for the Beatles' iconic Abbey Road album cover.
Keeping to the theme of Europe in the '60s, the group also visited locations related to the Cold War and the famous Hamlet spinoff Rosencrantz and Guildenstern are Dead, which helps create a path for the team to study for the multiple tests.
Junior Gianna El Bayar, a first-year decathlete, traveled to Europe with the team, which was her first educational trip outside of the United States. After a family trip to Spain two years ago, El Bayar said she usually spent time at shopping centers and
famous streets, instead of visiting landmarks and museums. For this reason, she found Academic Decathlon's goal of historical education enticing.
"I'm looking forward to visiting places such as the Berlin Wall and the Globe Theatre because we read about them in history books and think, 'Oh that's really cool' … then you start to put things into context and picture things that happened there," El Bayer said prior to leaving for Europe.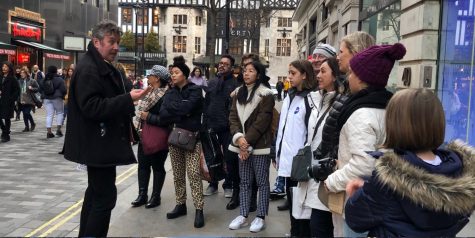 For students who have traveled with Academic Decathlon in the past, the trip is a journey that allows students to relive the experiences of those that came before them. For example, in a 2015 trip to Belgium, students got to walk through the trenches where soldiers during Word War I fought and died. In 2017, a trip took the team to Normandy, France, to see the graves of those who died on the famous "D-Day" invasion.
Junior Will O'Sullivan, a third-year decathlete, remembered visualizing historical events in front of his eyes when he traveled to Belgium.
"It was pretty amazing to see things in historical context," O'Sullivan said. "You get to see things from the beaches of Normandy to the streets of Munich and how the city was built from scratch as a result of the bombing."
Leading the Academic Decathlon team on their exploration of Europe is Anna-Lisa George, the Academic Decathlon coach and an English teacher. George has been coaching the Decathlon team for 23 years and has helped the team win five consecutive regional championships. George said she credits part of her success to educational travel and how she can see its positive effect on the team's morale and test scores.
"Educational travel in general is life-changing…" George said. "Taking the Decathlon team is a no-brainer. We use the Decathlon topic to inspire our trips."
This tradition started in 2005 when George wanted to take advantage of the teams topic, "The Ancient World," which focused on Europe. On that first trip, the students went to Italy and Greece. When they returned, the team rallied together to win the school's first ever Decathlon title. George said this win was a result of the team's visit to historical sites and landmarks.
This year's trip to Europe spanned over two weeks and more than 6,402 miles, taking in all of the historic sites and culture Europe had to offer. During this time, the teammates bonded, created memories to cherish and brushed up on some of the materials they had been reading on.
"I felt like it was a phenomenal opportunity to connect with each other and travel the world in a way that is different," O'Sullivan said.