Para-athlete works towards 2020 Olympic games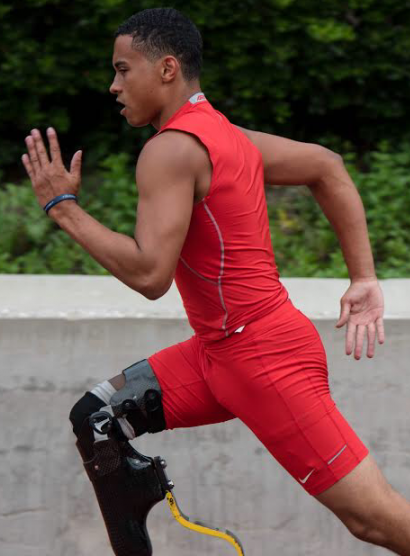 At the annual California track and field state meet, records are painted on the floor around the arena showcasing the hard work student athletes have put in to earn these records. One of these records, the 200-meter para ambulatory, is currently held by junior Henry Waterman, who set this record his freshman year and just broke it on May 25 with a 25.23-second personal record.
Waterman's story started when he was 2 years old and had to have his leg amputated due to a rare birth defect called fibular hemimelia, a condition that affects 1 in 40,000, which means a baby is born with part of or all of the fibular bone missing. After seeing more than 26 doctors, Waterman's parents knew that they had no other choice but to amputate his leg.
"It wasn't much different for myself … I was used to it because [my amputation happened when I] was young, really young … so I was used to it at the time," Waterman said. "I finally realized when I was in elementary school when I was confused about why I was so different. There was a few kids who treated me differently but [that's in the past] so it doesn't matter."
But Waterman said his physical disability created a new strength and motivation to work harder, especially when his competition didn't view him as a challenge.
"I did martial arts and jiu jitsu and I would have kids before a match comment how it would be an easy victory," Waterman said.
Waterman originally joined track his freshman year to keep him in shape for football, which he played in the fall that year. Now at 17, Waterman solely focuses on track and is training for the 2020 Paralympic Games in Tokyo, Japan. After winning the state meet freshman year, Waterman recognized the skill that he had and wanted to pursue something more than the state meet.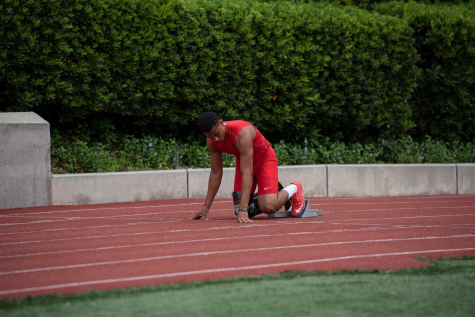 "After my first year of track freshman year, I just kind of enjoyed it, so I just said, why not try to go all the way to the 2020 Olympics in Tokyo and hopefully 2024 in Paris and then LA in 2028," Waterman said.
As one of the very few amputees in California high school track and field, Waterman typically races against those who do not experience the same difficulties Waterman faces when running. But rather than being discouraged, Waterman said he uses this as a way to get himself to work harder.
"I know if I can't win then I just need to try to be better than what I was before," Waterman said. "I'm just competitive as a person so I just like to do the best that I can and to get better than what I am. I just kind of go into a zone in my head and kind of figure out what I did wrong, what I did right, what I need to work on and how to better myself from other techniques and such and just improve and fine tune everything else."
Recognized for his hard work despite adversity, Waterman was asked to be a part of Shaquem Griffin's "Motivation to Be the Greatest," a NFL Network video depicting young amputees who are active in athletics. Shaquem Griffin is a NFL linebacker for the Seattle Seahawks who, at four years old, had his left hand amputated. In the video, Waterman and other amputees are seen showing how despite all of the difficulties they have faced they are still strong and determined and ready to work hard to achieve their goals.
"It was pretty cool… I watched him bench 225 pounds with just having one hand which is really hard to control because of balance…," Waterman said. "It was weird to see myself on TV. I mean, I'm not really a TV guy so when I see myself on camera I don't really like that but it was a pretty cool experience overall. I got to meet some of the kids who also had missing limbs…"
Athletes across the nation have found inspiration from his story and, Waterman said, some have even reached out to him telling him how he has influenced them to work harder.
"It feels really weird, I mean…I just don't like being considered a role model or something like that, I don't like being in the spotlight I just want to do my thing and get out," Waterman said. "But I mean it's nice to know that even though I'm not trying to have that big of an impact on people I am and… it brings a warm feeling to my heart."
Waterman doesn't just inspire other disabled athletes, he also is an inspiration to his own teammates.
"He inspires me because he only has one leg and he's still running faster than some other people and he works really hard… he's quite the inspiration," junior hurdler Patrick Keegan said.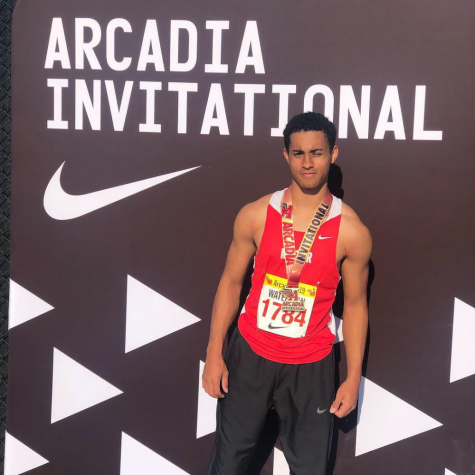 Waterman's MD sprint coach Sam Collins also recognizes the work ethic that he had received from football and tried to get him to tie that to track.
"What he's done is he's taken a football attitude to the track," Collins said in an interview with ABC7. "He said 'I like to hit people' so I said come here and let's beat people."
As Waterman pursues another state title and eventually the 2020 Paralympics in Tokyo, he encourages other disabled athletes to not view themselves as inferior to their competition and to, instead, use their disability as a motivation to work harder.
"You just kind of have to put yourself out there really and just try out a sport anyway and see what works for you," Waterman said. "Work your hardest and train harder than everyone else, eat well, workout to strengthen whatever part is different and have the mentality that you can do anything and then you end up doing better than you ever thought you could."
View Comments (2)