Students lobby in state capital for the Catholic Church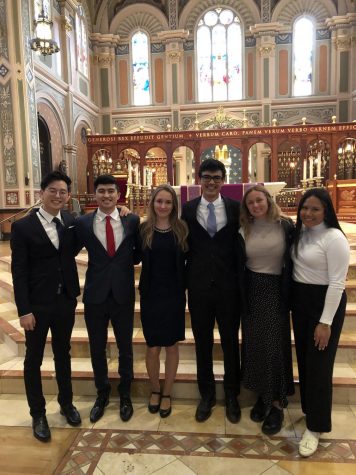 On April 2, six students – seniors Rodrigo Gonzalez, Melita Kalczynska, Elena Van Eenenaam, Melanie Villasin and Jude Zabala and junior Dabius Kim – traveled to Sacramento for Catholic Youth Advocacy Day to act as lobbyists for the Catholic Church. These students were given five different bills to discuss with California state senators in capitol.
This annual event allows students from all over the state to come together and discuss issues which are important to them and to the Catholic Church. Some of the bills discussed include legislation on problems such as gun control and mental health awareness.
"It was a really great experience being able to see how the process works and to talk with senators about things that I am very passionate about," senior Elena Van Eenenaam said.
Each of these six students were chosen by the trip's moderator, Anne Herrick. Herrick, along with fellow religion teacher Steve Viau, prepared the students to promote particular bills in front of California state legislature.
"The California bishops ask us to lobby bills that are coming before the assembly and before the senate for the state of California," Viau said. "There are certain issues that are trying to promote Gospel values in the legislation."
Senior Jude Zavala said that their day in Sacramento consisted of meeting with various California senators and their assistants. While their trip only lasted one day, the Mater Dei group was required to meet during multiple office hours and lunches in order to conduct research for the particular bills that they would be lobbying.
"During the prep time, we had different information sent to us by the program leader to help support us," senior Jude Zabala said. "We also used government websites to learn more about different bills to get any information we could find."
According to Zabala, the students learned about the logistics of the senator meeting and, to practice, they would have mock meetings with one another for preparation.
"[The students] get to see the political process first hand very much from the inside," Viau said. "Plus, it also makes them very much aware of how much it takes for a bill to become law especially with the lobbying effort."