Alumna joins the girls lacrosse coaching staff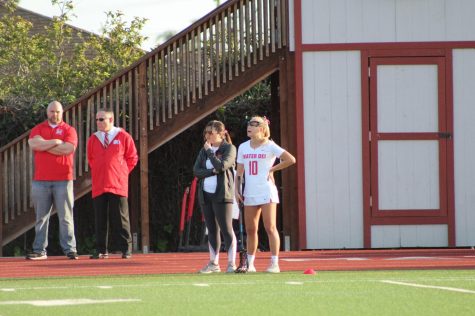 Chloe Silance, class of 2013, rejoined the girls lacrosse team this year as its head coach.
"Coming back to MD to coach was an easy decision," Silance said. "Mater Dei is a prestigious school that did so much for me during my time there. Being able to coach for my alma mater and give back to the school is a privilege."
According to Silance, being an alumna contributes to her coaching because she knows the expectations and standards that the athletes must be held to.
"My coaching philosophy is to prepare young female student athletes to become their best selves through developing them on the lacrosse field and in the weight room, as well as encouraging them to pursue excellence in all aspects of their lives by developing excellent character, instilling great work habits, stressing the importance of academics, and strengthening their faith," said Silance, who also teaches Earth Science and Biology. 
In fact, Silance said that, while striving for a successful season is important, there is more to her coaching.
"I want the girls to build chemistry with each other and play with a 'team before me' mentality," Silance said. "I want them to have fun while they are playing and remember why they started playing lacrosse in the first place."
Silance said she wants to bring the team together and to develop her players on and off the field, and her players said they feel the results of these efforts. 
"I really love what Coach Silance has brought to the program," said senior Reese DeAngelo, a varsity player. "She has brought many positive additions and is always wanting the best for the team. Coach Silance has helped us grow in many aspects."
Another senior varsity player, Gianna Danese, agrees.
"She wants what is best for our team and has taught us about every aspect of the game," Danese said. "Not only has she prepared us to be the best that we can be, she challenges us with very elaborate sets and motions because she knows we can be better."