After being diagnosed with leukemia, senior uses filmmaking as a way to cope, share her story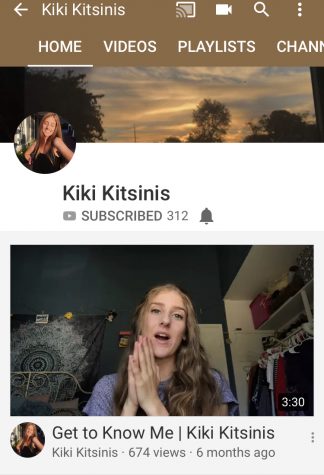 This story was originally published in the CROWN Yearbook but has been updated to show Kitsinis' most recent improvements.
"Good morning Mater Dei, my name is Kiki Kitsinis, and this is everyDei."
Known for being one of Monarch Television's anchors and history teacher Charisse Kitsinis' daughter, Angeliki "Kiki" Kitsinis can be recognized both on screen and on campus by her cheerful attitude and fun social media presence.
On Feb. 12, her 18th birthday, Kitsinis took to Instagram to share some shocking news: She had been diagnosed with Acute Lymphoblastic Leukemia subtype B-Cell that same day and was to begin the chemotherapy process just a day later.
Kitsinis' social media almost immediately overflowed with messages and prayers from her friends, family and peers to help her push through this difficult time. Now on her Instagram, she reposts all of her followers' supportive Instagram stories, especially the ones that include the orange "#fightforkiki" wristbands that are have been circulated around the school.
"I can't believe how encouraging and kind and generous everyone is," Kitsinis said. "From my closest friends at school to people I've only ever passed in the halls at school, it feels like everyone is rallying behind me, and it makes such a big difference in how I am coping with all of this."
Even though many students have shown their support by wearing the wristbands, Kitsinis said she has been blessed to receive a hair donation from sophomore Laura Alfaro.
"I donated to her because I saw her every morning on Monarch Television and I could feel her positivity every day," Alfaro said. "After seeing her post telling everybody her diagnosis my heart broke for her. I continued following her stories and [after] seeing how much her hair meant to her, I figured I could do my part by donating my hair. I'm lucky enough to have this hair that I never felt a connection to but Kiki did have this special connection [to hers] so I wanted to bring relief to her in some way."
Alfaro and Kitsinis had never interacted before this point and their only connection was Alfaro's history teacher, Charisse Kitsinis. The gratitude Alfaro has received from Mrs. Kitsinis and her daughter left her with an overwhelming amount of great feeling.
"She did not have to cut her hair, she didn't have to do such a generous act for me, but she did. And she deserves to be recognized for it," Kitsinis said. "I don't know how to properly express how generous that was for her to do for me, it was such a thoughtful act of love and I want people to know about it."
Now on her journey to defeating cancer, Kitsinis continues her social media presence in order to stay connected with the outside world since she is currently unable to leave her house or join her friends as school.
"I've always been an extrovert, always been extremely social, so my constant need to be around people has been one of the hardest parts of this whole situation," Kitsinis said. "Without this connection with everyone through Instagram and my videos, I know my healing would be delayed and I'd honestly be extremely miserable all the time."
Upon starting her chemotherapy treatments, Kitsinis began filming her four-day stay at the hospital and decided her experience wasn't going to be something she would let consume her. Because Kitsinis' future plans include being a broadcast journalist and more specifically a lead news anchor, she chose to use this time as a way to apply what she's been so passionate about for so long and make it more than just a hobby. She knew that filming her experience was something she wouldn't regret doing.
"I've been addicted to watching the news, especially political and international news, since elementary school," Kitsinis said. "I used to get up at 5:30 every morning in elementary school and watch the morning news by myself and eat my breakfast. I used to actually be late for school a lot because I never wanted to turn it off."
Kitsinis would create and film skits and videos on her dad's video camera. Eventually, she created her own YouTube channel, but during her freshman year she deleted her videos. Reviving her channel in the light of her diagnosis has helped her feel less isolated.
"Filming has always been an escape for me, as it calms me and makes me feel very grounded because I know that it's never stressful for me," Kitsinis said. "I've never been able to properly explain what it means to me, it's sort of a sense of security or grounding for me. And me never losing my passion for filming over the years is something I'm extremely thankful for, especially now."
Her first few videos, titled Cancer Vlogs, revolve around what was happening when she was first diagnosed; her first video now has 2,573 views. Overall, she has 350 YouTube subscribers. 
Wanting her channel to grow, she has taken to Instagram and asked her followers for video ideas and any questions they wanted answered. While Kitsinis believes creating content has helped her heal, she's also found it to be overwhelming.
"Actually working up the physical and emotional strength to just film has been a struggle for me over the past few weeks," Kitsinis said. "It's getting harder for me to find the motivation to film, but I know that I have to just keep telling myself that it won't stay like this forever."
When she was first diagnosed, Kitsinis struggled with the idea of telling people what she was about to go through, as she didn't want anyone to feel pity for her. But when she posted about her diagnosis on her Instagram that night, she felt that she had said what she needed to and knew it was for the best because she believes that holding in emotions isn't a good idea.
"I wish I could really articulate my love and my thanks to everyone for being so good to me," Kitsinis said. "Every prayer, every message, every positive comment and happy thought that comes my way is felt and is helping me get through this. I am so blessed."
Kitsinis has recently started phase two of treatment and she said she has been feeling good despite the nausea and fatigue that comes from her treatment. This phase requires Kitsinis to be in and out of the hospital on a weekly basis for the next four weeks and has been put on six different chemotherapy drugs.
During her rounds of treatments, she has also had to deal with losing her hair, something she said she had a hard time coming to terms with.
"Losing my hair has taught me a very important lesson that is twofold: first, it's just hair and it will grow back. And second, there are more important things in my life than having long thick hair," Kitsinis said. "I never thought I would be able to answer that way; before my diagnosis I could never have thought I would be so objective about it."
After deleting all her videos during her freshmen year, she said that centering her channel around cancer has helped her find a better passion for filming and has allowed her to more positively view her diagnosis.
"I am so grateful for the support from everyone who has watched my videos and subscribed to me," Kitsinis said.