Avoid stress during junior year through resources, communication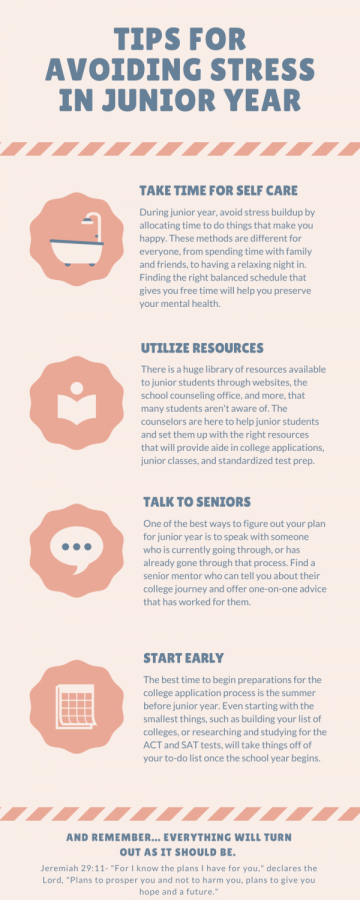 Each year of high school brings new challenges for every student, but no year seems quite as daunting as the infamous junior year. Preparations for college begin, pressure to take the most difficult classes arises, and grades seem all-important. 
Although there is no doubt that juniors face serious responsibilities and stress, the stigma built around the year makes it seem significantly worse than it actually is. Underneath the facade, junior year can be manageable through organization and utilization of resources – we swear.
One student who works to balance his schedule is junior Kenneth Fernandez, who is heavily involved on campus between his academics and extracurriculars such as guitar and robotics.
"As a sophomore hearing that sort of stuff [about junior year] doesn't really affect me because I'm always like, 'oh I can do it,'" Fernandez said.
Many junior students find themselves in a similar situation: spread too thin over all their commitments on and off campus. It may be helpful for current juniors to learn from and support each other in their activities, as well as from seniors who have made it through the daunting year.
"I had other friends who were going through … similar amounts of work and stress," senior Lindsay Aquino said. 
She and her friends would study together, compare notes, and offer each other support and friendship through tough times. 
"I would say making time for relaxing and unwinding is important," Aquino added. 
Setting aside time for self-care and finding the relaxation methods that work best for you are essential to success during junior year. Spending time with family, going out with friends, or even a relaxing night in are all ways that students take care of their mental health.  
Aquino took full advantage of Mater Dei's opportunities last year, taking all honors and AP classes as well as a variety of extracurriculars including dance team, mock trial, and theatre. Balancing this workload was no easy task; however, Aquino described her junior year as a time of personal growth because she learned time management skills and work ethic. 
"I don't think it was actually as hard as people say it is…" she said. " it's definitely doable if you just put in the work and dedication."
The recipe for success during junior year lies within the hard work and dedication that Aquino describes. If junior students make a commitment to balancing their assignments, taking responsibility for their tasks, and making time for self-care, the stigma of junior year can be broken and students will thrive in their challenging but successful environment.
Essential skills such as time management, responsibility, and communication are learned during the year, creating an opportunity to develop these skills and utilize them to get the most out of your junior year with minimal amounts of stress. 
"I think I learned along the way," Aquino said.
Aquino also emphasized the importance of thinking ahead to the future, remembering the reasons for putting in the hard work that junior year requires. 
"Just make sure you have your goals set in mind," she said.
To all of the current juniors feeling the stress and pressure that junior year brings, remember that much of that stress can be avoided through planning and organization. Talk to your counselors, collaborate with your classmates, plan in advance, and set achievable goals for yourself. 
The school offers a variety of valuable resources for all students that juniors may find helpful. The guidance and counseling office offers support in all areas of student life ranging from personal assistance to academic planning. 
If there is one piece of advice that guidance counselor Angie Young has for junior students, it would be to find balance.
"I would say to have a balanced course load, not to overload yourself…" Young said. "Only doing things that are important [and] meaningful to you are really the things you should be focusing on with your extracurriculars. It's about quality, not quantity." 
As juniors work hard in their activities with college applications in mind, it is essential to find the projects and organizations that they are truly passionate about rather than spreading themselves over many unimportant activities. The responsibilities of many extracurriculars can pile up on junior students, when in all reality it is much more worthwhile to find a single project you are passionate about, and to which you can commit wholeheartedly. This can help students avoid stress and make a real impact in an extracurricular activity- a quality that is very attractive to college admissions offices.