Student athletes commit to dream colleges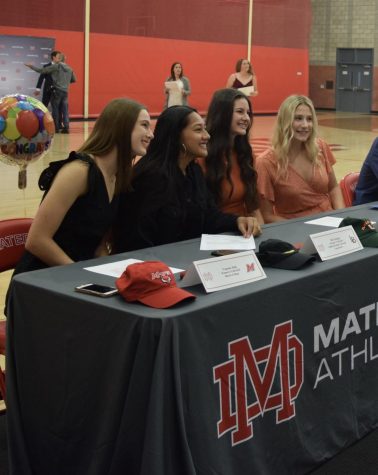 Gray tables, set up with baseball hats from a variety of college names are propped up, ready to be worn with pride. The gym is packed with families and friends of anxious student athletes, who prepare themselves for this special moment. Coaches, feeling honored, give personal and emotional speeches about their players they have grown to love and who have been able to see flourish in their sports. Students feel families raise signs in the stands with their names on them cheer for them when their students' coach introduces them.
On Nov. 13, 27 student athletes committed to continue their athletic careers during the collegiate level at the first National Signing Day of the school year. With three signing days each school year, National Signing Days gather coaches, teammates, family, and friends to celebrate student athletes' hard work and dedication to their sports.
ZACH TORRES
"My favorite part [of signing] is making my dreams come true," said senior Zach Torres, who committed to play lacrosse at Benedictine College in Atchison, Kansas. "I've dreamed of signing and playing lacrosse in college since I started playing in third grade."
Torres plays on the varsity lacrosse team as middie or in the midfield. He says the best part of playing lacrosse is the brotherhood he has with his teammates.
"Lacrosse is a huge part of my life because I love the game and being with my friends," Torres said. "They are some of my best friends and I wouldn't trade them for the world."
Torres said he decided to Benedictine College because it is a calming and quiet place that is 20 miles from Kansas City.
"The deciding factor was the lacrosse coach, players, and program," said Torres. "It was how much of a family they are and how the players seemed to love being part of the school."
LAUREN TARNOFF
As a middle blocker on the varsity volleyball team who has been playing since fifth grade, Tarnoff says the whole signing process is long and can be stressful, especially when students are not sure where they want to go. She also said that even though it is a stressful experience, the outcome is worth it.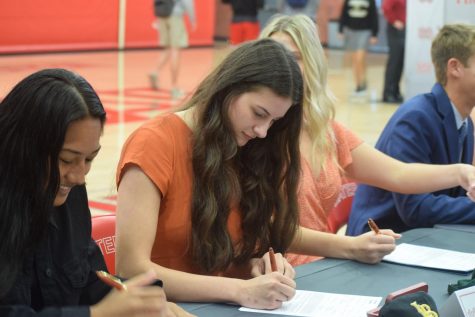 "Volleyball affects my life a lot because I …play volleyball every day and, when I'm not playing volleyball I'm thinking about volleyball," Tarnoff said. "I am thinking of the next game or tournament I have."
Tarnoff will be attending the University of Miami in Florida. She was deciding between a couple of different schools during the summer and went to their camps to meet the coaches and players on the team.
"I really connected with the Miami coaches the most, but the other schools I was considering were closer to home which would be good for me but the feeling wasn't there," Tarnoff said. "I wasn't connecting with the coaches so Miami was it."
According to Tarnoff, she tore her ACL last year and was not able to play during the volleyball season. She wasn't sure if she was going to be able to come back to volleyball her senior year.
"I was really missing out and I was on the sidelines just watching the school team win the state championship," Tarnoff said. "I was really bummed out so I decided I really wanted to continue and my senior year put a whole restart on my volleyball progress and journey. I can't get enough of [volleyball] and I'm really excited to keep playing."
JOLIE GUSTAVE
Since the age of four, Gustave has been playing softball and is currently on the varsity team as a pitcher. Gustave says that she loved every aspect of softball when she was younger, especially base running because it felt like a game of tag. She had a hard time at first finding a position that worked for her, but ended up falling in love with pitching.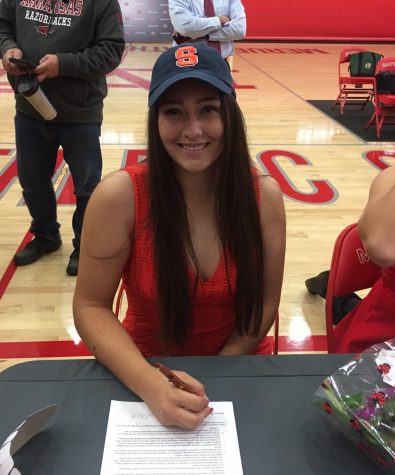 "Softball is my life," Gustave said. "It takes up all of my time, energy, and free time. Balancing softball and school has always been a challenge, but you figure out how to time manage your responsibilities."
According to Gustave, committing and signing to a university is a long process. She made a list of the schools that interested her and were realistic for her to attend. Gustave then sent them emails with her schedule, GPA, and what team she plays for.
"If they have an interest in you, they will then come out and watch your games or invite you to camps to showcase your skills," Gustave said. "If you're lucky enough, they offer you a scholarship and you are considered a verbal commit until signing day where you make it official."
Gustave will be attending Syracuse University in Syracuse, New York, next year. It has been her dream school since she was 9 years old because she wants to major in sports broadcasting journalism and Syracuse has the program for it in the nation.
"Small little details also drew me to the school like it being located in New York, being a higher academic school, and having all the seasons including a real winter," Gustave said.
According to Gustave, her favorite part of the signing process was the anticipation of signing her letter and making her dream official. Her least favorite part she said was the anxiety she got from making sure she had everything submitted and up to Syracuse's requirements, such as good grades and a strong SAT score.
"I decided to continue softball at the collegiate level because it's my passion," Gustave said. "I want to be able to play for as long as I can and compete with the top players in the country."