What is Catholic Schools Week?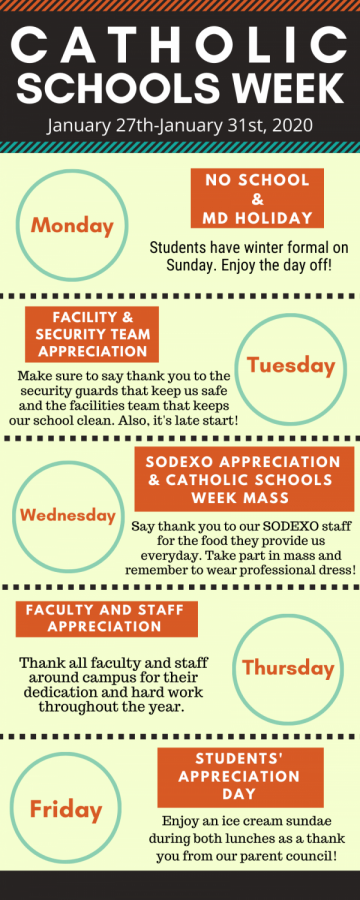 Every year, the school participates in the nation-wide event of Catholic Schools Week (CSW). According to the NCEA, this week is an annual celebration of Catholic education in the United States. The purpose of CSW is to help schools connect with future families, donors, educators, and the community.
Associate Director of Student Activities, Jeanette Costa, sees CSW as a way to bring awareness to the importance and value of a catholic school education.
"…in this time, a lot of Catholic Schools are dying out," Costa said. "It's just a time to raise awareness that we're a valid source in the education community."
This year the celebration will be held from Monday, Jan. 27 through Friday, Jan. 31. Each day of the week is dedicated to different groups around campus that keep our school community running smoothly. Each group will be served a special lunch on the day of their appreciation.
The first day, Jan. 27, the students will not have school due to a MD Holiday. On Jan. 28 the school will celebrate the efforts of the facilities and security teams.
"We ask all students to just kinda say "Hi" and "Thank you" as they see any of these members," Costa said.
Jan. 29 is SODEXO appreciation day, which is dedicated to the school's food service team. On this day students and staff will gather in the MAC to acknowledge this week of celebration and awareness with mass. During this time Director of Campus Ministry, Helen Steves, will bring in an alumni to speak about the impact a catholic school education had on them and how it still flows into their life today.
Jan. 30, will be spent by sending appreciation to the school's faculty and staff – the staff, facilities, and administration.
Jan.31, is when the parent council (PLC) celebrates the students. The PLC will thank and recognize the student body by passing out ice cream sundaes during both upper and lower lunch that day.
"Each day is a chance to recognize some important group on our campus who has helped build this to be, not only a great high school, but a great Catholic High School," Costa said.
Alec Sixta, a 9th and 10th grade religion teacher, says the purpose of Catholic Schools Week is a way to celebrate our mission and freedom of being in a Catholic school. As a teacher and/or student, he believes that it is a way to reflect our Catholic identity.
"Any day where we celebrate who we are, I think that's really important," Sixta said. "This kind of celebration helps and reminds us of who we are and our purpose in that."
For each group being appreciated, the ASB and class officers have made videos that will be shown on Monarch Television. They also made posters that will be put up around the school to remind the students of the event we are celebrating. Currently, the ASB team is working on the catholic school mass and how to best incorporate all the groups. "Mater Dei has a lot of helping hands, but I don't think we always realize how much people do for us as students, and as we do for each other. I think it's important to recognize our service towards each other and what makes our institution so great," ASB President, senior Kody Rymer said.
Rymer's favorite part of Catholic School Week is "how it brings all schools from the diocese together and how we all share a common activity."
"I like how it brings our school community together because we are each celebrating a different branch of our school and I think that's really important to show appreciation for everybody on campus," Rymer said.
View Comments (5)
Donate to The Scarlet Scroll
Your donation will support the Student Publications Department at Mater Dei High School. Your contribution will allow us to keep our equipment up to date and cover our annual website hosting costs.