Students use personal style, enhance school uniform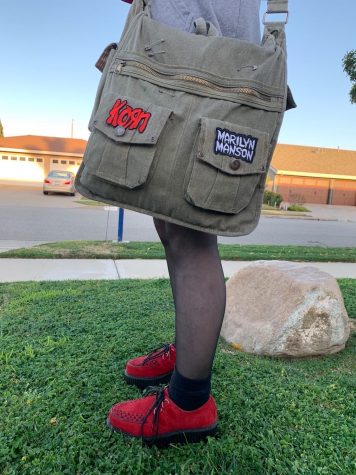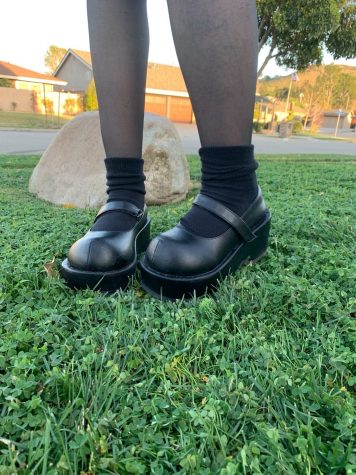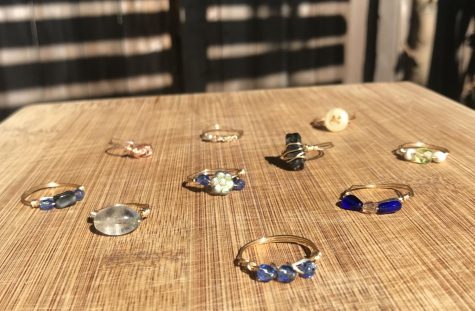 In attending a school with a uniform dress code, integrating personal style can be difficult. Our administration has provided us with some flexibility by allowing students to accessorize with statement items such as jewelry, socks, shoes, and college sweatshirts.
Senior Gabriella Busalacchi uses jewelry and hair accessories to personalize her uniform. Busalacchi makes her own jewelry from beads and wire or from rocks she finds on hiking trails. She also finds her more unique pieces from thrift stores or little shops she visits when camping.
"It brings me happiness, and other people noticed my style too, and they started wearing stuff they like… a bit of a chain reaction," Busalacchi said.
This dedication to adding a unique flair to her uniform stems from her passion in sharing what she makes out in the world. Personalizing is how she controls what the world sees of her. She describes her 'artsy' style as fun and experimental.
"It's like knowing a part of someone without meeting them… just the small act of wearing what I like brings a bit of happiness and confidence in my day…" Busalacchi said.
Busalacchi's primary advice to students is to start small with accessories and build up a style that's comfortable to them. What's important, she says, is to have confidence.
"When you connect with your style and dress…you'll become secure in yourself, and people will notice the positive vibes you give out," Busalacchi said.
Senior Enzo Consoli takes a different approach to expressing himself by creating a style of his own, which he achieves through customized shoes and jackets. He believes in expressing himself more through his actions and says no one is limited to just one style.
"Most of the shoes I wear, I made personally, like there are regular shoes that I painted or I'll just wear shoes that you don't really see everyday," Consoli said.
He believes that how we express ourselves just isn't limited to what we look like, rather it's what we do as well.
"Everyone shouldn't just look at what other people are wearing and wear that, but instead wear what they want to wear," Consoli said.
Students that find school uniforms boring can turn to senior Athena Kitsinis approach to personalization as she adds to her uniform to make herself stand out as an individual and be more comfortable. The fact that she wears something different than everyone else makes her feel good.
"Currently I have my own style that I [don't] want to just stop doing," Kitsinis said. "I just added on accessories or wore shoes that matched my own style [with the uniform]."
She adds to her uniform by attaching safety pins to her skirts, wearing black nylons, and using different messenger bags for each day. She also uses her hair, earrings, and makeup to convey her style. Kitsinis advises others to just be themselves .
"You should just do it because people are going to think you're cool if you're doing your own thing [and] you'll feel good because you can be yourself," Kitsinis said.