After contracting COVID-19, senior warns students to be careful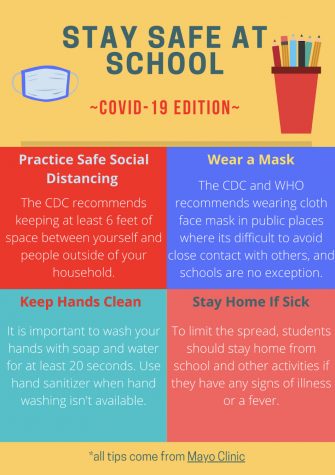 Not being able to see any friends or family members. Isolating yourself in a room for multiple weeks. Visits to the doctors. This was the reality for senior Melanie Montegani this summer when she contracted COVID-19, the disease that has now infected about 36 million people in the world.
Montegani was diagnosed with COVID-19 on July 4, just a few days after spending time with friends. Even though Montegani took the precaution of wearing a mask, the people she was around did not. Montegani explained, however, that she experienced symptoms a week before testing positive for the virus a few days after spending time with them, and they were very mild.
"I didn't even think it was [coronavirus]…my first symptom was a headache, and then I kind of got a small fever, and then I got a cough," Montegani said.
While the illness for Montegani was not as bad as she was expecting, she said the hardest part was finding ways to keep herself sane during her two weeks locked in her room. With her computer to keep Montegani entertained, her family helped her by dropping off food outside her bedroom door but also keeping their distance; because of her family's precautions, Montegani didn't spread the virus to any of them.
"[My dad] took all the precautions… he just accepted the whole issue and wore gloves and he wore the n95 masks, And then he wore a regular mask over it," Montegani said. "He was like, 'Don't touch anything' [and] he washed down my car to go get tested.'"
Montegani said that the main reason she believes that she contracted the virus was because of her lack of social distancing with her friends.
"I got diagnosed on the Fourth of July so my parents and my family couldn't go out of the fourth which I felt really bad for," Montegani said. "So I texted [my friends] the next day and… I was really nervous to send these texts because I didn't want these people to hate me because I felt really bad… I felt just terrible."
Montegani described this message as "the worst text [she's] ever had to send" but that her friends were understanding because they knew the risk that they put themselves into by hanging out with each other.
For Montegani, the hardest part of the virus was the unknown. She also described how "scary" it was with her cough because, based on her past experience with illnesses, her body has a hard time fighting off coughs.
"I think like the scariest part is how many unknowns there are about [COVID-19]," Montegani said, adding that she was scared about the possibility of going to a hospital and being put on a ventilator. "…whenever I felt like a new symptom coming on like I can't tell my body, 'You have to fight this one harder," like I kind of just have to let it do its thing…"
As much as she "[hated] online school," Montegani believes that it was the best solution for containing the disease as much as the school can. Her biggest advice for students is to remember to practice social distancing as close contact with others is the biggest way it is spread.
"It's not worth going to a party [and] getting sick," Montegani said. "You're going to see so many people at these parties…I got it in a group setting with three people. [Going to a party?] Absolutely not. It's going to be there… It's not worth it."
Leave a Comment