International students adjust to online learning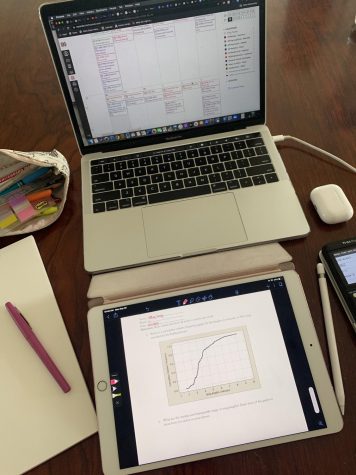 Many students are finally settling into their new school schedules: some AM or PM classes on campus, some blended classes that meet in person or virtually, and others that are fully online on Zoom and Kaltura. However, for the more than 50 international students who are currently living in their home countries, their daily schedules are completely different from the routines followed by Mater Dei's on-campus students due to the differing time zones; as a result, students overseas cannot attend classes at the same time as their fellow classmates that are studying locally. 
"Their teachers record their lessons and post it on Canvas for them to view," International Student Director Janet Lee said. "Therefore, this program is somewhat self-paced, meaning that students review the recorded lectures and lessons in their own time, at their own pace." 
Some international students also attend classes live with their teachers once or twice a week at a mutually agreed time slot. For senior Dung (Tiffany) Truong, attending all-online classes while living in Vietnam has not been a difficult adjustment and has allowed her to devote more time to her hobbies. 
"Since we've been primarily using our iPads, other e-texts and etc. while we were at school before, it was not difficult to adjust to the format of online school," Truong said. "I've gotten to spend more time with my parents and have started to take piano and vocal lessons in the afternoon since my hours are much more flexible."
Similarly, for freshman Yuecheng (David) Ding, who lives in China, keeping a consistent schedule online has let him explore different activities outside of the classroom.  
"When I finish my homework, I sometimes read books, sometimes I play with my friends," Ding said. "I can do some sports such as basketball and tennis." 
Although distance learning has been a unique experience for these students, especially as they have not been able to have many interactions with their classmates, they've been trying to stay positive during this challenging school year. 
"[I stay positive] by knowing that this will only be a temporary thing, and how supportive and understanding my teachers are," Truong said. "Most importantly, I try to stay positive by thinking that since this is my last year of high school, it's better for me to enjoy it while it lasts."