Red Ribbon Week plans for Oct. 26 to Oct. 30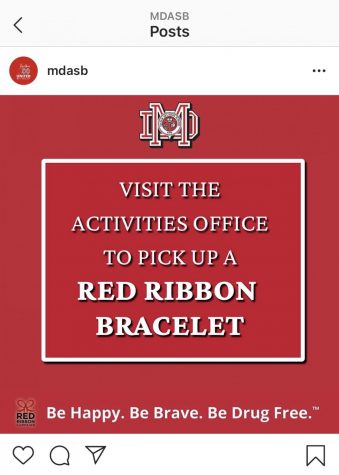 As Red Ribbon Week begins, Mater Dei is here to spread awareness. Red Ribbon Week is an annual drug and violence prevention campaign that is celebrated this year on Oct. 26-Oct. 30. Despite the obvious COVID-19 restrictions, Mater Dei is still going to help raise awareness and celebrate the week with activities that will bring the community together.
"This year's Red Ribbon Week theme is Be Happy. Be Brave. Be Drug Free.," said Jeanette Costa, the Director of Student Activities. "The theme is a reminder that by staying drug free, you are sending a message to yourself and others about how much you value yourself, your overall health, your community and your future."
One way of showing support this week is by making sure to wear the wristbands that are going to be handed out this Monday at school. There is also a special jeans dress every day this week.
"We are kicking off Red Ribbon Week by wearing this year's red Rally Shirt showing together we are MD united," Costa said.
The rest of the week follows with Tuesday being neon dress, Thursday being team jersey day, and Friday being flannel day. There are plenty of opportunities to show support and school pride, while having outfits showcased too.
"Each day, we will be hosting a Red Ribbon Week Instagram contest," Costa said. "Send a picture of you in your Red Ribbon Week themed dress to our Mater Dei ASB Instagram, MDASB. In addition, we are having a thumbprint poster, where students can dip their thumb in paint and put it on a poster to say 'Thumbs Up' to being drug free."
Choosing to enter the Instagram contest makes students eligible to win prizes daily and be entered into the Red Ribbon Week Halloween Drawing held this Friday. By participating, students are not only encouraging a healthy drug free lifestyle for themselves, but also for others.
"Staying drug free means investing in your current and future health," Costa said. "You are most likely to live the best life for you."
Leave a Comment