Students can vote in election for the first time
Now voting-eligible, 18-year-old students are performing their civic duty and using their right to vote during the 2020 U.S. Presidential Election.
As Election Day on Tuesday approaches, students who are voting-eligible this year will come together with the rest of the nation to decide on a president.
"I think voting is very important because it is a significant way to ignite change in our country," senior Taylor Bruder said. "Voting is also essential for democracy. The only way for things to change is if citizens come forward and present what they want."
Bruder, 18, registered to vote online, which she said was a "very simple" process.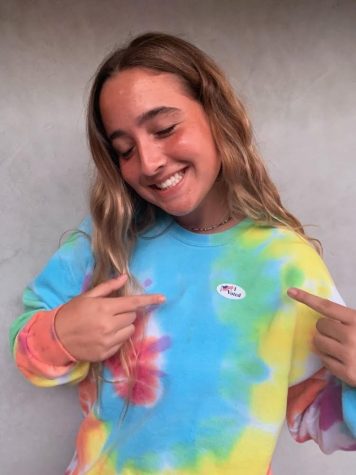 Bruder said that she is voting because she is passionate about politics and protecting both her rights and the rights of minorities. Bruder believes that in order for this to be accomplished, the younger generation must enact their right to vote.
"I think it's really important for the younger generation to cast their vote because so many policies and decisions being made will directly affect us," Bruder said. "I don't think a lot of younger people understand that the president [we choose] will be president into our early twenties. The younger generation needs to act now so when we are older we are proud of the decision we made."
Senior Natalie Erhard will be 18 by the time of the election. Erhard found out how to pre-register to vote through accounts that she follows on Instagram, and also used the platform to pre-register so that she would be eligible to vote by the time she turned eighteen.
"I think it's important to vote because it [allows] the younger people and the older people to kind of come together from different paths of life and different perspectives to make decisions for the well-being of everyone," Erhard said.
Erhard is "a little bit excited, a little bit stressed, and a little bit nervous" about voting for the first time, deciding to use a mail-in ballot to cast her vote. Erhard said she recognizes that she is voting not just for herself, but for the greater good of the nation.
"These decisions are beyond what world you live in and they don't exactly effect you all the time and you need to know what's good for your community, whether it's your parish, whether it's your school, whether it's your city, whether it's your county, whether it's your state, whether it's your country," Erhard said.
When Bill Clinton and George H.W. Bush ran for president, Josh Dutra, an AP Government teacher, voted for the first time as a senior in high school in 1992. Today, nearly 30 years later, he is teaching high school seniors about the U.S. government and how to cast their vote for president in the 2020 election. Dutra echoed Bruder in that this election has a large impact on the younger generations' early adult lives.
"This person is going to be representing us for the next four years, which are the first four years of your adult lives as an 18 year old going out into the world," Dutra said. "They'll be in place throughout your college years. And so whoever we pick, they're going to be setting the tone for the world that you're going inherit when you guys become adults and get out of school and start your own lives."
The school's social studies teachers, including Dutra, have been using the time before the election to educate their students as much as they can about the election and the presidency so that they are able to make the best decisions they see fit for the country when they are able to vote.
"One of the big things that we did…for AP Gov [was that we] rearranged the order in which we're teaching all the units this year to make sure that everything is related to the election and being able to be informed on what's happening with the election in the process, everything's happening early in the year," Dutra said.. "So we're actively teaching all those things in class. In addition to that…we'll talk about the debates…I try to provide the broader context of what's going on, and why I think it's going to be important."
Director of Innovative Education Programs Christopher Baarstad also worked to spread the message about voting by putting up student-designed posters around campus providing information about each presidential candidate, along with a QR code students could use to register to vote.
A local city council member, Kim Nguyen of the Garden Grove council, said that, while the presidential election is our top priority, citizens still must put an importance on local elections.
"These decisions that happen at the very top trickle all the way down and at the local level we are the ones that have the first touch to you and your family and your friends and to your teacher and whoever," Nguyen said. "We make the decisions directly that impact you."
As the nation enters this important election, it is important that voting-eligible citizens enact their right to vote to perform their civic duty in this election.
"[Make] sure that you're doing the research to understand the issues and where the candidates stand and make sure that the candidate that you're voting for supports the issues that you want," Dutra said. "But then once you've made that decision…encourage your friends, encourage the people that are within your sphere of influence … whether it be through social media posts, voting today,..talking to the people that you talk to in person just kind of spreading the word among everyone that you know that voting is going to be important and that regardless, if you agree with each other, who to vote for [and] taking the step to actually cast the ballot is how we put the country in a certain direction."
In California, you can vote by ballot or in-person. If you chose to vote by ballot you can either drop off your ballot at a secure ballot drop box, vote center drop off, or at a USPS post office or mailbox. If you are mailing in your ballot, your ballot must be postmarked before or on election day, but they must be received by Friday, Nov. 20. You can also track your ballot and see if it has been counted.
If you decide to vote in person, you have the option of voting at any voting center or mobile pop-up voting site. Voting centers are open starting until tomorrow from 8 a.m. to 8 p.m. and on election day, this Tuesday, from 7 a.m. to 8 p.m.
There are almost 170 voting centers throughout Orange County with the largest voting center being the Honda Center. The Honda Center will be open tomorrow from 8 a.m. to 8 p.m. and on Tuesday from 7 a.m. to 8 p.m. It will have in-person, drive-thru, and ballot drop off stations as well as replacement ballots and a voting registration station.
Voter registration ended on Oct. 19, but you can still register to vote at a voting center before or on Election Day if you vote in-person at a designated voting location.
"You'll be proud of the fact that you're taking part of this great American tradition of being a voter in our democracy, and you're having to say for the future," Dutra said. "So just vote, regardless of who you're voting for."
Leave a Comment
Donate to The Scarlet Scroll
Your donation will support the Student Publications Department at Mater Dei High School. Your contribution will allow us to keep our equipment up to date and cover our annual website hosting costs.