Students travel out of state to take college placement tests in time for applications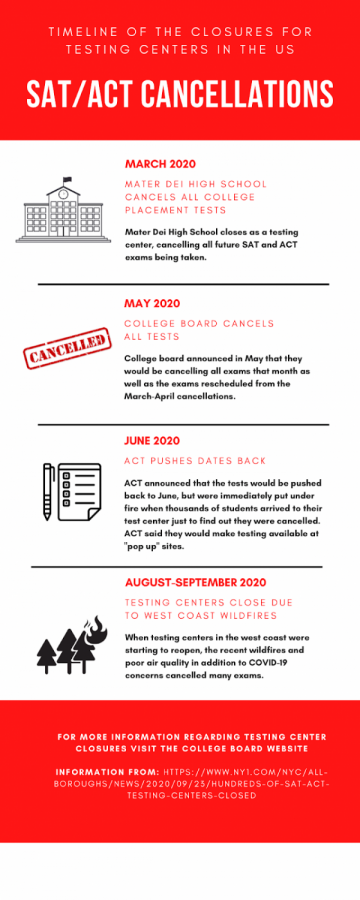 College application season, especially taking standardized tests, is undoubtedly one of the most stressful high school experiences, and this year, many local seniors are under even more pressure: Because of the risk of the Coronavirus spread, most SAT and ACT testing centers in the state of California have closed, leaving students with no choice but to travel out of state if they wish to submit a test score with their application.
Many students were unprepared for testing centers to unexpectedly close, leaving those with scheduled testing dates unsure about when they will have the opportunity to take the tests in time for applications. Because of this concern, almost every college in the United States including all of the Ivy Leagues, have dropped testing requirements for the 2021 application, making the test optional for applicants. After a lawsuit, the UC schools have also postponed all testing requirements until 2024. Even with this drop of requirements, students at the school are still finding ways to take their exams by choosing to travel out of state.
Testing centers in California, including Mater Dei, closed in March due to the COVID-19 pandemic. As months passed, the centers did not look any closer to opening, resulting in colleges offering the "test optional" policy. Currently, there are only 74 testing centers open in California, leaving students with very few options and limited seats, forcing many to travel.
Senior Emily Lynch, for example, had her exam scheduled for March 14, the day after the campus closed in the spring. According to Lynch, she had been "studying all year" and even spent her Christmas break studying with a "pretty pricey" tutoring company. The cancellation of her test last minute came very unexpectedly for her.
"I feel like it's pretty sad that we can't have [the exams] but it's understandable that they [closed]," Lynch said. "It would have been nicer if they had given more of a heads up instead of me figuring out on my own day of."
Lynch then rescheduled her exam for Sept. 26 in Las Vegas, but just days before she was scheduled to leave for her test, that testing center closed too, leaving Lynch with no choice but to go the "test-optional" route for her college exams.
"I had to reschedule six times already and I'm just over it," Lynch said. "[Originally] I was just, like, I need to get this over with and then never think about it again."
With schools going the test-optional route, students are put in a position where they must decide if they want to submit scores. School counselor Sasha Lo encourages students to research the schools they are applying to and determine if they wish to submit scores from there after seeing if they require the tests and if it is beneficial to submit.
Lynch decided to take the SAT only because she was hoping to qualify for a National Merit scholarship, which is why she attempted to travel out of state to take her test.
Despite schools dropping their exam requirements, some students are still moving forward with taking the SAT and ACT. Senior Lily Kunde, for example, traveled to Roy, Utah to take the ACT on Oct. 10.
"I decided that I deserve to test for the score that I studied so hard to achieve," Kunde said. "In my personal opinion, I believe I will stand out as an applicant because I put effort towards testing."
With students visiting different states to take their test, some are concerned that this could lead to the spread of COVID-19 as the students are not all from a local area.
"I definitely feel like there's a risk and I hope that the places that are having it that they are doing some sort of [COVID-19] testing [before students take the test] because it can get pretty bad having all the students in one area," Lynch said.
Kunde described how in Utah there were no regulations on wearing masks in the city, but it was required to wear one during her exam.
According to Lo, whether testing should be happening in a pandemic in the first place is the biggest concern.
"I think the pandemic has caused us to place a pause on standardized testing, and I hope that this is an opportunity for higher education to evaluate its admission practices for the better," Lo said.
College admissions for the class of 2021 has become unique due to the circumstances brought on by the Coronavirus. Lo encourages students to judge the decisions that they make based on the schools they are applying to, but to also realize their own strengths and weaknesses.
"College admission teams understand the impact that COVID-19 has on our communities, and know that it has been difficult for students to access testing opportunities this year," Lo said. "For students, remember that this is one part of the process. You are and always have been more than your performance on an exam. Think creatively about how else you can showcase your skills and talents."
Leave a Comment
Donate to The Scarlet Scroll
Your donation will support the Student Publications Department at Mater Dei High School. Your contribution will allow us to keep our equipment up to date and cover our annual website hosting costs.