Students anticipate a relaxing Thanksgiving Break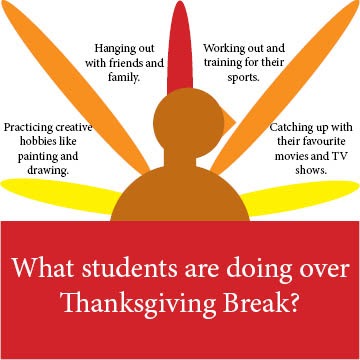 Thanksgiving Break starts this Saturday and goes until Nov. 29. Although many students have projects and assignments to be worked on, Thanksgiving is a time to celebrate gratitudes with friends and family. As the overwhelming struggles of 2020 pile up, this week off from school will hopefully allow students to escape the stress of their hectic schedules and focus on their personal well being.
"It has been really crazy, and a little bit stressful because everything has constantly been changing," said junior Emily Manney. "We're all getting through it, and we're all pushing forward. We're just looking to the future."
Students have been looking forward to next week's long break and intend to use their time to catch up on work, try new things, and spend time with family. With finals week approaching, teachers wrap up the final units of this semester often resulting in many projects, study guides, and reading assignments for students of all grades to complete.
"I feel like this break is absolutely crucial and will help my productivity. I've constantly been working, and it feels like I almost get no breaks," Manny said. "This will be a really nice time to just relax and take some time for just myself, my friends, and my family."