Masks create social barrier between students and teachers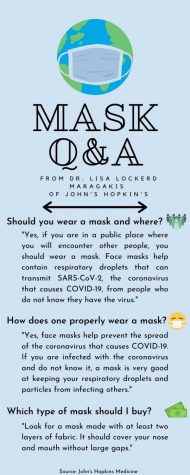 As this semester comes to a close, the first ever involving a mask mandate, some have noticed how face coverings have created a social barrier to traditional student-teacher interactions. This barrier has made itself more noticeable as the unusual school year continues, and some teachers have seen a decrease in student interactions.
To accommodate for this new addition to the school uniform, many teachers have reworked their teaching methods. For example, World History teacher Charisse Kitsinis said the barrier for her is trying to figure out what's missing and how to compensate for it.
"In the past, we have relied so much on our facial features, our tone of voice, our body language, hand gestures, and now that one of them is missing…" Kitsinis said. "Some of my students, are making too much eye contact to compensate for this. For others, I'm trying to change my inflections and use more hand gestures, but it's hard to read my students and feel confident in the way I'm expressing myself to [them]. There is a barrier of miscommunication [and] misunderstanding right now because we're all learning how to operate behind this thing."
Through the masks, Kitsinis believes that students cannot fully incorporate and express the social aspect of the school community like before, even with changes in place to make things as normal as possible.
"… every person is doing our best to work around it. Every club, every sport, every department, from the administration all the way down," Kitsinis said. "Everybody's trying to make it still feel like that wonderful, cohesive unit that we were before, but it's not the same. This has made us change our connections."
However, Kitsinis looks to the future for a possible conclusion of this social blockade.
"I think it will snap right back into it because that's our natural… default, using [our entire face] together. I think there's going to be a huge explosion [of] love and support and happiness and smiling."
Sophomore Anthony Kubasek sees masks only as a temporary burden on students' social lives.
"I do believe things like student-to-student interactions will go back to normal when COVID is long gone, and no longer an issue," Kubasek said. "I don't think we'll face much challenge going back to normal when COVID disappears… To be entirely honest, I don't believe there is very much a social barrier that is presented with wearing masks. And if there is one, I think it is very minimal."
Additionally, Kubasek said that he doesn't feel the materials taught in class are harder to comprehend. Things to him are as they were, except for the social distancing and mask guidelines placed in this school year.
"I haven't found it really any harder to understand topics [taught during] lectures. For me, I'm not very much a visual learner. It's more [about] taking notes. …but I am positive other students might be affected by [the expression barrier]…"
"Not to mention," Kubasek said, "the masks may be positively helping students who suffer from anxiety and could boost their confidence regarding standing up in class."
In contrast, sophomore Hannah Walters sees masks as a block in the communication of facial expressions and the creation of friendships – to both her friends and her teachers.
"It makes it harder [to read] facial expressions, [in regards to] talking to friends," Walters said. "And teachers can smile and say something in a funny way, but then it doesn't come across that way. If you have a mask on, you can't see anything… You can't make close connections because you're constantly being told by teachers and parent volunteers, 'You need to stay six feet apart. You need to keep your mask on.' It's hard to find bonds because you can't communicate as well."
Walters said that she doesn't feel masks are creating a learning barrier for her and other students, but it does develop trouble for extracurriculars and sports. As for once the pandemic ends, Walters thinks – similar to Kitsinis – that things may not bounce back fully for a while, as our minds will still be in mask-mode.
"I think that's going to take some time to get used to because I know it definitely took us a lot of time getting used to having masks being like, 'Oh no, I forgot my mask. I'm already in the store, and I have to drive all the way back to my house to get my mask.' It was something that was hard to start remembering – same with the six feet [rule]. So it'll probably take a while, but eventually."
Walters also thinks that some students can benefit from the barrier created by face coverings.
"With masks, it hides most of your face, and I know a lot of people are insecure about their faces. Somebody told me how they like wearing a mask because it hides their face. So people will be projecting more, many are [learning to be] less insecure about themselves and [it's] having them feel more confident."
Leave a Comment