Los Angeles takes a dominant role in 2020 sports season with Lakers and Dodgers winning championships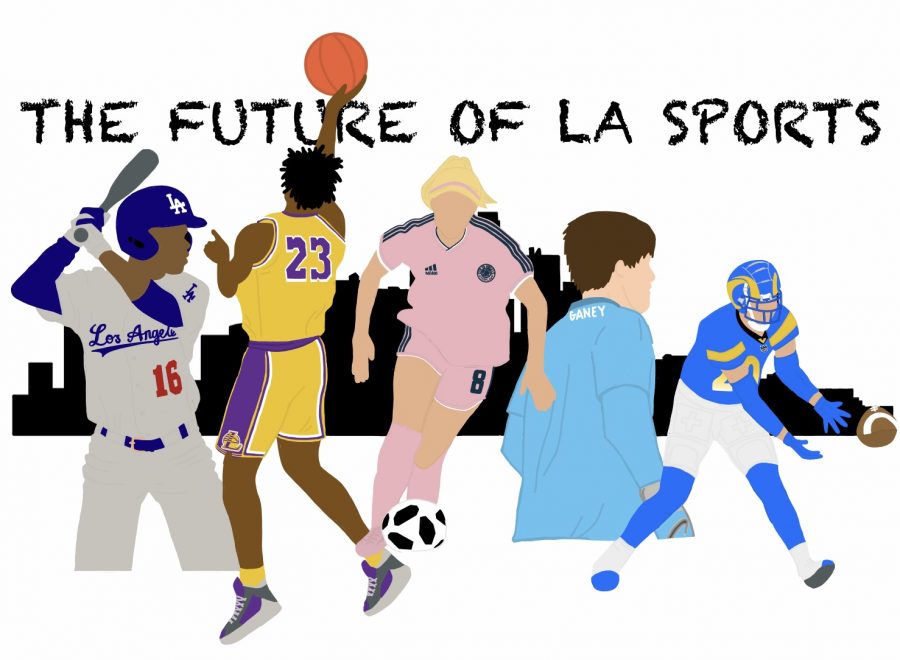 The city of Los Angeles has always been a major hotspot for sports, but recently has asserted its dominance in the sports world with both the Lakers and Dodgers winning national championships in 2020. At the same time, professional football has returned to Los Angeles with the Chargers and the Rams making the city their home, and professional soccer slowly becoming more popular.
Heading into the 2019-2020 post-season, the Lakers had a lot of pressure on them to perform well. Competing in the playoffs with superstars Lebron James and Anthony Davis for the first time, greatness was expected by many basketball fans. When the Lakers finally made it to the NBA finals, the eyes of Los Angeles and the entire nation were on them.
Junior Gabriel Quiette is a lifelong Lakers fan and varsity basketball player at MD. He has lived in Southern California his entire life and grew up watching the Lakers play. When the Lakers made it to the finals, Quiette made it a priority to watch his team play.
"I watched every game, start to finish," Quiette said. "I found a way to watch it, [even when I was] in the car I'd stream it on my phone just to make sure I could watch the game."
Quiette watched the last game of the NBA finals with his brothers. After the game, they drove to downtown Los Angeles to celebrate the championship win outside of the Staples Center with fellow Lakers fans.
"It was absolutely wild," Quiette said. "There were people in the streets, fireworks, people were popping wheelies on motorcycles, people were chanting out 'Kobe', it was a great experience."
Before the pandemic, Los Angeles suffered a tragedy when basketball legend Kobe Bryant, his daughter Gianna Bryant, and seven others passed away in a tragic helicopter crash on Jan. 26, 2020.
Bryant is Quiette's personal hero which made the Lakers winning the 2020 championship even more meaningful to him.
"[Winning the championship] meant a lot, just for the city of LA with everything going on…[with the pandemic]," Quiette said. "Kobe dying was a really sad moment for LA, so the Lakers winning the championship really lifted the spirits."
Watching Kobe and the Lakers was what inspired Quiette to build the skills he brings to the court every time he plays.
"He's one of the reasons I fell in love with basketball," Quiette said. "Why I push so hard everyday, the mamba mentality that he brings is one of the reasons why I keep going."
This year's sports season wasn't only good for the Lakers, but for the Dodgers as well, with the team winning the 2020 World Series. The Dodgers have been in the World Series 21 times before, but their last win was over 30 years ago, in 1988.
Senior varsity baseball player Stanley Nicholson grew up in LA and has been a Dodgers fan his entire life, so when the Dodgers won the world series, it was a big deal for him and his family.
"[Winning the world series] has lifted a lot of people's spirits," Nicholson said. "My sister is a die-hard Dodgers fan and I have never seen her cry so much in my life, she was so happy."
The Dodgers had not won a championship in 32 years and this victory cemented the 2020 team's greatness and overshined their past playoff reputation of underperforming under pressure.
"I think it is a really good step, we have a really good team, and some good players next year," Nicholson said, "So hopefully we go back to back."
In the past, the Dodgers have been called "the choke team" because of their close losses, but Nicholson believes that this year will be the start of a new Dodger era.
"The past eight years we have been a pretty good team, we have always won our division, always won the playoffs, but we were always called the choke team, we would be the favorites to win, but lose," Nicholson said. "So this year and the last two or three years we have really improved."
With the rare occurrence of both the NBA and MLB champion teams in LA, the city has established Los Angeles as a leading contender in the sports world. Nicholson believes that these wins make the city the sports "capital" of the nation.
"We are getting more players for Los Angeles, for the Lakers, they are getting more players for the Dodgers, and strengthening their teams, we've got big chances [at continuing to win in the future]," Nicholson said.
2020 has been a challenging year, but seeing the Dodgers become champions, for the first time in a long time has made these times a little more bearable for Los Angeles sports fans.
"It brought a lot of light to California, and Los Angeles," Nicholson said. "It was just a good moment to cherish and finally see them winning."
Another factor contributing to LA's dominance in the sports world is the return of professional football to the city.
The Rams made their return to Los Angeles in 2016 after 21 years followed by the Chargers shortly after in 2017. Since then, both teams have represented the city of Los Angeles in the NFL with the Rams even making a Super Bowl appearance in 2018.
Sophomore Kassius Ashtiani, a member of the school's varsity football team, has lived in Los Angeles since a young age and has grown up watching the Rams and Chargers play. Having a professional football presence in the city, alongside two dominating college football teams, has been a motivation for Ashtiani and other young athletes to continue to push themselves to reach the next level.
"It motivates me to get to the goals I want to go to," said Ashtiani. "The Rams and other teams are in the NFL so it's [the] next step [in his football career]."
Having the opportunity to watch professional football games live, alongside other Los Angeles fans, allows for younger football players to watch NFL players who inspire them and learn from them.
"You can look up to NFL players and see what they use so you can use it in your game so it's good knowledge for the game," Ashtiani said.
Newer leagues such as professional soccer have also been popularized in Los Angeles in recent years. Los Angeles has two professional soccer teams: the Los Angeles Fútbol Club and the Los Angeles Galaxy. Soccer has been a great way for the city of Los Angeles to come together and share in the common passion for the game. It has also served as an inspiration for young athletes who aspire to play professional soccer one day. Kade Ganey, a senior and goalkeeper on the school's varsity soccer team, lives in Los Angeles and looks to the LA Galaxy and LAFC for inspiration and motivation.
"[Watching the LA Galaxy and LAFC] makes me want to be able to get to that level to play in front of my family, my friends, people I've known growing up," Ganey said. "To be able to play on that big of a stage and under the lights, that's something I've always wanted to do."
Not only has professional soccer inspired Ganey, but it has also made him change the way he looks at the game.
"It's made me refine it a lot more," Ganey said. "It's made me take a look at what I do and how I can model it after some of the all time greats and take a little bit of their game and try to mold my own style of play. Take guys who've done it for years and years and if you can capture some of that success you're gonna lead to better things for you."
A new women's soccer team is also forming in Los Angeles in 2022 as a part of the National Women's Soccer League. Angel City Fútbol Club will represent the city of Los Angeles and inspire young women in LA. Junior Annie Karich is a member of the U17 US Women's National Team and strives to play professional soccer one day and inspire other young women in sports.
"I love soccer," Karich said. "It's really challenging and I find it exciting because it's a combat sport [where you can work] to grow and get better, and I love a challenge."
Annie is inspired by other women's soccer players who have gone on to play professionally in the National Women's Soccer League and for the National Women's Soccer Team.
"[My] favorite soccer player is Julie Ertz because we play the same position, so I have a lot to learn from her and she's super good and super fun to watch," Karich said.
A professional women's soccer team coming to Los Angeles will open up many new opportunities and inspire the next generation of female athletes in Los Angeles.
"I feel like LA is really a big sports center and they have football, basketball, a bunch of different sports, but there's never really been a women's soccer team that's there," Karich said. "I think it'll inspire younger girls, especially the ones that grew up in LA and in Southern California. Being able to go watch games in person is really inspiring."
Professional women's soccer is expanding across the country and quickly gaining popularity. Karich and many others believe this new addition to Los Angeles's plethora of sports will have a positive influence on both women's sports and the Los Angeles community.
"It'll definitely have a positive influence on women's soccer, especially in the LA area and I think that seeing that, from other sports point of view, they'll want to do the same," Karich said. "It's super exciting that women's soccer is taking the next step."
With growing interest and opportunities for sports in Los Angeles, the city is sure to remain a hub for sports and a center for the sports world in the coming years.
Leave a Comment
Donate to The Scarlet Scroll
Your donation will support the Student Publications Department at Mater Dei High School. Your contribution will allow us to keep our equipment up to date and cover our annual website hosting costs.