The school takes action to combat climate change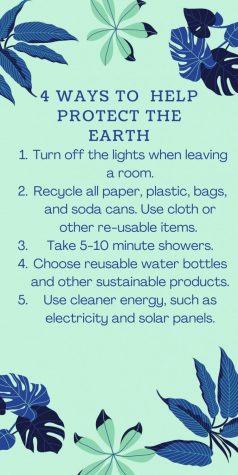 The year 2020 quite literally felt like everything was on fire. To provide some more perspective, over 10.3 million acres were lost in 2020 because of the fires all around the world due to the heat wave, compared to the 4.7 million acres lost in 2019. Despite the obstacles presented by events that occurred in 2020, our school community presses on in its quest to positively impact climate change through clubs and fundraising events.
Various clubs plan to spread the word of energy conservation to students using social media and small commercials on everyDei, the morning news show. These clubs strive to have all students participate in beach clean-ups and fundraisers.
"In this last year, there were millions of acres of trees burning; that's a lot of emissions into the atmosphere," religion teacher Ben De Los Reyes said. "It becomes what they call a 'vicious cycle' or 'tipping points,' where climate causes this thing to happen, then this thing happens and causes more climate change to happen. It's like a chain reaction." 
Fires only represent one major concern to our environment. This, along with recycling and conserving energy, is what the Roots Club hopes to address with its efforts.
The Roots Club is focused on spreading awareness about climate change and providing information on how to contribute to this worldwide problem. According to senior and president of the Roots Club Mai (Jenny) Nguyen, despite the ongoing pandemic, the members of the club have been able to "participate in a few beach clean-ups and conduct various fundraising events." They also use social media as a way to educate students on environmental impact and ways to participate. Every meeting, members present climate issues for discussion and identify what the club can do to help. 
Another way the club has been showing their aid in the environment is through gardening. The Roots Club decided to build a garden at school to showcase the environmental issues that our world faces. According to Nguyen, they strive to "continue promoting the issue of climate change as well as inspire students to plant more trees." 
"The way we try to help prevent climate change is by educating others so that they can be more conscious of the products they use, and how their lifestyle can have a more positive effect on the planet," senior and vice president of the Roots Club Marcela Cid-Rosas said. "Most of our outreach events are focused on environmental conservation and animal conservation, but we try to encompass many other issues in our club meetings."
Beyond participation in the Roots Club, there are ways that each student can help contribute to Mater Dei's mission to positively impact climate change. Something as simple as remembering to turn off the lights can reduce our energy consumption and dependence upon fossil fuels. Setting the air conditioner to 76 degrees Fahrenheit instead of 73 degrees has a similar effect. Eating the food that is purchased at the Leveke Center and not throwing any away has a positive impact on the environment and global warming. Taking action and participating in saving energy or recycling has a positive impact and can make our Earth a cleaner place one day at a time.
Leave a Comment