Senior animator and artist uses his talent to illustrate a children's book
Senior Troy Cary has grown up watching animated shows such as Hazban Hotel and Primal created by animators Vivziepop and Genndy Tartakovsky, who have achieved enormous success in the animation and film industry. Cary has always been drawn to art and animation and knew that he wanted to be an artist. Now, as an 18 year old, he has developed his artistic talents and hopes to one day follow in the footsteps of his role models and fulfill his artistic dreams as both an illustrator and animator. Cary kick-started this dream with recent work illustrating a children's book, using his love for art and animation as inspiration.
"I've loved animation ever since I was a kid and I always knew I wanted to be an artist," Cary said. "Lately I've been thinking about animation being a profession for me and I just know that I can do great things in [that industry] because I love animation and what it's given me."
Over the past four years, Cary has taken every opportunity presented to him to better himself as both an artist and an animator. In his four years of high school, he has taken five art classes: Art I, Animation I, Design I and II, Contemporary Media, and Honors Animation II. Three of the five art classes Cary has taken were taught by visual arts teacher and Cary's mentor, Kyle Roberts.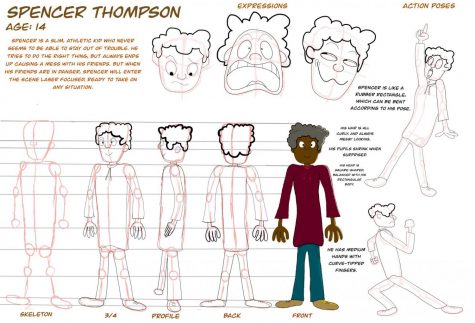 "He's definitely more than just my teacher, he's my role model," Cary said. "He isn't afraid to criticize me when needed. He's not afraid to give me feedback and I'm always looking to improve my skills. He is definitely one of those people who is trying to push me because he knows I want to be a great animator one day."
Roberts met Cary his freshman year and the two bonded over their passion for art and animation. Since then, Roberts has watched and aided Cary in growing as both an artist and young man over the past four years.
"I've liked him from the beginning," Roberts said. "He's always been into art, and he's always asked good questions. He works really hard and wants to get better, and he takes good feedback. He's just a great art student. [Cary] was good to begin with, he was interested to start, but he's constantly worked hard, he's challenged himself with the classes that he's taken, and his growth and his improvement are very apparent."
A recent way Cary has challenged himself as an artist and illustrator outside of school is through his involvement in the children's book, My God is Bigger Than You by author Tricia Cohn. Having worked with Cohn on creative projects before and becoming family friends, Cary was given the opportunity to illustrate the monsters in the book, which is about putting faith over fear.
Cohn was inspired to publish the children's book after seeing the many fears that have been shared globally throughout the past year, specifically by students and younger children.
"Because 2020 was such a scary year for a lot of people I loved the concept of faith over fear," Cohn said. "I wanted to create a book for children and all people to learn how to put their faith over their fears when life gets tough."
Cohn has been an author for the past 20 years, but this was her first time working with Cary on a project. She selected Cary to illustrate the monsters in her book because of his passion for art and his artistic ingenuity.
"I thought of Troy because he's always been a person in my life, since he was little, to have a really vivid imagination," Cohn said. "When I shared with him this idea he said 'I really love that idea.'"
Cohn decided to have each of the fears discussed in her book represented by a monster, drawn by Cary. The monsters include a fear of sickness monster, a fear of bullying monster, a fear of bugs monster, and a fear of dying monster. Each monster has unique physical attributes, but all of the monsters share the same yellow eyes; an idea of Cary's.
"[Cary] took just the word [describing each monster] and he gave me back sketches of those exact monsters," Cohn said. "He was really good at taking direction and then just awesome at using his own imagination and giving the first sketch based on my direction."
Troy used Cohn's simple directions and his own ingenuity to create a unique monster to represent each fear in the book. His illustrations are representative of his talent and originality as an artist.
"You can tell that he's not basing them on anything he's seen before," Cohn said. "He's using his own creativity and his own imagination."
A NEW WAY TO READ: An innovative and unique feature of the book My God is Bigger Than You, is that if you download the free app, Artivive, open the app on your smartphone, and hold your phone over Cary's illustrations of the monsters in the book, the creatures disappear and are replaced by different Bible verses surrounding about fear. The moral of the story: overcome fear with faith. (Video courtesy of Tricia Cohn)
The book My God is Bigger Than You is especially unique because if you download the free app, Artivive, and hold your phone over the illustrations, the fear monsters disappear and are replaced by a Bible verse surrounding the topic of overcoming fear.
"It's a child's first introduction to certain bible verses related to fear," Cohn said. "It's trying to help children realize that there's always going to be fears in your life, like the fear of monsters, but you have to find ways to talk yourself out of it, breathe through that, and use faith or prayer if you can."
Cary was able to help Cohn's vision for her story come to life through his original and one-of-a-kind illustrations and help to teach a valuable lesson through the book.
Cary's unique art style, described by Roberts as "cartoon and animation kind of flare," has always stood out to him. To Roberts, Cary's art is "very inventive and expressive, and charming." So when Roberts found out about Cary's part in the book My God is Bigger Than You, he wasn't surprised given his students' talent.
"I think it is amazing, I think it's such a cool project, and I think the work that he did for it is fantastic," Roberts said. "It's super appropriate for the subject, his style works perfectly with the subject of the book."
When asked about his thoughts on the possibility of Cary pursuing a successful career in the industry, Roberts had no hesitation in his notion that Cary could achieve great things as an animator.
"Absolutely, because so much of it is reliant on attitude and effort, and he has those things. He has all the intangibles, and if he sticks with it there's nothing he can't do," Roberts said.
Graduating this spring, Cary plans on majoring in film and animation and continuing to develop his skills at a higher level in college. He hopes to eventually go on to work as an animator professionally and inspire other younger artists to pursue careers they are passionate about.
"I hope I get to learn new techniques in animation, make it look unique, and I just hope to fulfill my artistic dreams," Cary said.
Leave a Comment
Donate to The Scarlet Scroll
Your donation will support the Student Publications Department at Mater Dei High School. Your contribution will allow us to keep our equipment up to date and cover our annual website hosting costs.