Yearbooks throughout the years change and showcase the progression of the school
Yearbooks are an integral part of reminiscing the school year for students. These books serve as a small piece of history in the school community. Over the years, the yearbook has drastically changed in many ways. From the art, color palette, and even wording, these yearbooks are ever evolving. To compensate for these changes, the school's alumni office continues to sell yearbooks from past years so that any current or past Monarchs can access their yearbook and the vital memories it holds.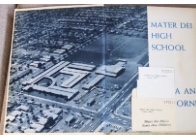 There are a variety of different yearbooks available in the alumni office, going as far back as the year 1953. Instead of a colorful cover, the 1953 edition is gray with little to no exterior details or shapes. The school has done their best to preserve these physical artifacts of our school's history. For example, the books are stored in a cool environment to reduce fading of the pages. These yearbooks work to provide a shared, communal time capsule for all Monarchs to reminisce together.
"Yearbooks are integral to the high school experience because they become a document and tangible object where memories live," Digital Photography Teacher Miss Aimee Sones said. "Physical and digital yearbooks tell stories that may not be told in the regular or social media and have the opportunity to exist for decades to come."
Yearbooks have many indirect effects on the student population. They are an opportunity for students to relive their days at the school, even long after graduation. The yearbook is a special keepsake made by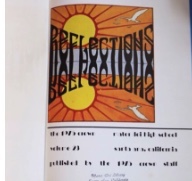 and for students. This process allows a community to grow together to produce the book. English teacher and class of '89 alumni Anna Lisa George concurs the importance of the yearbook to her experience.
"I feel that it captures my own MD experiences, as well as the broader experience of what it means to be a Monarch," George said. "I still refer to it often, to look up someone's picture or to reflect on a memory."
Yearbooks are large compilations of months of visual coverage. Many staff members commit hours to
editing these photos and ensuring the book looks good and ready to print. One alum who served on the publications staff from 1970 – 1972 is Interim President Fr. Steve Sallot, who once, like students today had the duty of capturing visual coverage for The Crown Yearbook.
"For me pictures evoke a memory, you know, copy evokes a memory, and a lot of stuff because we all have busy lives. We kind of get fractured and you forget," Sallot said. "But when you come back to it, it's a great way of remembering kind of the roots of where [we] came from."
Today the yearbook continues to work to capture all aspects of campus life, current yearbook editor-in-chief, senior Tiffany Le works towards creating a book that best displays what this school year has contained in addition to what it has to offer.
"The yearbook is one thing that should be invested in because life changes, people change, and the school changes," Le said. "It's always interesting to see how the school changes in a span of a few years."
Alumni relations president and class of 1994 alumni, Kathleen Kelly said that yearbooks are an efficient way to reflect on the school's past.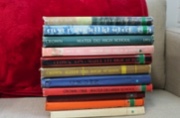 "[Yearbooks] are not only for the graduates who cherish their individual memories in those pages, but also to future generations," Kelly said. "The yearbooks are a great resource for the school community to see how things used to be at Mater Dei."
Despite the varying ages of the school's alumni network and present student body, everyone has the opportunity to enjoy the experience of a book full of special memories. With the integration of both digital and physical art, the future of yearbooks is a seemingly uncharted area due to the ongoing pandemic which limits social events and therefore visual coverage.
"I love that I have my yearbooks,' Kelly said. "I'm still friends with a lot of people from MD, it's not unusual for us to look back on them when we get together. Either to reminisce about our time at MD or put a face with the name of a classmate."
Leave a Comment
Donate to The Scarlet Scroll
Your donation will support the Student Publications Department at Mater Dei High School. Your contribution will allow us to keep our equipment up to date and cover our annual website hosting costs.