Cross country season kicks off outdoor sports for the 2020-2021 school year
Sports and other competitive athletic events are an extremely important part of the school's community and student's high school experience. However, due to the COVID-19 pandemic, sporting events cannot take place in its typical format because of safety restrictions. Now a few months into the second semester, sports are starting to finally begin their seasons with cross country being the first sport to compete this school year.
Compared to previous seasons where the cross country team would compete at large invitationals with many schools, this season they are only competing in dual meets with one other team. Junior JV runner Andrea Onofre felt nervous going into the first meet but had the support of her teammates as motivation.
"I feel excited and a bit anxious when it comes to racing but overall motivated to meet a new goal," Onofre said. "And most [of] all, being able to race with my teammates and help each other out is also exciting."
After the unusually long rest period, the athletes and their mentors were eager to kick off their season with as much enthusiasm and excitement as possible. The cross country athletes themselves were grateful for the opportunity to be the first team to compete at Mater Dei. This fact is made sweeter considering that many of them were not sure there would be any sporting events this year at all.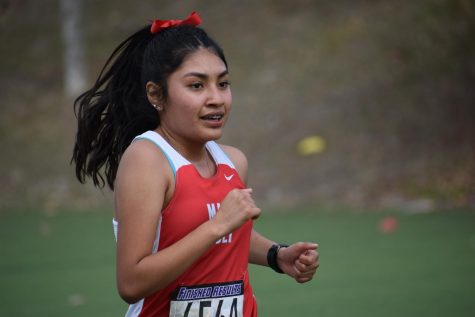 "The fact that we were lucky enough to have a season made me feel extremely happy and grateful," Onofre said. "…it was quite surprising having our athletic director and trainer there at our meet. Everybody was so supportive and excited for our season."
Ever since the pandemic put a hold on the school's athletics, the cross country team had been told that there was a 50/50 chance of their seasons taking place. Yet despite the uncertainty surrounding their meets, the Boys' Varsity Cross Country team was dedicated to practicing regardless. Senior varsity runner Thomas Campbell recalls preparing for the season to come after their current season had been cancelled.
"…from May until [the race against JSerra], all we'd been doing was practicing with no races," Campbell said. "I wasn't really thinking about us being the first, I was just happy that we could race."
For the athletes who had been anticipating their own seasons, the first of the cross country meets represented the start of the long-awaited return of Mater Dei athletics. Looking back on this, senior varsity runner Martin Nibungco reflects on the significance of the race.
"We didn't realize that our sport helped other sports start playing, so now, seeing other sports starting to play, it's very eye-opening and very cool to see," Nibungco said.
Before the JSerra race, the cross country athletes had a meeting with their coach, Rick Martinez. He gave them the special gear he had been saving for this year's CIF, which had been cancelled due to the pandemic. This celebration for the first meet of the season meant a lot to the team, as it was a meaningful token of gratitude given to them by their coach.
"For the longest time… we were told that we were probably not going to have a season," Nibungco said. "So by getting [the gear], it was a nice thing to get from our coach, saying like, 'Thank you for just working for a long amount of time, and here's a gift from me to you to show my appreciation.'"
The Athletic Department has organized several events in which various levels of cross country runners have the opportunity to compete while remaining safe. The school has organized these meets by limiting the number of spectators and overall people in attendance. Sophomore JV runner Alaina Gadhavi believes that regardless of the number of attendees, the feeling of racing remains the same.
"It's hard to describe, but knowing [that] what you're about to head into will challenge you," Gadhavi said. "But you have no option but to end up on top."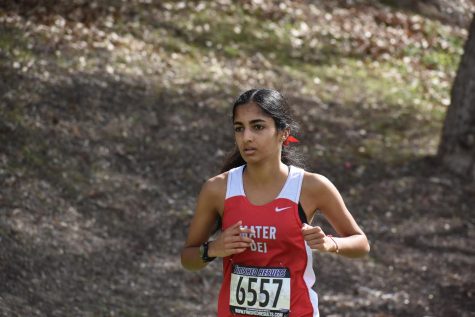 Head Cross Country and Track Coach Rick Martinez said that despite the setbacks of this sports season, the team has already been successful, the athletes have kept up their rigorous training in addition to tirelessly working hard in the athletic setting.
"[We] have already succeeded," Martinez said. "The runners, coaches, athletic directors, and school administrators have all succeeded for this runner once we get on that start line."
Despite the pandemic at large, various athletic events at school still have the capability to move forward and move towards the new "normal." With the introduction of both social distancing and a limited number of people at events, the future of athletic events remains vague. But with the leadership of both the extensive athletic staff and department, student athletes are allowed to compete again.
"Giving our hard-working runners an opportunity to be challenged in a race. Sports are about facing challenges," Martinez said.
Leave a Comment
Donate to The Scarlet Scroll
Your donation will support the Student Publications Department at Mater Dei High School. Your contribution will allow us to keep our equipment up to date and cover our annual website hosting costs.