Junior baseball player follows in his brothers footsteps towards success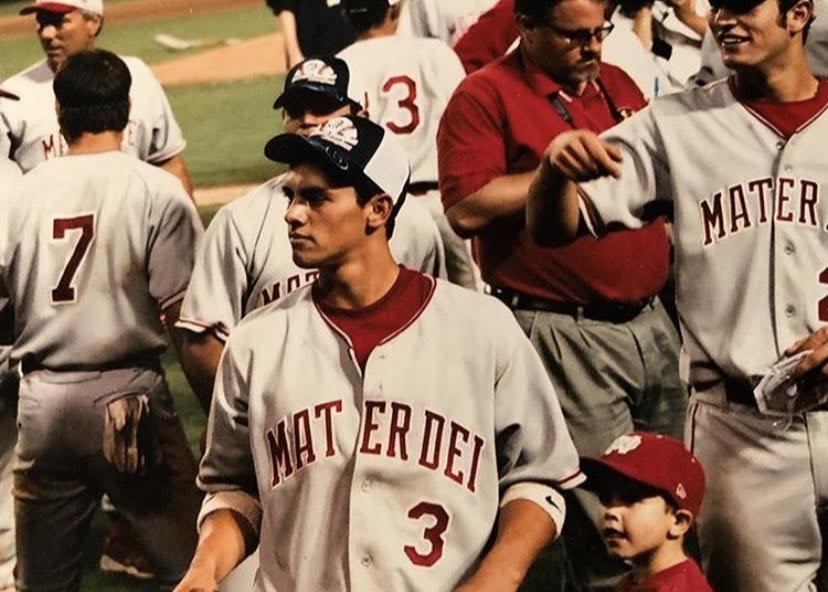 Deciding where to play baseball in high school was an easy decision for current junior and varsity shortstop Cade O'Hara. O'Hara grew up watching his half-brother, Michael Torres, play baseball at Mater Dei and, like most kids, aspired to be just like his older brother.
"I decided to play baseball at Mater Dei because of the prestigious program and because they play in the Trinity League, which is arguably one of the best leagues in the entire country," O'Hara said. "I also chose Mater Dei because of my brother. He went there, so I wanted to follow in his footsteps."
Torres was 16 years old and the starting varsity shortstop at Mater Dei when O'Hara was born in 2003. Almost 18 years later, O'hara is now the starting varsity shortstop and has been coached by Torres and played for his travel team for the past 7 years.
"I started playing baseball when I saw my brother play for the first time in high school," O'Hara said. "I was really young then, I was about two years old, but I was really interested in it. It seemed like fun and my brother played and I always looked up to him and I still do today. Watching him play and watching how much fun he had made me super interested in it and I just wanted to try it out for myself."
During his time playing at the school from 2002-2005, Torres was on the varsity team all four years and led the team to a CIF Division I Championship his senior year in 2005 batting .459 with 23 RBI and 19 stolen bases during the season. This set a school record for stolen bases that still hasn't been broken. That same year, he was also named the Los Angeles Times and Orange County Register Player of the Year and the CIF Division I Player of the Year and league co-MVP.
"If you wanted to play baseball at a high level [Mater Dei] was the place where you wanted to be," Torres said. "So for me and my passion for the game, it was a perfect match."
Torres wasn't always destined to play baseball at the school though. After meeting Steve Lambright, the Mater Dei hitting coach from 1994 to 2001, while playing in the Fountain Valley Little League as a young teen, Torres' desire to play baseball at the school and to continue to be coached by Lambright began.
"At that time you're just used to having your friend's dad or your dad in the dugout so going to practice and [the coach] not being a dad or a friend of a dad was really intriguing to me," Torres said. "From that moment on I wanted to play at Mater Dei for him."
Unfortunately for Torres, the former Mater Dei baseball head coach, Coach Ickes, stepped down and Coach Lambright took a job coaching at Edison High School before his freshman year. Torres, however, continued to play baseball at Mater Dei, where he went on to join the Mater Dei baseball hall of fame and retire his number.
Having an opportunity to watch both O'Hara and Torres play in high school, current Mater Dei Head Baseball Coach, Richard Mercado, sees many similarities between the brothers.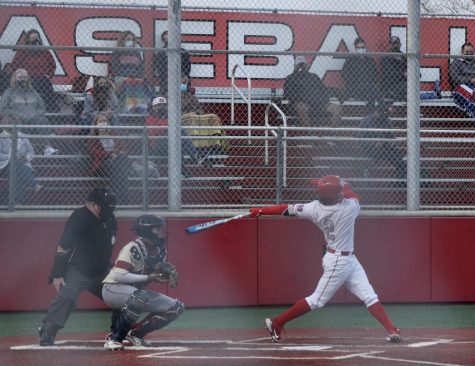 "They were both really good defenders," Mercado said. "I know [Torres] was a good defender and Cade, that's probably the biggest strength of his game, that he plays a great shortstop."
Aside from being told how similar they look while playing, the brothers also see the similarities between each other through the game. The one main difference between the two: O'Hara is right-handed and Torres is left-handed.
"I've learned all of his motions from him," O'Hara said. "The way I step into the box, the way I take my pre-pitch before a ground ball, the way I run, the way I move. Just anything I do is almost exactly like him. Almost everyone who has seen my brother hit says I look like him, except from the other side."
Off the field, the brothers share similar values: hard working, dedicated, and kind are all words used to describe both.
"[O'Hara] is an amazingly hard working young man," Mercado said. "He not only plays for his brother's club team outside of [Mater Dei], but he's always training, always working. I'm trying to push him to be a really good player and he's done that. It's really hard to be a sophomore who starts on varsity, but last year he accomplished that goal from day one, so that speaks a lot to his work ethic."
It's no surprise the brothers are similar as Torres has coached O'Hara on the travel baseball team, Next Level, since O'Hara was 11 years old and has been giving him pointers since O'Hara first started playing baseball.
"He's been coaching me forever," O'Hara said. "Before he went off to college he would help me with my swing. Just off the tee with some wiffle balls in the backyard. Then when I'd go out to visit him, he would coach me up a little bit. Then he picked up coaching a team here and, of course, I joined that team because I wanted him to coach me. He's helped me since I was 11 years old and it's just been a non-stop grind since then."
Torres actually got into coaching through coaching his little brother and has now been coaching at Next Level for the past 7 years.
"My dad has always coached and I had actually come home after my last season and was just helping out," Torres said. "It started by just helping out my brother's team."
Prior to coaching, Torres played Division I baseball at the University of Southern California before transferring to the University of Texas at Austin for his junior and senior years.
According to Texas Sports, as a junior at UT Torres started all 61 games, set a Texas school record with a 25-game hit streak, ranked sixth in the Big 12 with 85 hits and 10th with 16 stolen bases, and helped lead the team to the College World Series Championship game.
After growing up watching his brother have such success both in high school and college, O'Hara has recently committed to the University of San Diego to continue both his baseball and academic careers.
"I love the program," O'Hara said. "It's a really, really nice place. I wanted to play in 75 and sunny, Southern California. I get some space from home, but not too much space. I can come home on the weekends if I want. The coaching staff there is unbelievable. The head coach, Coach Hill, he's a phenomenal defensive coach. He can get me to where I want to go. He can help me develop as a player and as a person. The hitting coach, Coach Ungricht, he's one of the best hitting coaches in college baseball. The program, what they preach there is what I love about baseball most. They preach family, a strong environment, and don't leave a man behind. I really really love that about San Diego."
Other than committing to play in college, O'Hara has big goals both for his junior season and for his baseball career.
"Short term is to win CIF," O'Hara said. "I think we have a really strong team this year. Long term is to have a successful college career and hopefully get drafted."
O'Hara's current head coach believes O'Hara can achieve great success, both at Mater Dei and playing Division I baseball.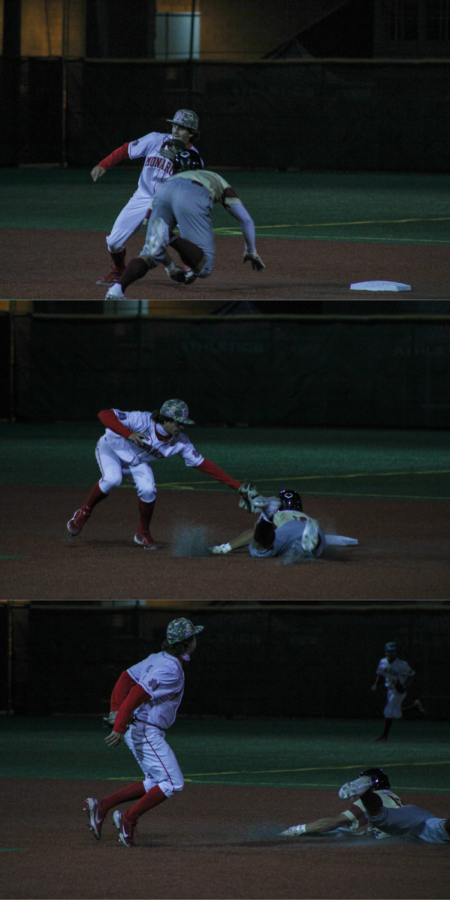 "He's a phenomenal young man," Mercado said. "He always shows up with a smile on his face. He's a great teammate to the guys around him. He has an energy about him that you don't usually find in players and that's what makes him really special. I think [achieving the same success as Torres did at Mater Dei] is 100% within his grasp because of his work ethic. As he continues to grow and figure out who he is as a player and just tries to be himself, he definitely has a chance to do that. In college, that's gonna be where he's gonna pan out physically. He has a lot of room to fill out and grow and get bigger and stronger and that will dictate what kind of hitter he is. He's a guy who could end up having a lot of power in his game."
Coaching O'Hara over the last 7 years and watching him develop as a player and as a person, Torres has seen first-hand the dedication and hard work O'Hara has put in to reach the position he now holds.
"Seeing him grow, his ability continues to rise, but he's put in all the work over the last 7 years or so to achieve the things that he's achieved that a lot of guys wouldn't have done when he was 90 pounds, having a hard time hitting the ball out of the infield," Torres said. "Now to see him big and strong, no issues to do that stuff, it's really fun to watch him."
Despite having big shoes to fill on the Mater Dei baseball team, O'Hara doesn't feel pressure to achieve the same success as Torres has. Torres is O'Hara's mentor and coach more than his competition.
"I don't really feel any pressure because our strengths are different," O'Hara said. "He was a veteran hitter, but I'm a better defender and he's told me that over the years. He's said that a defender is more valuable than a hitter because you can always find a hitter, but finding a defender is a little more rare. I'm also developing into my own player too. I'm taking some of [the way he plays], some of [the way other player's play], and making it [the way I play]. But it's mainly off of him."
Having Torres as an older brother has benefited O'Hara in more ways than one. Torres has instilled the values of hard work, dedication, and love for the game into his little brother and helped him grow into a valuable asset to any team.
"I think it's just having someone who can motivate you and inspire you more than anything else," Mercado said. "And on top of that, having someone you can look up to. He's a great brother to have, I understand Michael to be a great baseball guy from my relationship with him. Someone who you want to be like and someone who pushes you to be better, which I think Mike does a lot. He really pushes Cade to be the best version of himself and I think that's probably one of the strongest things for him. It's helped make Cade the person he is today."
O'Hara acknowledges the impact Torres has had on his baseball career as well, attributing much of how he plays the game to Torres. Now at 34 years old, Torres returns to the field where he once played in high school to watch his younger brother follow in his footsteps.
"It's great," Torres said. "He's a way better shortstop so I love watching him play defense. He makes some plays that I think I would've thrown away. I like watching him. It's really cool, not just for me, but for some of my friend's that remember seeing him as a little guy when we were in high school. It's a lot of fun and it brings back a lot of good memories from playing there."
Leave a Comment
Donate to The Scarlet Scroll
Your donation will support the Student Publications Department at Mater Dei High School. Your contribution will allow us to keep our equipment up to date and cover our annual website hosting costs.