ASB hosts Freshman Film Festival on campus to bring students together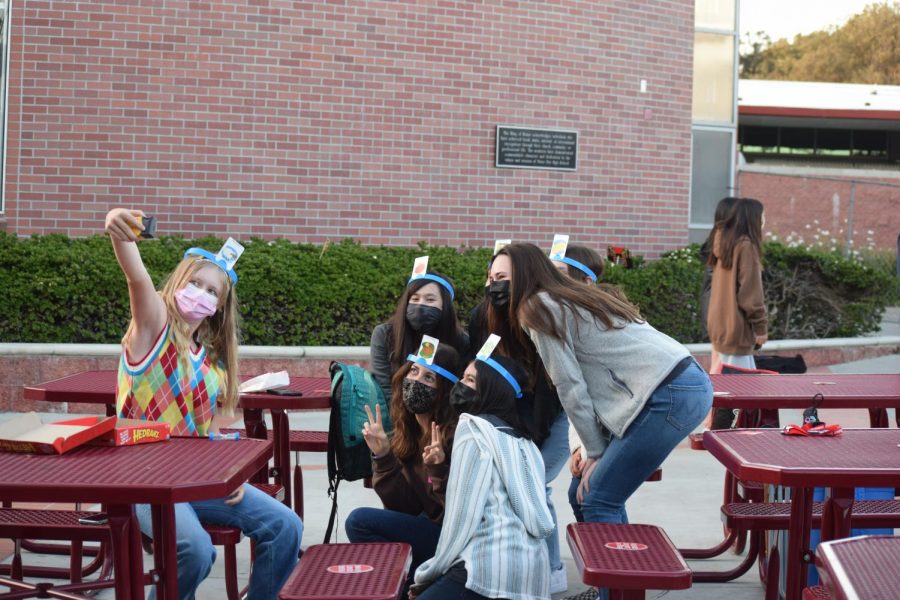 Movies, popcorn, games, and karaoke are just some of the many festivities the Freshman Film Festival had in store. The first major event held by the freshmen ASB leaders was on March 26 in the Grotto and other areas around campus. Freshmen could participate in a multitude of activities, including cornhole, memory games, and watching the film classic, Back to the Future. The movie night was a great start to many more ASB activities to come. 
ASB has not been able to host many large scale events due to the pandemic and the social distancing guidelines in place. Orange County has moved from a purple tier (being the most restrictive on gatherings) to an orange tier (allowing for outdoor events of 100 people). Due to the ease of restrictions, ASB was able to host this event.
"This year, like especially this year with everything going on, freshmen really haven't had a chance to get to know each other," freshman ASB president Sofia de Lucia said. "We decided that a film festival would be a fun way to space out and still be able to meet new people."
The event's main goal was to connect the freshman class and have the students get to know each other better. Because of the severity of the pandemic, freshmen have not been able to meet other students outside of their school schedule or any other extracurricular activities. ASB hoped to connect the class through the film festival and future events to come.
"I think a lot of people find themselves really stressed out at this time with school and all the new schedules and all the new sports and trying to navigate their way through high school," de Lucia said. "I think this event kind of gave people a chance to just see each other at a time where they weren't in a classroom."
The event did exactly what it had hoped to accomplish: uniting the freshman class and giving them an opportunity to have fun while meeting new people. Through the various activities such as karaoke and cornhole, students broke out of their shells and had a blast doing it.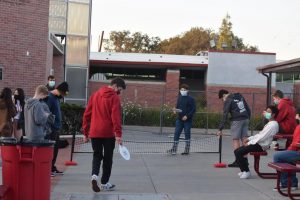 "I mean, you know because you've been to events, you get to leave half an hour before and there's usually a mass exodus. This time, everyone stayed. We had to kick them out, literally kick them out," Director of Student Activities Jeanette Costa said. "They were having a great time. I think people  made new friends. So it seems like those who were here had a good time."
Not only did this event bring the freshman class together, but it also bonded the freshmen involved in ASB. Both ASB leaders and members had to learn various skills, such as teamwork and comradery, to help pull off such a big event. ASB has been planning this event for nearly three weeks, and started planning by asking the freshman class for their opinion.
"What [ASB members] will tend to do is just be like, 'Oh, my group of friends wants this,' and understand that they need to look into the entire constituency, so as to offer everybody a voice. That's one of the big lessons for them," Costa said. "If you saw them commanding a group of 50 kids to try and decorate, it was pretty good."
The efforts from various ASB members and the freshman leadership team were very successful. Many students enjoyed the movie and playing games with people who they might not have even known before the event. Freshmen were able to talk with students from other sports and extracurriculars, who they never had the chance to meet.
"It was very easy to connect with other freshmen because everyone was very friendly and looking for new friends," freshman Jai Pandhoh said.
ASB is planning more events like the Freshman Film Festival in order to help connect the other classes. This event turned out to be a good test to see if students would come out and participate in some fun.
"I would definitely encourage other students to go to future ASB events because it is a great way to make new friends and have fun," Pandhoh said.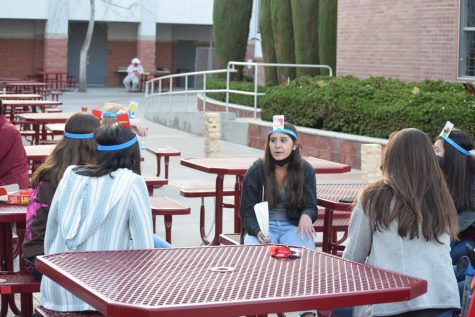 Future ASB events are in the works and will be happening very soon like a senior barbecue in the parking lot to kick off Senior Week on May 16. ASB and the Activities Office are planning many surprises for the following week.
"I know it seems like there hasn't been a lot this year. [We're] just letting everyone know that we have plans ready to go. We just need to work around the virus," Costa said. "If you see the polls, please fill out the poll because that's how we are getting information."
The Freshman Film Festival was a great way to kickstart many more ASB events to come. The various games and the movie they showed helped to entertain students while giving them the opportunity to meet new people. Another way many students broke out of their shell was through the karaoke at the event.
"I have a friend in my English class, and I've never heard her talk to me or say anything, like she was super shy," de Lucia said. "I saw her singing last night [at the event] on the microphone which was so, so cool. I thought that was amazing."