The Newsom recall election: What you need to know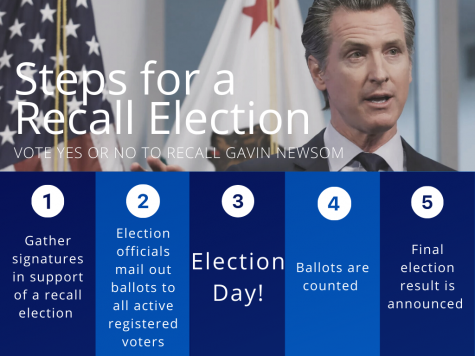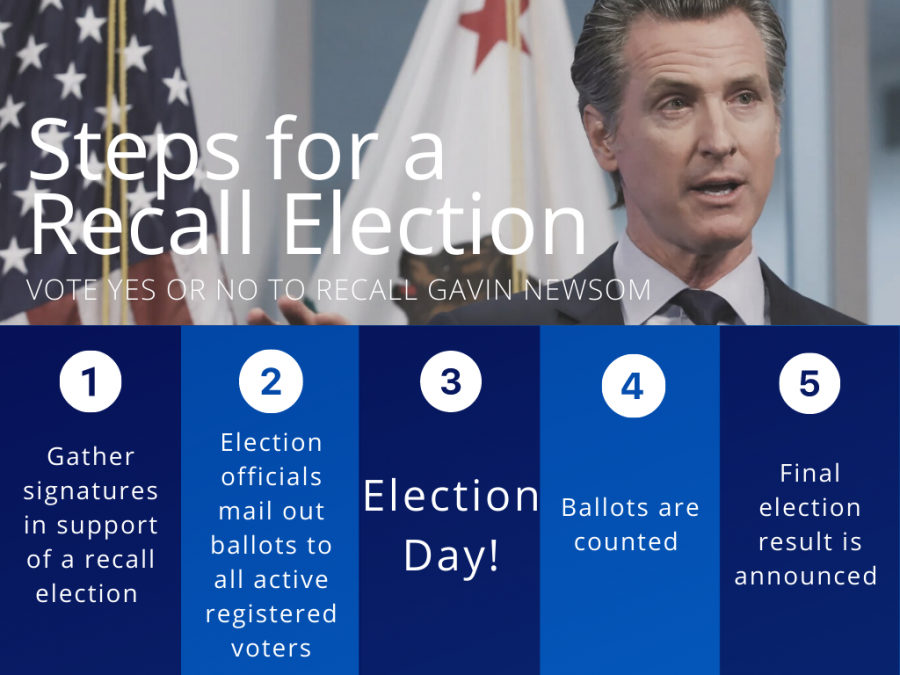 The political sphere in California has been known to draw in conflicts throughout the past two decades—a trend that does not seem to be ending soon. In the last two years, California Governor Gavin Newsom has continually come under fire for his handling of the COVID-19 pandemic, homelessness crisis, and rising gas prices. Now the issues surrounding him are coming to a head. Today, Sept. 14, a recall election will be held to decide whether or not Governor Newsom will remain in his position until next November.
Newsom was elected Governor of California in 2018, but has served as Lieutenant Governor since 2011. An official petition to set up a recall election, that was approved by the state, began gathering signatures starting in June 2020. Many efforts to recall Newsom occurred before 2020 and the COVID-19 pandemic, but the most recent petition is what set the recall election to take the stage. Since then, many unhappy voters have signed the petition.
"The first time I remember seeing [signs of a recall election] would have been in the fall of 2019, even before the coronavirus and everything," social studies teacher Joshua Dutra said.
Finally, early this year, enough signatures were collected to force a recall election and the election date was set to mid-September. Although a popular reason for recalling Newsom is his response to the COVID-19 pandemic, the notion of a recall was first seen long before March 2020.
The effort to recall the current governor has since grown stronger, ultimately leading to the recall election. In addition to his unpopular response to COVID-19, supporters of the recall claim that Newsom did not do enough to address the increasing homelessness rate and supports water rationing: the effort of controlling water usage to offset the drought. The pandemic, however, has been one of the larger factors in why the recall effort has gained traction.
"The messaging of why the recall is happening changed to fit the broader narrative," Dutra said. "The effort predated [the] coronavirus, [and] it was more like a recall looking for a reason."
The pandemic hit California hard. It filled hospitals, closed beloved small businesses, and resulted in the deaths of nearly 70,000 people. Newsom's attempts to shut down California in an effort to stop the spread of the virus proved ineffective due, in part, to many people ignoring the restrictions put into place. 
Newsom is not innocent of ignoring COVID-19 restrictions, however. After attending a dinner party in which photos were taken of him indoors and unmasked, many Californians were angry that Newsom could not follow his own rules during another peak in COVID cases. 
"You're gonna make some people not happy when you're in that kind of position," Dutra said. "I think if I could have gone back in time to help [Newsom] with anything to keep this from happening it would have been, follow your own rules."  
1.5 million people have signed the petition to recall the governor, enough to warrant an election to be held. Once the signatures were verified and the signers were confirmed to be registered voters living in California, the Secretary of State, Dr. Shirley N. Weber, began to organize a recall election. Mail-in ballots have been sent out over the last several weeks and in-person voting will be on the day of the election, today, Sept. 14.
"For right now I'll draw my luck with the dropbox, but personally, I just like the experience of going in person," Dutra said. "It's like going to class versus joining a class on Zoom."
All registered voters in California will be able to vote in the election. Two questions will appear on the ballot. The first question asks whether or not you wish to recall the current governor. If you are voting no on the recall election, you are finished there. The next question asks who you would like Newsom to be replaced with if more than 50% of Californians answer yes to the first question. There are forty-six candidates running against Newsom– nine Democrats and twenty-four Republicans. But there are a few candidates favored to win if Newsom is recalled including Larry Elder, Kevin Paffrath, John Cox, Kevin Faulconer and Caitlyn Jenner, amongst others. 
"The next part of it is voting on who you think should replace the governor," Dutra said. "It is a question of who among the people there you [would] like to see in the job. It could be somebody that you actually think is the best or it could be someone that you think is the least bad, however you determine that." 
Although this election has been a conversation in the California political sphere since 2019, the actual process towards recalling Newsom happened relatively quickly. With only 1.5 million signatures needed out of California's 40 million people population, many Californians were ready to sign and get the election date set. 
"It's almost too easy for a really small group of 1.5 million people. In terms of population [that] is not that many people, and a pretty small number have the power to overthrow the will of everybody else. I think that that's potentially problematic," Dutra said. 
The small percentage of voters being able to force a recall election to happen is not the only issue that California voters are afraid of. Misinformation has become an increasingly discussed topic over the course of the past years, especially during the 2020 presidential election. The issue of where voters can get their information about potential candidates and policies is an issue that will seriously impact this election. 
"I think the problem comes in when enough people are choosing their news and getting the news that they want to hear instead of the news that they need to hear," Dutra said.
Choosing where you get your news from is a key factor in forming your opinions on the recall election. When searching for sources, it is important to notice the difference between facts and sources that express emotions or opinions. 
"I read an article […]  from Pew Research where they looked into how well Americans do in understanding lies and deception in the media," Dutra said. "For the most part, we do really well understanding when we're being lied to."
By October 14, the election results will be released. If Newsom is voted out of office, the new governor will be sworn in 38 days after the election. 
All California voters are encouraged to fill out their ballots and get them in to ensure their vote is counted. 
"I think [the new governor is] up to the people of California to decide. We could potentially have a situation where Republicans and Democrats are actually working together for the better future of California, so it could be a positive for the state," Dutra said.