The key to resolving students' issues with the hair rules
"Unroll your skirt," "Where's your ID?," "That isn't a college sweatshirt"— are all phrases Mater Dei students hear on a daily basis. The experiences of a student that make each school day so special and memorable are not necessarily the long hours spent studying for exams or perfecting game-winning techniques on the field or in the pool – it is sometimes the deep feeling of embarrassment that students feel when they get stopped by the deans for breaking the dress code.
A common infraction of the Mater Dei dress code is wearing or styling one's hair in a way that is deemed inappropriate for an academic setting. Although some students have expressed their frustration with the hair code, little has been done by students themselves to explicitly communicate these alternative points of view with the school's administration. Ultimately, if students wish to change the hair rules at Mater Dei, their frustrations, concerns, and critiques can only be heard by the school administration.
Over the span of the current school year, junior Kenzo Osmena decided to cut his hair into a mullet and dye it various colors as a way to express himself and grow more confident.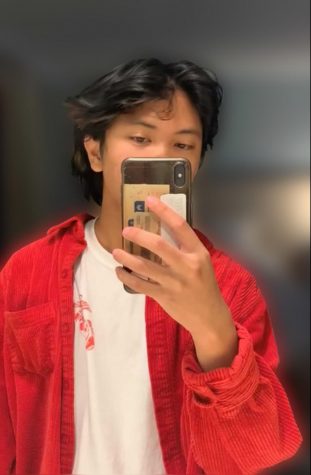 "I feel like it's very important that people express themselves with their hair and their body," Osmena said. "It's especially important for people to feel confident in how they look, and obviously hair plays a big part in that."
Osmena's hair was in violation of the Mater Dei dress code, which specifically states that "extreme or faddish hairstyles are never permitted," and that "extreme changes in hair color or 2-toned color is never permitted." After being warned by his teachers and the deans, Osmena's anger with the hair rules grew.
"[The situation is] unfair. I know that the rules are rules, but I feel like the point where it's at is a little ridiculous because it's a little too short," Osmena said. "I don't feel like 'professional' has any look. 'Professional' can look like whatever you make of it, and just because you look a certain way doesn't mean you act a certain way. [I agree that] there should be a dress code and that there should be rules, but at the same time, I feel like it upholds this idea that you have to look a certain way in order to fit in or succeed in life."
"I feel like the policies are a little outdated, but at the same time, I can't blame [the Mater Dei administration] because the fashion trends and culture surrounding students is always changing," Osmena said. "As long as they can communicate with the student body and ask us about how comfortable we are with the hair rules, then I feel like that would make changes that would make all of us happy."
The Dean of Students for Girls Kathleen Immel validates, appreciates, and understands students' frustration with the hair rules, but expresses that anger with no action can not generate meaningful change.
"To an extent, it's in the nature of teenagers to kind of buck the system, and I appreciate that kids want to push the limits," Immel said. "I just hope that they understand that once the limits and rules are set, anger alone will be worth nothing in fighting for what you want. They should pick and choose their battles with purpose and action."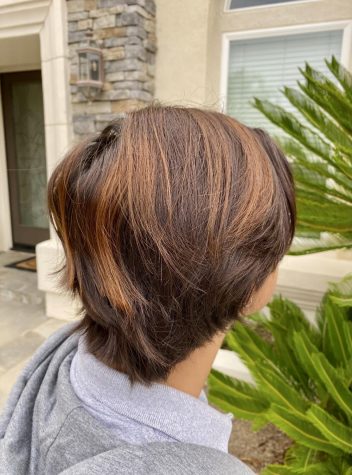 Immel shares the same sentiment as Osmena when it comes to changing certain policies in the dress code: students should share their thoughts and opinions with the administration who makes the rules themselves.
"When I first came to Mater Dei, students were not allowed to appeal something or call for a change, but now students can," Immel said. "I'd say the process [of revising the dress code] wouldn't take maybe more than a couple of weeks at the most – maybe less, depending on how quickly we were able to work with the logistics of it. While it's hard to change the rules mid-year, we can accommodate changes before the start of every school year."
The Dean of Students for Boys Timothy O'Hara reasons that while students may feel angry and frustrated with the hair rules, the policies put in place are actually meant to teach students how to discipline themselves. Like Immel, O'Hara sees the issue as an exercise in endurance and patience.
"I always tell students, 'If you don't like being disciplined, then discipline yourself," O'Hara said. "You may not like it, but you're not going to like a job that you're going to have in the future. We try to allow students to fix a problem before issuing any discipline … because we're trying to prepare students to be young adults."
When asked about the hair rules outside of the context of Mater Dei, O'Hara states that he does not judge appearance, but rather the way students present themselves and their concerns with emotional maturity and effective communication.
"A student's anger is completely understandable, and at the end of the day we try our best to listen and be lenient," O'Hara said. "These issues are not the end of the world. I don't think someone with long hair is a bad person, and your hair doesn't make you a whole person either—just like a tattoo, an earring, or a shirt with a hole in it. At the end of the day, it's really a student's personality that makes them presentable and respectable to the world."
Leave a Comment
Donate to The Scarlet Scroll
Your donation will support the Student Publications Department at Mater Dei High School. Your contribution will allow us to keep our equipment up to date and cover our annual website hosting costs.