Cheerleading Team Wins CIF Championship and Finishes Season Second in the Nation
Cheerleading in the United States first saw its beginnings in 1884 at a Princeton University football game.
Ray, Ray, Ray!
Tiger, Tiger, Tiger!
Sis, Sis, Sis!
Boom, Boom, Boom
Aaaaah! Princeton, Princeton, Princeton!
… could be heard from the stands of the Ivy League college. Now, in 2022 "Hey! We're Mater Dei!" can be heard from the stands of the Santa Ana Bowl, where the school's football team plays. This year, the cheerleading team went to the National High School Cheerleading Championship in Florida after winning the CIF Southern Section Championship, and took home second place.
Junior Ava Shaw is a base for the cheerleading team. Shaw grew up doing gymnastics, and began cheerleading once she entered high school. Since her freshman year, the cheer team has played an influential role in her high school experience.
"The skills I've learned, the life lessons, the people I've met along the way, and [things] that my coaches have taught me [have] completely transformed [me] as an athlete from freshman to junior year," Shaw said. "Cheerleading is a team sport [and] you have to learn how to adapt to different circumstances and be mentally tough."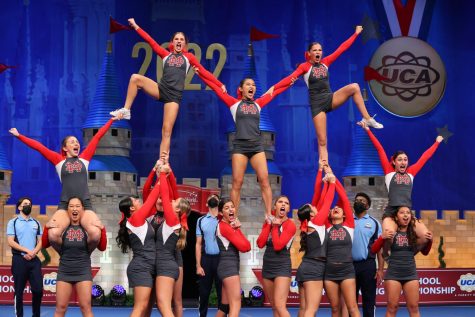 For Shaw and her teammates, being mentally tough was an important stepping stone to winning a state title and winning a silver medal at Nationals.
"There's the sideline part, where we're [cheering] for other sports and representing our school spirit, but there's also the stuff that we do for us–the athletic part of it," Shaw said. "We're training 15 hours a week [with] weekend practices, morning practices, […] conditioning, [and] CrossFit. [We do] all that to represent our school and do something for ourselves at Nationals."
For coach Katie Bowers, winning the CIF-SS Championship was always in the cards, and getting second at Nationals by 0.7 points this year just fuels her determination to get the gold.
"Nobody coaches [at Mater Dei] to get second place, [and] nobody coaches here to maybe win a game," Bowers said. "We all have [a] goal to win. To get through anything in life, but especially a team sport, requires [that] you rely on the person standing next to you, underneath you, or on top of you."
For Bowers, cheerleading has always had a presence in her life. After years of coaching and being coached, she has developed many values that she believes are required to succeed in this sport.
"Dedication, mental toughness, and discipline," Bowers said. "Those are really what is required to survive such a long season [along] with all the other things that we have to do. We don't get to have the luxury of worrying about just ourselves. Cheerleading is kind of just part of me. I've been coaching for 15 years, so my identity is 'Coach Katie.'"
An important part of cheerleading is working as a team, and senior Nicole Gonzalez, a flier and tumbler on the team, places a heavy emphasis on that.
"We all work really well together as a team because we all have the same goal in mind," Gonzalez said. "We are encouraging each other on the mat and during the routine, especially when things get difficult."
This year at Nationals, their routine was extremely technical and physically demanding, but in the end, they performed well and earned top marks.
"[There are] different sections that could be jumps, stumbling, and stunting," Gonzalez said. "We're basically just trying to max out our scoresheet, so we add in really difficult skills. Once we have [a] difficult skill in there, it can't just be in there–it's got to be executed perfectly."
By executing this difficult routine, the Monarchs were able to return to Nationals and take home silver.
"I'm so glad that we were able to put our name on the map and show the world that Mater Dei is back," Shaw said. "We're ready for next year and we're ready for redemption."
Leave a Comment
Donate to The Scarlet Scroll
Your donation will support the Student Publications Department at Mater Dei High School. Your contribution will allow us to keep our equipment up to date and cover our annual website hosting costs.