Students receive sports scholarships to fund further education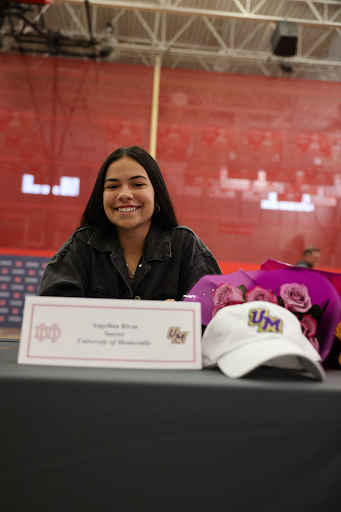 Although colleges give out over 1.7 million scholarships every year, for many student-athletes sports-based scholarships are years in the making. As Mater Dei athletes sign their letters of intent this school year, they commit to continuing this hard work in exchange for funding to help further their higher-level education.
Senior and varsity girls' soccer player, Angelina Rivas, committed to the University of Montevallo in mid-June of 2021. Rivas has felt the pressure of trying to balance sports with academics as she navigates her senior year.
"It's pretty difficult [to balance school and sport], especially when you want to focus all of your attention on your sport," Rivas said. "But at the same time, once you balance it with like two hours here, two hours there, there are certain things that end up working out really well […] and the stress levels go down."
While being offered a full ride scholarship for athletics is obviously the pay off for a lot of hard work for Rivas, she acknowledges the pressure of making a decision that would impact her future education.
"[The decision] was very difficult. It's very scary […] because there's a lot of people [and] a lot of eyes on you," Rivas said. "You have to make your decision [and] you have to stick with that decision. It's what you [have] to do especially when you're playing close sports at this age. Everyone knows what you have to do and what your decision is."
Rivas, after being offered a possible scholarship by Montevallo, did not instantly commit. Her choice was one that came after months of deliberation and consideration of other offers.
"The decision was mine, they said there's no time limit […] just let us know when you make a decision," Rivas said. "So that was back in April, [and] I took a little bit of time to myself, talking to other schools, talking to my family, [and] seeing what the best decision was. So over those couple months, it was just a battle [about] what I wanted to do for my future."
After her decision was made, and the stress of trying to decide her future subsided, Rivas then knew what advice to give – coming from someone given the educational opportunity of a lifetime.
"Please do not make your decision because people are forcing you to. At the end of the day, it's your life, you decide what you want to do with it. You control your love, your happiness, everything that you want to do. A lot of people are gonna have opinions, a lot of people are gonna have something to say. But at the end of the day you can decide what you want to do with your life," Rivas said.
Rivas looks forward to continuing her soccer career at University of Montevallo and hopes to study exercise science.
It's not just a student like Rivas that understands how sports scholarships affect a senior in high school. Girls' soccer coach Matty West can see the work that needs to be done to be considered for a full-ride.
"Sports scholarships reflect an athlete's commitment to their craft, and it sets a precedent for working towards something," West said. "'Practice makes progress.' Learning lessons along the way [and] overcoming obstacles and challenges equip people with tools that are really important for life."
While acknowledging the work of scholarships and the challenges they can make a student face, West also sees that every path for full-ride (or any scholarship-given) athletes is vastly different.
"It's different for each athlete," West said. "But there are some things that they share in common and it's going to be sacrifices – dedication. You're constantly wanting to be with good coaches and good athletes to raise your level and see how far you can develop and how far you can take tomorrow."
Not every student can make it as a collegiate athlete, and West said that it takes someone with more than just dedication to their sport to be successful.
"Athletes have standards that they hold themselves to. It's going to be nutrition, it's going to be fitness, [and] it's going to be students of the game," West said. "A lot of them study film of professional sports and college sports that they're aspiring to. And the one thing I would say that they share is their resilience – that they work hard and they never give up."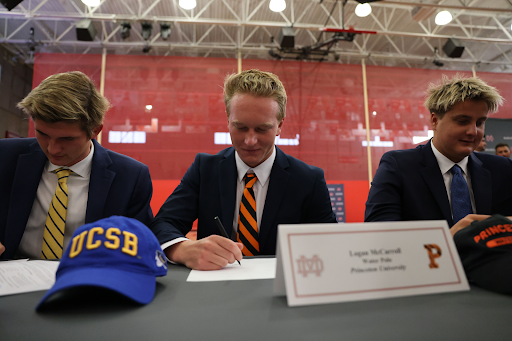 While the academic requirements for earning the scholarships themselves are relatively lenient depending on the school, academics continue to be important for an athlete to remain on their team at the collegiate level. Senior and varsity water polo player Logan McCarroll emphasizes how maintaining grades and working hard in the classroom sets the tone for performance in athletics as well.
"You have to find time to practice and be committed to the sport while being committed to academics as well," McCarroll said. "You want to [have] the best of both worlds to fully maximize your potential. Performing well in the classroom ensures that you can do well in the pool."
McCarroll committed to Princeton University for water polo in early November of 2021. He went on to say how the decision was relatively easy for him and that he took comfort in the school's excellent legacy and hardworking students.
"Just knowing that [Princeton has] the best academics and amazing athletics as well and that the students there find the time to balance both worlds was really the extra motivating factor for me," McCarroll said.
McCarroll is currently considering studying business, law, or economics as well as continuing his water polo career through college. He went on to encourage current student-athletes to continue to work hard, both in and out of their sport.
"I would say to work hard in the classroom and your sport now because it'll all pay off later," McCarroll said.
Through months and years of hard work, dedication, and perseverance, student-athletes have strived for the best in their chosen sport. Now, as athletes go on to college, they take with them those lessons learned in high school and apply them at the next level. Coach Matty West emphasizes for all committed student-athletes the incredible honor and privilege that they have received.
"It's such an honor to be able to play at the next level," West said. "Mater Dei has an incredible reputation for helping athletes become good athletes, become great athletes, become phenomenal talent. Mater Dei has an environment that strives for excellence."
Leave a Comment
Donate to The Scarlet Scroll
Your donation will support the Student Publications Department at Mater Dei High School. Your contribution will allow us to keep our equipment up to date and cover our annual website hosting costs.