Student petition to change school day schedule reaches 1,000 signatures
SCHEDULES SIDE BY SIDE: The normal schedule and minimum day schedule are both very similar, but also have some key differences. Office hour and lunch were removed from the schedule, allowing students to get out of classes about two hours earlier. Use the slider located in the middle to see the differences yourself.
During the week of Jan. 3, students and faculty returned to campus after winter break amidst the outbreak of the Omicron variant of COVID-19. In an effort to reduce COVID-19 exposure after an increase in national cases due to the variant, administration decided to alter the schedule in the form of a minimum day, removing lunch and office hours from the schedule, as well as shortening classes to 65 minutes. 
"The switch was a response to the Omicron surge," Assistant Principal of Academics and Technology, Geri Campeau said. "We wanted to eliminate as much community time as possible."
The new schedule had students on campus from 7:50 A.M. to 12:45 P.M., shortening the day by about two hours. The minimum day schedule lasted the bulk of January, with students returning full time on Jan. 31. Despite transitioning back to the normal schedule, many students still prefer getting out two hours earlier. 
"I love minimum days," junior Bianka Gaspar said. "I feel like I [still] get all of my work done, even though the days are shorter. My schedule during [the] minimum day was the same, just a lot shorter, so it was nice." 
This opinion is shared by various students across campus, mostly due to the fact that the shorter day allows more time for other activities. On Feb. 3, senior Cade O'Hara created a virtual petition in the hopes of changing the schedule back to the shorter day. In the six weeks the petition has been available, just over 1,000 students and parents have signed it. 
"I heard about the petition through a few friends and I agreed with what it was standing for, so I decided to sign it," Gaspar said. 
The petition was made on change.org, a popular website that allows anyone to create a petition. Because the website allows you to sign it online, getting signatures was very easy. Individuals also had the opportunity to express why they wished to sign the petition in the comments below. 
"65 minute classes give us plenty of time to learn and finish work; however, it also allows students to have more flexibility with their schedule and after school activities," sophomore Kevin Panbechi commented under the petition. "All parents and students I know would rather have this schedule."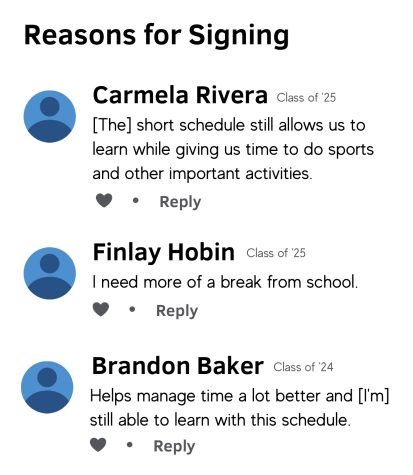 Although the petition has received support from about half the number of students, administration has not yet made any changes. The process of creating the ideal schedule includes multiple factors, with student opinion being only one of many to take under consideration. 
"Schedules take into consideration instructional days, instructional minutes, extra and co-curricular activities, time for teacher collaboration and time for student support," Campeau said. "Both schedules offer flexibility and time for students to be in class, but also get support where needed."
Most high schools in California have 1,080 hours of instructional learning, which is about 180 days. With online learning and hybrid-based learning being used more during the pandemic, Mater Dei has shifted the schedule to allow for more flexibility between the two. 
"My schedule during the pandemic was pretty chill," Gaspar said. "I always got my work done, which was great, and I got to sleep more."  
The pandemic schedule of the previous year, however, lacked opportunities for students to connect while on campus. With only half of the students being on campus at a time, and the removal of lunch, socializing became harder. 
Although the minimum day is longer than the school day during the pandemic, the community aspect time is still taken out. The addition of lunch and office hour in the normal schedule allows students to not only get extra help from teachers, but to also  collaborate with their peers. 
"[The schedule is designed] to allow students to have the full Mater Dei experience which includes opportunities for formation and community building," Campeau said. 
The overall success of the petition is mostly due to students wanting to have time for other activities, rather than being on campus longer. By adding office hour to the end of the day, students can choose whether or not they would like to attend. With more time left in the afternoon, students can focus on completing homework or participating in their extracurriculars, while also having time to themselves. 
"I think [the minimum day] helps me manage my time because it gives me so much time after school to get a lot of my work done," Gaspar said. "Before, [I] would not get out [until later] and then I would have practice, [which was making] me get home super late at night. I [would still] have to do homework and study [as well]."
Support for both schedules is seen across campus from students, parents, teachers, and administration. The scheduling team is working on creating a schedule that incorporates both learning with extra time built in for other activities. 
"We are currently evaluating the schedule and will certainly consider [the minimum day] as an option," Campeau said. 
Students have many opportunities to have their voices heard on campus besides creating a petition. Breakfast Club with Ms. Clare is a chance for students to talk with our principal about any issues they have on campus. ASB officers consistently meet with administration to talk about potential changes and ideas. 
"[Students can always] go through their ASB officers as they meet daily with the principal," Campeau said. "While we appreciate and respect students' rights to express their opinion, the educational research overwhelmingly supports students being on campus a full day to get the whole high school experience."
With the past two years being impacted by COVID-19, a "normal" schedule has practically been thrown out the window. There are so many new models of learning that have been discovered and are being implemented here at Mater Dei. The main goal of any schedule administration constructs is to keep us on campus– together. 
"At Mater Dei, so much of our culture and community is built through social interactions both in and out of the classroom," Campeau said.