The impact of what you eat
With the increasing number of healthy alternatives, such as the popularity of vegetarian and vegan friendly restaurants, along with farmers' markets, a healthy lifestyle is encouraged.
Farmer Mark's Community Development Manager Aubrey Yarbrough argues that a healthy lifestyle consists not only of what you eat, but rather how you obtain the food you are consuming.
To Yarbrough, there are many factors that apply when buying sustainable food, such as the environment they were planted in. Additionally, many of the beneficial nutrients of produce are obtained through the soil they are grown in.
"Chain restaurants, generally speaking, rely on global supply chains that prioritize profit over things like soil health, ecologically sound pest-management practices, and the cumulative miles [of carbon emissions] between harvest and preparation," Yarbrough said. "We saw supply chain issues in the early days of the pandemic and it [was] terrifying. People [began] realizing that so much of our food comes from very very far away."
Yarbrough emphasizes the importance of locally sourced food. In her opinion, pesticides and other chemicals only serve to make fruits and vegetables look fresh and clean, and they negatively impact the people consuming the produce because the nutrients from fruits and vegetables are being lost during shipping.
"When nutrients are exposed to heat they [start to] wilt, [and] the vegetable[s] actually have fewer vitamins and minerals. Vegetables don't just taste worse, [but nutrients] disappear," Yarbrough said. "Vegetables [are] harvested and then shipped across the country to a packaging center and then shipped again. [They are left] waiting for a week or two until [grocery stores] get [the vegetables]. [Grocery stores] might have kept it perky with spray, cold air, and spring water. It's not the same vegetable that you buy that was harvested that morning or the night before the [farmers'] market."
Yarbrough mentioned that as vegan and vegetarian friendly restaurants continue to increase in number and popularity, this same trend can help people transition into plant-based diets. Although there is not anything wrong about this lifestyle, Yarbrough points out the fact that some chain restaurants don't always have the greatest of intentions.
"I think the prevalence of plant based restaurants definitely makes it easier for people to try vegan diets and probably also encourages people to try it. [However, chain restaurants are] not thinking about sustainability. They want to make money from an audience," Yarbrough said.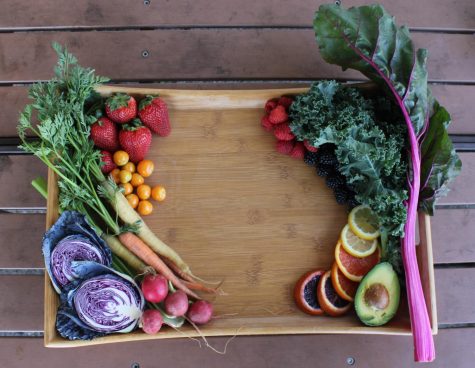 Yarbrough's aim is not to make a healthy diet unachievable, but to inform people that just because something has a "plant-based" label, doesn't necessarily make it a healthy alternative. She understands the common perception that farmers' markets hold a reputation to only be for wealthy people due to their heightened prices, but she hopes that her efforts and upcoming projects can change that perception.
"I think it's easy to write farmers' markets off as [for the] bourgeoisie and for the wealthy," Yarbrough said. "I still think that we need to collectively think about ways to get good, healthy produce in the hands of especially kids who might not be able to afford it and desperately need it."
Beginning to develop a healthy lifestyle does not stop at the farmers' market. Orange Home Grown Market Manager Devyn Montanez believes that her market presents a multitude of options for teenagers to explore healthy eating habits.
"We operate an Education Farm that runs like a community garden, where we host education classes that teach the community about garden-related things such as seed cultivation, composting, and seed saving," Devyn Montanez said.
In addition to the Education Farm, Montanez and her team also provide viable resources that people can use in order to start implementing a healthy lifestyle that is centered around community involvement.
"We host monthly cooking demos at the farmers' market utilizing seasonal ingredients. The demos usually highlight 1-2 items from the market and are simple to follow," Montanez said. "This resource can inspire teenagers with no cooking experience to get creative in the kitchen and cook nutritious meals for themselves."
Resources continue to expand and social media continually helps people explore the healthy options at farmers' markets. Understanding the resources available in order to implement a healthy lifestyle is important, and technological advances have helped many people achieve this goal.
"Food resources continue to increase as the market grows larger," Montanez said. "Our current vendors also work to expand their offerings to keep their booth exciting and interesting. Our social media team works to keep the community updated on new healthy items at the farmers' market."
Leave a Comment
Donate to The Scarlet Scroll
Your donation will support the Student Publications Department at Mater Dei High School. Your contribution will allow us to keep our equipment up to date and cover our annual website hosting costs.