Seniors reflect on college applications, give advice to juniors
Now that the bulk of college application season is over, seniors of Mater Dei have time to reflect and take a deep breath as they await college decisions. Juniors may dread the day when it is finally time for them to start seriously worrying about college, but luckily, the class of 2022 has some advice to share.
Senior Kaly Keating keeps her school life busy. Between being co-captain of the Mock Trial Team, co-president of the Bel Canto choir group and of the Latin club, group leader of the a capella group The Rolling Tones, a head Scarlet Ambassador, and a member of the swim team, Keating said she can never get enough free time. Managing all of these responsibilities on top of college applications was often hard, but not impossible, as she started early and stayed consistent.
"[Start looking into colleges] the spring of your junior year; you're going to need to trust me on that one," Keating said. "It seems early, but there're a lot of essays you're going to have to write. It'll save you the stress and let you breathe a little bit first semester. I was really lucky that I started my college apps so early in the summer, because if I didn't I would have been more stressed out. Make sure you don't put off your college essays because you're making it so stressful for yourself – it doesn't need to be."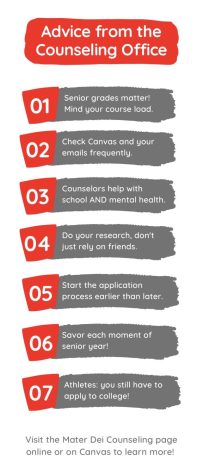 While researching colleges, Keating considered programs offered, possible internships, social life, and location. During this process, it is important to remember to be flexible while prioritizing what you want your college experience to be.
"When researching colleges, know what you want and look for the colleges that fill most of your requirements," Keating said. "Remember that this is where you are going to be living for the next four years, [so] make sure you're happy there."
Teachers don't give a lighter workload during application season. During the fall semester, it is common to see seniors balancing their homework, other activities and responsibilities, and lengthy college checklists. But when things got to be too overwhelming, Keating reminded herself that her peers also faced similar frustrations.
"Applying to college, while very stressful, is so exciting," Keating said. "Writing essays on topics that you really care about to prove yourself to an [admissions] board in order to gain entry into a college seems unreal, but it's the experience of [so many] seniors [around] the world. So, if you're struggling, the people around you get it. You aren't alone in this process, even if it may feel like it."
For some lucky athletes, the college process looks a bit different. For senior Ella Presiado, who has committed to Columbia University for rowing, the choice to be a college athlete was obvious. Taking her sport to the next level would mean forming more strong friendships with new teammates.
"[My teammates] have truly made Newport Sea Base my second home. Rowing is so unique in the bonds that it creates within a team. Realizing that I would have four more years of these awesome friendships is really what made me want to be a collegiate athlete," Presiado said.
According to the NCAA recruiting rules, coaches can begin reaching out to athletes as early as June 15 of sophomore year for most sports, or September 1 of junior year for some others. Presiado began thinking about her college career in spring of her sophomore year. As women's rowing recruitment begins sooner than later, she sent out her initial emails to college coaches in the spring of that year. It was this early contact that helped her weigh her options effectively.
"I reached out to so many schools initially," Presiado said. "I really tried to cast a wide net. Throughout the process, the schools I was talking to narrowed down. And for me, I got offers after really getting to know the coaches and the teams I was considering."
Presiado's biggest pieces of advice for choosing schools? Make sure you love the school itself, not just the team and the program, just in case you get injured. This will prevent unhappiness in the long run. Also, keep your limits in mind as you pursue your sport, so as to not wear yourself out.
"Let your mind and your body take breaks," Presiado said. "Yes, you need to train and improve, but it is important to keep in mind that if you continue doing your sport in college, that is four more years that you are challenging your mind and your body. It is really important to listen when your body is telling you things in order to prevent injury or burnout."
The college process will be unique to every individual. Yet, it is important to enjoy your senior year as much as possible, because it will go by quicker than you can prepare for. Your counselor and teachers will be your biggest advocates if you reach out to them. Take advantage of the resources and pieces of advice that are given to you. Make time for yourself and have fun every once in a while. Even if you're on the fence about college or not sure if you're going at all, you can still make the best of the rest of your high school years with these tips. One thing at the back of every senior's mind, as Keating sees it, is just how quickly the year is going by.
"Live everyday because you're not going to get another senior year," Keating said. "Do everything you want to do and be happy. It is going to be so much, but you need to make yourself happy. Find people you can rely on, and have so much fun with them. Spend time with your family, spend time with your pets and look around your room every once in a while to just remind yourself that time is moving so fast. Make sure you let your family know that you love them. Especially spend time with you younger siblings, you leaving is going to hit them like a truck around Christmas time. Look forward to everything, because it is the last time you will experience things as a student at Mater Dei and as a senior. Don't take a single day for granted."
Leave a Comment
Donate to The Scarlet Scroll
Your donation will support the Student Publications Department at Mater Dei High School. Your contribution will allow us to keep our equipment up to date and cover our annual website hosting costs.