Meet the New 2022-2023 ASB President
Every year, the Mater Dei student body votes to decide which rising senior should be Associated Student Body (ASB) President from a pool of candidates. After listening to speeches and receiving wristbands that say "'insert name here' for president!," the student body takes a vote, and next school year's ASB president is chosen. For the 2022-2023 school year, the school's ASB president will be Jake Cousino.
Cousino is a current junior and has been class president for his freshman, sophomore, and junior years. After almost three years on ASB, Cousino believes that his experiences have helped him prepare for his new leadership role.
"It's been a lot of fun being a part of ASB," Cousino said. "I've gotten the opportunity to work with a lot of great people. Being a part of ASB has taught me a lot of great values, like leadership and teamwork."
Cousino has developed his leadership and teamwork skills from his primary school, St. Hedwig Catholic School. Cousino explains that the school's philosophy of inspiring and guiding students has molded him into a successful leader and student.
"I think being a leader, most importantly, is having respect for others, [being able to] work with others and being yourself," Cousino said. "I went to St. Hedwig School and they were really big on teaching students values like [leadership and teamwork], public speaking and being yourself. That definitely influenced me."
Executive Director of Activities Diana Neudstadt has worked with Cousino since his freshman year and has seen him grow as a leader in the process. Because of her experience with Cousino, she strongly believes in his ability to successfully serve as the next ASB President.
"Jake is extremely conscientious and caring," Neustadt said."He genuinely cares about people and about their story and getting to know them. He's just grown more into himself. He's very comfortable with who he is."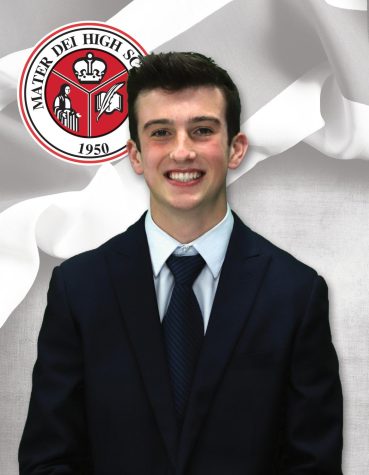 Being ASB president means being a leader and having traits like selflessness, authenticity, and commitment. According to Neustadt, Cousino must be prepared to fully embody his role as the leader of the Mater Dei student body.
"To be a leader you have to learn to delegate and to trust people," Neustadt said. "You also need to sometimes know that the bigger picture isn't about you. [Jake] has a responsibility to serve the students that voted for him and even for the kids that didn't vote for him. So he's going to have to be able to prioritize his time and put the school and his students first."
Serving the student body is among one of the most important responsibilities the ASB president has, but it is not the only one. The ASB president serves as one of the most visible figures at Mater Dei and is called upon to represent the school in various types of events.
"The ASB president is the face of the school in terms of the student body," Neustadt said."The ASB president gets called on to do things for the school: eighth grade visits, speeches, information nights when potential parents come to visit. It's everything that the principal, president, or I direct them to do because there's things that pop up all the time that are just random. [These] could be athletic information night[s], or the diocese needs somebody to represent the school and then they go. So really, the position is very fluid and just depends on what's happening, so they can take on so many different roles."
Cousino, as the current junior class president, still has many responsibilities, such as planning events for the student body. As the president of ASB, Cousino will be working with Mater Dei's administration.
"We have lots of meetings with Mater Dei about [proposals]," Cousino said. "We get input from the students about ideas. We'll bring that to the president so we can talk about it. We just planned our Ukrainian outreach with Ms.Clare. She brought the idea of donating [the profits] to a Ukrainian church in Los Angeles, so that they can bring those proceeds to Ukraine."
Neustadt believes in Cousino, and is excited to see him as the new ASB president next year. With his past experiences in leadership, Neustadt believes that this new president will be able to serve the needs of the school community and make a most memorable year for the class of 2023.
"[Leaders] need to be honest, authentic, and need to do what they have promised," Neustadt said. "[Jake] is extremely personable. He's authentic. He's just very down to earth. I think he'll be doing a lot of fun stuff for us, […] and as a senior I think he's going to do amazing things."
Leave a Comment
Donate to The Scarlet Scroll
Your donation will support the Student Publications Department at Mater Dei High School. Your contribution will allow us to keep our equipment up to date and cover our annual website hosting costs.