Top 5 Books of 2022
Top 5 Books I Read In 2022:
Shutter Island
Dennis Lehane
My Rating: 4.5/5 Stars
Goodreads Rating: 4.1/5 Stars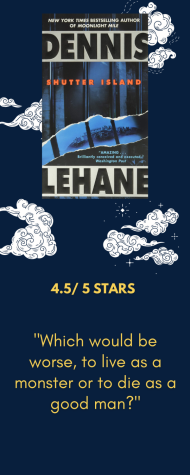 Overview:
The year is 1954. U.S. Marshal Teddy Daniels and his new partner, Chuck Aule, have come to Shutter Island, home of Ashecliffe Hospital for the Criminally Insane, to investigate the disappearance of a patient. Multiple murderess Rachel Solando is loose somewhere on this remote and barren island, despite having been kept in a locked cell under constant surveillance. As a killer hurricane relentlessly bears down on them, a strange case takes on even darker, more sinister shades—with hints of radical experimentation, horrifying surgeries, and lethal countermoves made in the cause of a covert shadow war. No one is going to escape Shutter Island unscathed, because nothing at Ashecliffe Hospital is what it seems. But then neither is Teddy Daniels.
(Goodreads Overview)
Review:
Shutter Island is atmospheric in a way that is almost tangible. While reading this novel, I felt as though I was standing next to Teddy Daniels as a silent observer in his hunt for Rachel Solando. If you ever feel yourself as a part of a story while reading, you know the story will stick with you for years to come, whether you end up liking the book or not. Luckily for me, I loved Shutter Island; the story lives rent-free in my head. The book is fascinating and with every plot twist, my jaw lengthed to the likes of the floor. That is what is so amazing about the novel – its plot is unpredictable. With every twist comes a thought-provoking realization that makes you question all Teddy has told you thus far. The only negative aspect of this book is the slow beginning. It takes a while for the plot to get moving, but if you trust the process, it is all worth the wait.
Where the Crawdads Sing
Delia Owens
My Rating: 5/5 Stars
Goodreads Rating: 4.43/5 Stars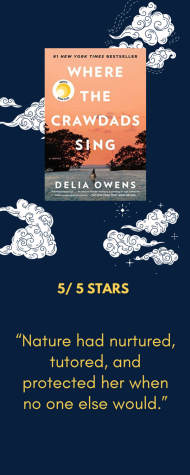 Overview:
For years, rumors of the "Marsh Girl" haunted Barkley Cove, a quiet fishing village. Kya Clark is barefoot and wild; unfit for polite society. So in late 1969, when the popular Chase Andrews is found dead, locals immediately suspect her.
But Kya is not what they say. A born naturalist with just one day of school, she takes life's lessons from the land, learning the real ways of the world from the dishonest signals of fireflies. But while she has the skills to live in solitude forever, the time comes when she yearns to be touched and loved. Drawn to two young men from town, who are each intrigued by her wild beauty, Kya opens herself to a new and startling world—until the unthinkable happens.
Review:
Delia Owens really has a way with words. The most endearing thing about the story is the setting and Owens' description of it. Owens writes in a way that brings the marsh to life in breathtaking strokes of color; the marsh becomes a living character and acts as Kya's closest friend whilst she grows up secluded from "society." But besides the wonderful setting, the most important and potent aspect of Where the Crawdads Sing is the prejudices Kya faces in her life as "Marsh Girl." The novel is a thoughtful example of how isolation affects human
behavior; from birth Kya is shunned by the people of Barkley Cove who made a normal life inaccessible to her. Throughout the story, we can see the effects of this prejudice in Kya- both negative and positive. Some of these effects include: her avoidance of people but also her strength and self-reliance. I recommend Where the Crawdads Sing to any person who wants to look beyond the world's surface and find something deeper.
The Silent Patient
Alex Michaelides
My Rating: 4/5 Stars
Goodreads Rating: 4.17/5 Stars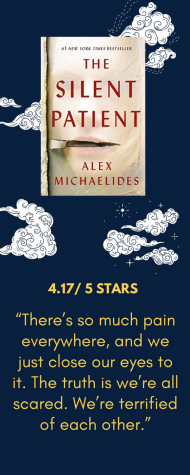 Overview: Alicia Berenson's life is seemingly perfect. A famous painter married to an in-demand fashion photographer, she lives in a grand house with big windows overlooking a park in one of London's most desirable areas. One evening her husband Gabriel returns home late from a fashion shoot, and Alicia shoots him five times in the face, and then never speaks another word.
Alicia's refusal to talk, or give any kind of explanation, turns a domestic tragedy into something far grander, a mystery that captures the public imagination and casts Alicia into notoriety. The price of her art skyrockets, and she, the silent patient, is hidden away from the tabloids and spotlight at the Grove, a secure forensic unit in North London.
Theo Faber is a criminal psychotherapist who has waited a long time for the opportunity to work with Alicia. His determination to get her to talk and unravel the mystery of why she shot her husband takes him down a twisting path into his own
motivations—a search for the truth that threatens to consume him….(Goodreads Overview)
Review:
The Silent Patient is another fantastic thriller. The plot twists are all-consuming and the ending leaves you wanting more. What's so interesting about this novel is that you know from the beginning not to trust Theo. Michaelides capitalizes on this lack of trust by leaving small threads of questions unanswered throughout the novel, making sure that these clues don't go unnoticed by the reader. When I made it to the biggest twist of all, I was simultaneously in shock, yet somehow not surprised at all. It was an odd feeling; how can one be both surprised but also not? But then I realized that's what Michaelides intended. He set up the story so that the plot twist is less of a twist and more a natural occurrence of events that is actually captivating painting, similar to those Alicia Berenson, the mystery of the novel, paints herself. Anybody in need of a thoughtfully crafted thriller with a sinister edge should read The Silent Patient.
The Diary of A Young Girl
Anne Frank
My Rating: 4/5 Stars
Goodreads Rating: 4.18/5 Stars
Overview: Discovered in the attic in which she spent the last years of her life, Anne Frank's remarkable diary has become a world classic—a powerful reminder of the horrors of war and an eloquent testament to the human spirit.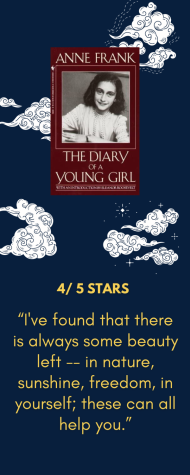 In 1942, with the Nazis occupying Holland, a thirteen-year-old Jewish girl and her family fled their home in Amsterdam and went into hiding. For the next two years, until their whereabouts were betrayed to the Gestapo, the Franks and another family lived cloistered in the "Secret Annexe" of an old office building. Cut off from the outside world, they faced hunger, boredom, the constant cruelties of living in confined quarters, and the ever-present threat of discovery and death. In her diary Anne Frank recorded vivid impressions of her experiences during this period. By turns thoughtful, moving, and surprisingly humorous, her account offers a fascinating commentary on human courage and frailty an
d a compelling self-portrait of a sensitive and spirited young woman whose promise was tragically cut short.
(Goodreads Overview)
Review:
The Diary of a Young Girl, also widely known as Anne Frank's diary, is an artifact of history. I believe that every person should read this book at some point. It's an insightful view into Frank's life during the Holocaust and tells a compelling story of the reality of a young Jewish girl growing up during World War II. It was difficult for me to read this book because, unlike most books I read, this piece is not fictional and accounts real events that happened, which is hard to absorb considering the atrocities Frank faced. However, it's those atrocities that make the diary so honest and raw. Overall, the book is wonderful in a way that's impossible to describe and I recommend it to everyone.
As Good As Dead
Holly Jackson
My Rating: 4/5 Stars
Goodreads Rating: 4.19/5 Stars
Overview: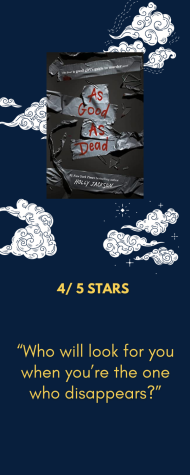 Pip is about to head to college, but she is still haunted by the way her last investigation ended. She's used to online death threats in the wake of her viral true-crime podcast, but she can't help noticing an anonymous person who keeps asking her: Who will look for you when you're the one who disappears?
Soon the threats escalate and Pip realizes that someone is following her in real life. When she starts to find connections between her stalker and a local serial killer caught six years ago, she wonders if maybe the wrong man is behind bars.
Police refuse to act, so Pip has only one choice: find the suspect herself—or be the next victim. As the deadly game plays out, Pip discovers that everything in her small town is coming full circle . . .and if she doesn't find the answers, this time she will be the one who disappears. . .
(Goodreads Review)
Review:
I went into reading the final installment of the A Good Girl's Guide to Murder series expecting something similar to its predecessors, but I finished the book utterly shocked. As Good As Dead subverts all expectations. Unlike the books before it, which are exciting small-town mysteries and similar to a police procedural, this book is dark, gritty, and morally questionable. This novel forces the reader to take a deeper look at the characters they have learned to love over so many chapters. This book taught me that not all reading should be comfortable and that I should take the backward endings in stride (you'll get what I mean if you read it). Though this was not the traditional closing novel of a series it is nonetheless a good one. I know many people are upset by the plot, but I think it is a smart closing that reveals the truth behind our black-and-white world. I really recommend people read the A Good Girl's Guide To Murder Series. It is exciting and worthwhile.
Leave a Comment
Donate to The Scarlet Scroll
Your donation will support the Student Publications Department at Mater Dei High School. Your contribution will allow us to keep our equipment up to date and cover our annual website hosting costs.