Senior publishes book for health awareness
Senior Lucy Guldjian published her first children's book, Lulu and Chloe's Cooking Adventure on Amazon on Oct. 20 of this year. Guldjian's book is based on her experience with Ulcerative Colitis (UC) and Crohn's disease. The story follows a young Lucy, nicknamed Lulu, and her dog as she navigates the kitchen with a restricted diet. Shortly after being released on Amazon, her book became the #1 bestseller in Children's Books on Diseases and Physical Illness and #24 in Overall Children's Books.
"I was shocked," Guldjian said. "I thought just a couple family members would buy it, but I guess people kept passing it on."
Although it has moved lower in the ranks of Amazon's bestseller lists, the book has primarily five star reviews from parents and children alike. With around 80,000 children diagnosed with UC and Crohn's disease in the U.S., a number not often represented in children's literature, Guldjian felt writing a book on her experience would not only give them representation but also encourage and inspire young children facing similar struggles.
"[My college counselor said to] write a children's book," Guldjian said. "[It would] be really cool to show little kids that it's not that hard to go through health struggles."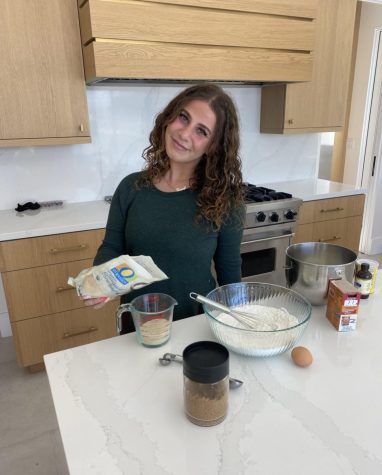 After the idea was suggested by her counselor, Guldjian was quick to start her book. She wrote the copy over the summer and contacted an illustrator and formatter to help her with the final product.
"I submitted everything onto Amazon and published it," Guldjian said. "It was pretty easy."
Though publishing was easy, the process of writing the book took a lot of collaboration and support. Apart from the illustrator and format designer, Guldjian was constantly working with her family to revise the book and help it reach its full potential.
"My parents helped me the most [with] reading it over," Guldjian said. "[My] cousins, aunts, uncles, and my college counselor also helped a lot."
Guldjian has been living with food limitations since she was young. She was first diagnosed with Ulcerative Colitis at age 9, but has since been diagnosed with Crohn's disease. Both diseases limit the types of food that a person can eat, often restricting sugar, gluten and dairy intake in one's diet. Guldjian first started cooking to satisfy these dietary restrictions, but it soon became an outlet for creativity and expression.
"Over time, I would find so many recipes and ingredients [that] I became interested in," Guldjian said. "Now, I just love to cook."
The inspiration behind Lulu and Chloe's Cooking Adventure is Guldjian and her dog. While the story is an imaginative twist on Guldjian's experiences, the book is based on how she truly has dealt with dietary restrictions as a child.
"It's based on me and my dog, [but] I made it for kids," Guldjian said.
As a senior, Guldjian is actively working on applying to colleges. Although she doesn't plan to become a writer, authoring a children's book has offered more clarity into what Guldjian might pursue as a career.
"I want to major in business," Guldjian said. "Writing [helped me with] learning the process behind owning a business or selling something, [and] how to advertise it."
The book has not only given clarity to Guldjian on what she wants to major in, but also with how she wants to inspire children and others dealing with similar health issues.
"Advice I [would] give is to do something positive with your experiences," Guldjian said. "Sharing what you've gone through doesn't have to be hard, and once you do it, it makes [you] more comfortable."