An Ode to the CROWN
At the end of each school year, the highly anticipated yearbooks are delivered to campus, each page acting as a time capsule filled with memories of that school year. Flipping through each carefully curated spread, few people can imagine how much hard work goes into each dutifully designed page. Senior Rachel O'Sullivan knows first hand the amount of effort it takes as she is the Editor-in-Chief of our own CROWN yearbook.
O'Sullivan has been a member of the yearbook staff since her freshman year and is currently in the process of finishing up the yearbook for the 2022-2023 school year.
"Being on yearbook is a time commitment," O'Sullivan said. "Most of our work is done outside of class, such as covering events and interviewing students. In class we work together to identify the subjects of our photos and place our art and copy into the layout."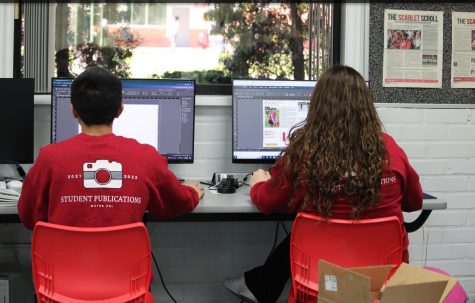 O'Sullivan's role as Editor-in-Chief requires her to manage the staff, under the direction of Yearbook Adviser Nicole Howard. The staff is made up of other students which she helps train and lead in the creation process of the book as a whole.
"I design the concept and layouts for the book, edit and approve all the spreads, and help cover events," O'Sullivan said. "Alongside the managing editor, we organize the distribution of spreads and keep staff members accountable […] so we can make our deadlines."
Being a part of the CROWN has also enabled O'Sullivan to pursue her passion for photography.
"I have always loved writing, but during my time on staff, I discovered my love for photography," O'Sullivan said. "My photos have since been published in the OC Register, Sports Star Magazine, and Newport Beach Living Magazine."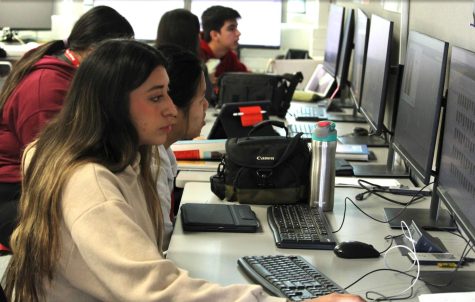 Junior Josh Barrera is another member of the CROWN and holds the role of Design Editor, which oversees the design of spreads and gives input on visual aspects of the book.
"I joined the yearbook because I wanted to be involved with something that is important to the school and to meet new people," Barrera said. "At first [working on the] yearbook seemed very challenging to me, but as soon as I started learning many things from helpful editors, I got the hang of it quickly."
Similar to O'Sullivan, being a member of the yearbook has given Barrera valuable opportunities to pursue his passions.
"Being a part of [the] yearbook has given me many great skills and experiences that I can put towards my future, such as college and collaborative careers that I would want to go into," Barrera said.
Overall being a member of the yearbook has been a great experience for both O'Sullivan and Barrera. When asked what O'Sullivan would say about prospective yearbook members she said, "I would tell prospective yearbook members how many wonderful experiences they will have an opportunity for on staff. I have met so many wonderful people both on the staff and through covering school activities."
If you're interested in joining the yearbooks staff contact its adviser Nicole Howard at [email protected].
View Comments (3)
Donate to The Scarlet Scroll
Your donation will support the Student Publications Department at Mater Dei High School. Your contribution will allow us to keep our equipment up to date and cover our annual website hosting costs.