Turkey and Syria Earthquake
At 4 a.m. on Monday Feb. 13, 2023, Syria and Turkey were hit by an earthquake with a magnitude of 7.8. For these two countries, this was the strongest earthquake in roughly 200 years. A couple of hours after the initial earthquake, an aftershock of similar magnitude struck both countries, generating even more damage.
As of now, over 41,000 people have been killed in Turkey and Syria in the wake of the devastating earthquake. Many lost their lives due to limited access to medication, aid, and food. For Syrians, this was a disaster within a disaster. Syrians have been in crisis due to a 10 year war and, on top of that, are now faced with the hardships of dealing with even more destruction from this natural disaster. In both countries, temperatures are below freezing. Heating has been knocked out in many homes, and thousands of families have been displaced and without shelter.
Rescue teams in Turkey and Syria were desperately combing the rubble in search of survivors after the collapse of thousands of buildings due to the devastating quake. Almost 3000 buildings collapsed across Turkey alone after the initial quake. With harsh weather conditions and limited outside aid, both countries have been struggling to lift the rubble and rebuild.
In Syria, rescue workers used headlamps and floodlights to work throughout the night. More than 5,000 people were killed and thousands more injured across the country. With heavy sanctions having been placed on Syria for several years, it has been nearly impossible for other countries and organizations to help. In all of Syria, they only have one bulldozer that has been trying to lift and remove the rubble throughout the country.
Through this tough time, a lot of local organizations and citizens have helped out in various ways. Many churches, mosques, schools, and even people's own homes have acted as places for shelter to those who have lost their homes.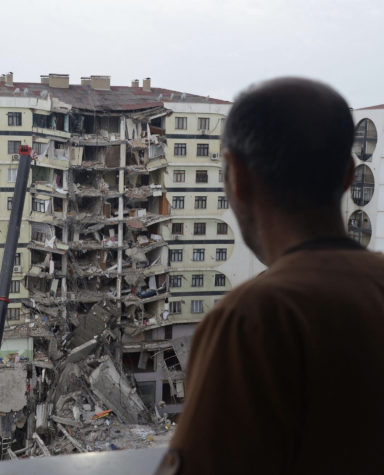 As a Syrian living in America, it is beyond agonizing to see so many go through such substantial loss. It has been especially hard to see what people are going through and being unable to send anything or help them in any way. I have heard heartbreaking stories from people I know and from family that live there. This time has been really stressful for Syrians around the world because getting in touch with family and friends has become even harder than before. A lot of people in these countries have limited electricity and the internet is scarce, making it really hard for people to check in on family and contact them.
Many in my family, who thankfully had not been directly affected by the earthquake, told us in the U.S. that they had still felt the strong shaking at night and a lot of items in their homes had fallen. They felt the strong magnitude of the earthquake despite living more than two hours away from the cities that received the most damage. This really put into perspective how strong and impactful the earthquake was. As a member of the Syrian community, I truly have a different perspective on events like this because I worry for my own family and people who have been hurt or affected by this natural disaster.
A large group of the Syrian population here in SoCal have come together to help by collecting money and other goods to send out to the people affected in Syria and Turkey. Mater Dei has also been very helpful, in the face of the tragedy for both countries, by creating a jacket drive. The drive has collected waterproof jackets and other donations and sent them out to Turkey and Syria for those in need. These countries are in desperate need of our help and it is a blessing that the Mater Dei community continues to aid in whatever way possible.
Leave a Comment
Donate to The Scarlet Scroll
Your donation will support the Student Publications Department at Mater Dei High School. Your contribution will allow us to keep our equipment up to date and cover our annual website hosting costs.