Teacher of the Year Winner – Mr. De Los Reyes
Ben De Los Reyes has been teaching religious studies at Mater Dei for the past 14 years. He is moderator of the Go Green Commision, which aims to help with campus recycling and many other environmental issues. His commitment to Mater Dei does not go unnoticed, and was awarded by the Diocese with the Teacher of Year Award, honoring Catholic Schools Week and the teachers who hold up our institutions.
De Los Reyes has found that each of his students have something unique to offer and are constantly changing. Seeing their faith develop throughout the years is touching for De Los Reyes, as he gets to watch his students fulfill their fullest potential. Teaching different grades, he experiences all kinds of stories and perspectives.
"Sophomores are curious and hardworking," De Los Reyes said. "They have great questions about faith and they are always ready for a fun activity. I admire sophomores' love for their friends and family, and the passion they have for success in all their activities.They are moving from being kids to being adults, and taking on many new responsibilities. This can be stressful at times and I see [them] grow in resilience, patience, and persistence."
Some students have De Los Reyes as a teacher their sophomore year, and return to him their senior year. This allows him to reflect on the growth many students experience by the time they are back in his classroom. Going through constant change and making some of their largest life decisions, he understands their struggles but also sees their empathy for others regardless.
"Mater Dei seniors are so mature and bring a lot of wisdom, life experience, and perspective to religion class," De Los Reyes said. "By senior year, most students have had a fair number of personal struggles and setbacks, so their faith has become deeper and more important to them. It's tough to be a senior. And yet their struggles don't prevent them from embracing compassion, service, and solidarity. In the face of global problems like war, poverty, prejudice, cruelty, and hate, my senior students know that God is calling them to be the people the world needs right now."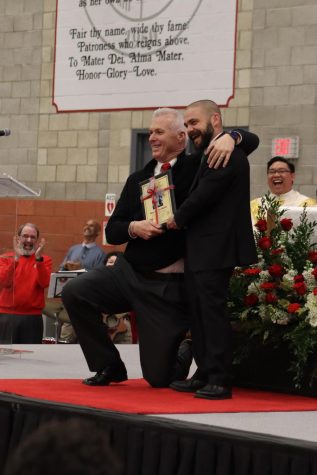 Most teachers try to make impacts on their students for the better and to help them grow in life. De los Reyes tries his best to be involved with his students and the activities going on around school.
"The first impact I hope to leave is for them to have a heart-felt knowledge of God's love for them, I hope they can know that Jesus is their best friend who will always walk with them through the ups and downs of life," De los Reyes said. "I also hope students know that I admire them for all the patience and kindness they share while going through challenging and stressful times. I admire their talents, creativity, and joyful spirit. Mater Dei students are an inspiration to me."
Being named Teacher of the Year is a big award, it takes a lot of hard work, compassion and love for their work. One reason De Los Reyes was able to achieve this was by modeling his teaching style from teachers he's previously had, or mentors he's looked up too.
"I remembered my favorite teachers and the ways that I've tried to live up to their example of being a kind, caring, and attentive teacher," De Los Reyes said. "I'm full of gratitude for all the caring people, especially my mentors here at Mater Dei, that helped me along the way.
Leave a Comment
Donate to The Scarlet Scroll
Your donation will support the Student Publications Department at Mater Dei High School. Your contribution will allow us to keep our equipment up to date and cover our annual website hosting costs.