The History of Girl Scouts at Mater Dei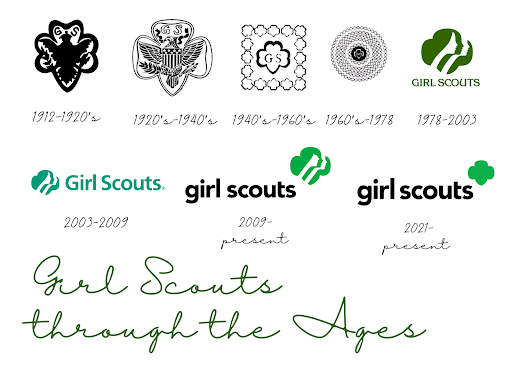 Created in 1912, the Girl Scouts program was founded by Juliette Gordon Low, more commonly known as Daisy, a young woman who strived to create an environment where young girls could join together and share in their talents and interests. Present day Girl Scouts continue to share in Low's legacy, striving to improve local communities, nature, and form long lasting friendships.
As Girl Scouts age they will 'bridge' into higher and more distinguished levels, symbolizing their development of leadership and understanding of care for their surrounding environments. Daisies, lovingly named after the Girl Scouts founder, are girls grades kindergarten to first grade. Brownies follow, grades second to third, then Juniors, grades fourth through fifth. As Juniors, girls will also have the opportunity to earn the Bronze Award, after actively working towards a community issue the girls feel passionate about. Cadettes, girls grades sixth through eighth, will have the opportunity to earn the Silver Award, which aims to further community skills and the ability to solve problems. Seniors, grades nine and ten, have the opportunity to earn the Gold Award, which focuses on learning how to create a plan, make it happen, and improve the world. Finally, Ambassadors, girls grades eleven and twelve, become Gold Award Girl Scouts, finalizing their skills in the world and bringing people together with optimism and quick thinking. The levels are designed to help girls learn how to navigate the world around them, develop bonding among their troops, and help improve their societies one step at a time.
Sophomore Katherine Allen initially joined a Daisy troop, led by her friend's mom, because she thought it would be a fun hobby. Now, Allen is a Cadette and appreciates the sense of sisterhood Girl Scouts fosters.
"Honestly, [my favorite part of Girl Scouts is] the community," Allen said. "It's really great and in the troop I'm in right now, I have a lot of great friends."
Allen's favorite aspects of Girl Scouts are the various ways she gets to plan bonding activities, bringing younger and older members of her troop together during the holidays.
"Sometimes we older girls like to host a meeting to plan a little Christmas party," Allen said. "It's always so much fun to plan the parties because it makes everyone happy."
Sophomore Avery Shelton, a Senior in Girl Scouts, has been a part of the organization since she was in fourth grade. Girl Scouts has opened an incredible amount of opportunities for Shelton to explore the world. One fond memory she has of Girl Scouts is traveling to New York.
"Traveling to New York was really fun," Shelton said. "We got to go to a lot of historical places and also the Girl Scout Central, a store with a history of the Girl Scouts."
Girl Scouts has also enabled Shelton to speak in front of a panel at the National Catholic Youth Conference (NCYC) on topics about her faith within the Girl Scout community, sharing her religious experience with others and explaining how it has enriched her life.
"I was able to speak at the NCYC conference- a religious conference that I went to," Shelton said. "There was a panel. I spoke about how I have incorporated and showed my faith through Girl Scouts. I got to speak to others about my experiences at Girl Scouts, but also my faith as well."
Shelton has learned many life skills during her time in Girl Scouts, focusing on five specific areas that help her succeed in life.
"I've learned how to be a natural leader [by acquiring] a lot of new skills [from Girl Scouts]," Shelton said. "We have five essential skills that we learn: goal setting, money management, people skills, decision making, and business ethics."
Shelton is incredibly grateful for the plethora of ways that Girl Scouts has helped her to grow as a person.
"All the opportunities, like speaking at a conference and traveling, are things [done through Girl Scouts] that I am very grateful for," Shelton said. "[Through these experiences] I've been able to talk to more people and put myself out there."
Shelton is excited for what her future as a Girl Scout holds in store for her.
"I'm excited to see what I'm going to do after I become an adult Girl Scout," Shelton said. "I'm very grateful for learning these skills that will help me succeed in life."