Welcome Dance tradition continues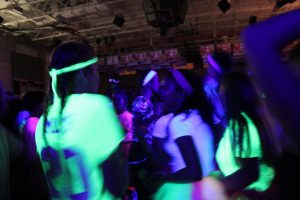 To kick off the school year, ASB hosted their annual all-school Welcome Dance Sept. 9 in the Meruelo Athletic Center.
The Welcome Dance has been a tradition for more than 20 years.
"It was originally held in the LeVecke and it was mostly younger students, so we incorporated the elements of the black lights, neon, and sock-hop," Associate Director of Student Activities Jeanette Costa said. "We then moved it into the Meruelo to give it a feel of a bigger dance. We now have over 1,000 students who attend."
At the dance, students from all grades have an opportunity to meet new people, connect with old friends and create memories.
"I look forward to this dance because it is a good opportunity to meet new people at Mater Dei as well as having fun with my own friends for the night" junior William Nimmo said.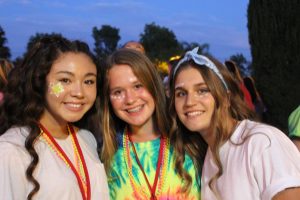 Unlike all of the other dances throughout the year, this dance is known for its neon theme.
"I like how it is colorful and how people could express themselves," freshman Jocelyn Ayala said.
This dance not only has neon lights but also food trucks and arcade games for attendees to enjoy.
After the dance every year, ASB officers and Activities Commissioners meet to plan new ways to make the event appeal to everyone in the future. According to Costa, they discuss "what they liked about the dance and what we can do to make it better."