Students, faculty adjust to switch from Blackboard to Canvas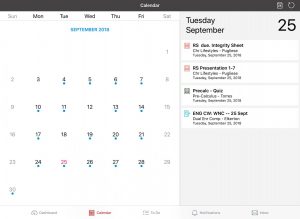 After six years of technical and iPad compatibility issues with Blackboard, the school implemented the learning management system Canvas at the start of this school year. Administration believed that it was time for an update. 
"Things would change, updates would break things, and we were unhappy with the experience students and teachers were having on Blackboard," Head of Technology Lewis Francis said.
One of the reasons Blackboard was introduced to Mater Dei was because the program is used by many colleges according to the Head of Technology Lewis Francis. However, in light of technological advances, newer programs like Canvas are being implemented into their curriculum. According to Canvas networks, Canvas is used in many U.S. colleges, including popular schools like the University of California at Berkeley, Davis and Irvine.
The main difference between Blackboard and Canvas is that Canvas has more features like being able to write on documents in the app and submitting assignments with ease because student can complete work in the app or upload it directly from Notability.
"We piloted three or four systems," Francis said. "Canvas worked so well on the iPad. The Canvas app has so many functions that we wanted for our students like being able to annotate direction in the app … and it's iPad friendly and clean and modern looking and simpler to use."
During the 2017-2018 school year, specific teachers were put in charge of learning the basics of the program and teaching teachers in their department. One of the teachers to help with this pilot was Marine Biology teacher Eric Wendland.
"The teachers are having an easier time adapting," Wendland said. "The app works a lot better. It's faster to grade. It's easier to organize."
Students, especially seniors, found it difficult at first to navigate through the app after using Canvas for much of their high school career but quickly adapted to the new program.
"At first it was difficult to navigate, but once I got used to it, it became easier than Blackboard," senior Christina Nguyen said.
Some students still favor Blackboard over Canvas because of their familiarity with the program.
"Canvas is great, but I still like Blackboard more, which is probably an uncommon opinion, but I just like it because it was easier for me" junior Gwen Smith said.
However, many students find Canvas easier to use and that it assists in time management and organization.
"I like Canvas a lot more than Blackboard actually," junior Matthew Real said. "I think the new calendar is a lot more helpful and a lot in submitting the assignments… I love the daily notifications and emails."
Administration hopes that Canvas is able to solve the many issues students and teachers were experiencing with Blackboard.
"I think it is a big step forward in terms of the platform that we have," Francis said.